Montvale, NJ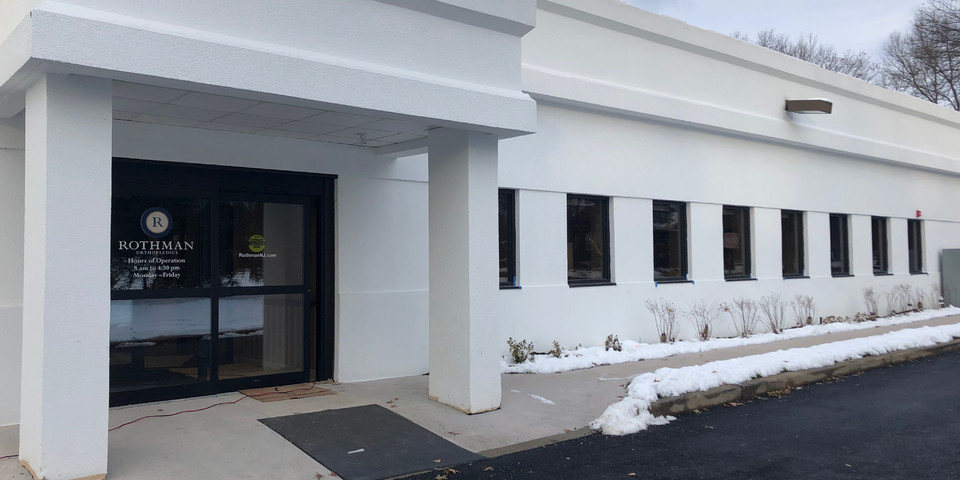 Office Hours
Monday - Friday
:
8:00AM - 4:30PM
Map & Directions
Rothman Orthopaedic Institute has been treating patients since 1970. Since then we have evolved into a national leader in orthopaedic research and innovation, setting and implementing new surgical standards.

We're pleased to offer Montvale residents with elite orthopaedic care, including non-surgical and surgical options for a variety of conditions. Our patients visit us from all throughout Bergen County and New York State, including: Upper Saddle River, Ridgewood, Paramus, Westwood, Ramsey, Mahwah, Spring Valley, Nanuet, Middletown, Nyack/West Nyack, and Orangeburg.
Every Rothman Orthopaedic Institute location, including Montvale, is here to provide the very best in orthopaedic care for you and your loved ones. See below to learn about our services and credentials.
To learn more about Rothman Orthopaedics NY locations and physicians, click here.
---
Services Offered at Our Montvale Practice
Orthopaedics involves the diagnosis and treatment of injuries and diseases of the musculoskeletal system. This encompasses anything that has to do with bones, muscles, ligaments, joints, tendons, and nerves.
Our Rothman Orthopaedic Institute-Montvale office provides specialized care through evidence-based medicine. In addition to diagnosing and treating orthopaedic injuries and conditions, our doctors can also offer rehabilitation and prevention services to help keep you healthy for longer.
The Montvale office has physicians that specialize in the following areas:
Our feet and ankles endure consistent wear and tear on a daily basis, as the connecting point between us and the ground we walk on. A few common conditions we see in this category include foot and ankle arthritis, Achilles tendons ruptures, bunions, and flat foot.
Our Hand & Wrist team perform thousands of surgeries per year. However, many mild conditions are successfully treated with conservative care. Carpal tunnel syndrome, arthritis, fractures, hand lacerations, wrist injuries, and tendonitis are some issues our team is able to address. Our physicians specialize in endoscopic carpal tunnel release and other minimally invasive hand and wrist surgeries not offered by general orthopaedists or surgeons.
As national leaders in orthopaedic research and innovation, Rothman Orthopaedic Institute presents cutting-edge treatment methods for spinal patients in need: minimally invasive techniques and image-guided technology, comprehensive treatment of degenerative disc disease, techniques in spinal manipulation, and more.
Even the highest performing athletes aren't immune to injury. There are several advantages to having an orthopaedic physician who specializes in sports medicine. Our Montvale Sports Medicine team are experts in addressing a number of sports-related injuries and conditions.
Collectively the Rothman Orthopaedic Institute Sports Medicine specialists attend to approximately 80,000 sports injuries each year, and our surgeons perform upwards of 10,000 sports-related surgical procedures annually. Dr. Rocco Bassora can address any athlete's injuries.
What Else Can You Expect From Our Montvale Orthopaedic Experts?
While this is not an exhaustive list, Rothman Orthopaedic Institute offers plenty of non-surgical or conservative treatment methods, including:
Physical Therapy
Certain exercises and stretches can help reinforce the muscles supporting damaged areas, such as the joints. An orthopaedic physician may also recommend bracing and other support devices to add stability and prevent further injury.
Medication
Generally, non-steroidal anti-inflammatory drugs (NSAIDs) are helpful in treating a number of orthopaedic conditions by reducing pain and inflammation. There may be other recommended oral or injectable medications, depending on the specific condition.
Alternative Therapies
Treatments such as Platelet Rich Plasma (PRP) Therapy is used to speed up the body's natural healing process after an injury or in the case of arthritis. The treatment involves injection of platelets into the damaged joints, ligaments, and tendons to promote tissue repair.
In some situations, surgical intervention may be needed. Luckily, Rothman's Orthopaedic specialists are equipped with elite skills in a number of techniques and treatments, such as:
Arthroscopy
This minimally invasive procedure enables surgeons to utilize an innovative, small camera attachment to see within a given joint. This method helps them diagnose an injury and alter or remove an out-of-place component for patient relief.
Fusion
Much like what it sounds like, orthopaedic surgeons can fuse bones together utilizing a graft or synthetic material (usually metal) to repair the damage.
Soft Tissue Repair
Depending on the injury and extent of damage, surgical intervention may be needed to heal damaged tendons, ligaments and other soft tissues.
Internal Fixation
With this technique, metal plates, pins, or screws are inserted internally to support the bone during the healing process.
It's important to reiterate that whatever orthopaedic need you come in for, you will always be treated by the best orthopedic physicians in the area. All treatment protocols are evidence-based, rooted in years of clinical research and experience.
Proudly Serving
We are proud to serve the Montvale community and beyond. We serve all neighborhoods in Bergen County including:
Upper Saddle River

Ridgewood

Paramus

Westwood

Ramsey

Mahwah
We also welcome all patients from New York state, including the communities of:

Spring Valley

Nanuet

Middletown

Nyack/West Nyack

Orangeburg
Our Rothman Orthopaedic Institute Review Sites
Check out what our patients, visitors, and others are saying about us on:
Think you need to see an orthopaedic expert? Simply visit us here or contact us at 888-636-7840 to schedule an appointment today.
Parking
Free Valet Parking Available for Patients
Monday – Thursday
7:30am – 6pm
Friday
7:30am – 5:30pm
*Entrance at front of building
Physicians at this Location
All Specialties
Hip
Knee
Spine
Sports Medicine
Shoulder & Elbow
Foot & Ankle
Hand & Wrist
Physical Medicine & Rehabilitation
Orthopaedic Oncology
Orthopaedic Trauma & Fracture Care
General Orthopaedics
Filter Physicians
Filter
Sort
All Specialties
Hip
Knee
Spine
Sports Medicine
Shoulder & Elbow
Foot & Ankle
Hand & Wrist
Physical Medicine & Rehabilitation
Orthopaedic Oncology
Orthopaedic Trauma & Fracture Care
General Orthopaedics
All Locations

{{item.title}}

{{distanceText(item)}}
Services at this Location
Stories Related to Montvale, NJ