Manhattan - Gramercy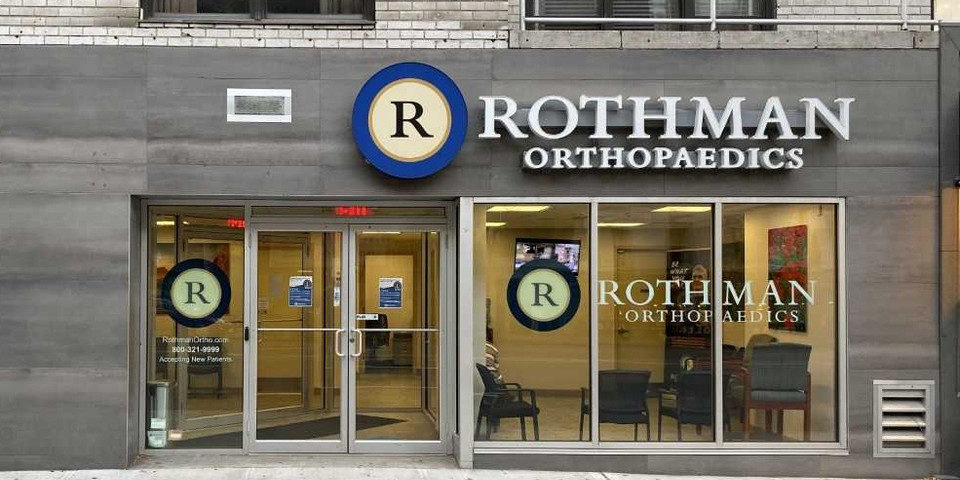 Address
176 3rd Ave, New York, NY 10003, USA

Office Hours
Tuesday
:
8:00AM - 4:30PM
Map & Directions
Rothman Orthopaedic Institute is a global leader in modern orthopaedics, producing some of the world's highest volumes of advanced surgical operations, clinical innovations, and cutting-edge research. Since 1970, our physicians have been treating patients in South Jersey and the greater Philadelphia area. Now, Rothman Orthopaedic Institute is proud to extend its renowned care to New York City patients at our newly established Manhattan Orthopaedics practice.
To learn more about Rothman Orthopaedics NY locations and physicians, click here.
---
Services Offered at Our Manhattan Orthopaedic Practice
Orthopaedic treatments are distinctly not one-size-fits-all. Whether you need tennis elbow treatment or total knee replacement surgery, targeted care from our specialized physicians is your best means for a full, lasting recovery.
At Rothman Orthopaedic Institute, each of our physicians has undergone elite sub-specialization programs (known as fellowships) in addition to standard residency and medical school. Eight major fields of orthopaedics are featured at our Manhattan practice, overseen by seven of our leading fellowship-trained specialists.
Featured specialty services include:

Below, we've highlighted each of these specialties.
Hip & Knee
The hip and knee are two of the body's most important joints—and two of the most prone to orthopaedic injury and degeneration. Tasked with the stresses of weight bearing and locomotion, the cartilage that lines the joints of the hips and knees is highly susceptible to gradual damage that may lead to arthritis and other degenerative conditions, especially among older patients. Younger patients, meanwhile, may experience traumatic sports injuries that affect the knees (such as ACL tears) or hips (such as fractures).
Rothman Orthopaedic Institute features a full range of advanced hip and knee services, including total joint replacement surgery. We are proud to have hip and knee surgeons serving at our Manhattan, NYC office.
Spine
Did you know that 80% of adults will experience serious back or neck pain during their lifetime? Back pain from spine conditions and injuries can compromise your enjoyment of life, while more serious injuries may impair your mobility or threaten your life. When orthopaedic spinal treatments and surgeries are needed, the complexity of the spine's anatomy demands absolute precision.
Rothman Orthopaedic Institute features leading spine surgeons and cutting edge treatments, such as artificial disc replacement, spinal fusion, and minimally invasive spine operations.
Hand & Wrist
You don't need to be an athlete of a high-impact sport to experience an orthopaedic hand or wrist injury. Such conditions as carpal tunnel syndrome commonly affect people whose work involves repetitive wrist motion (such as typing on a keyboard). A trip or fall may result in a distal radius fracture, and years of use may lead to the onset of arthritis.
Rothman Orthopaedic Institute features a broad spectrum of cutting-edge hand and wrist surgeries, treatments, and therapies. The Hand and Wrist surgeon at our Manhattan, NYC practice utilizes the latest and most advanced surgical techniques while promoting non-operative care whenever possible.
Foot & Ankle
Your feet and ankles are among the most commonly injured anatomical areas of the body. Athletes may experience twists, fractures, or tendon tears, while patients with conditions such as osteoporosis or diabetes may be susceptible to a wide range of issues and injuries. No matter what the nature of your injury or your background as a patient may be, all patients with foot and ankle conditions deserve excellent care.
At Rothman Orthopaedic Institute, our exceptional Foot and Ankle specialists offer treatments ranging from removal of warts and corns to total ankle replacement.
Sports Medicine
Sports Medicine is the medical specialty focused on the prevention, diagnosis, treatment, and rehabilitation of injuries due to athletic activity. Athletes tend to experience certain unique types of injuries (including such conditions as ACL tears, stress fractures, and tendonitis). Likewise, athletes have a unique set of goals that is distinct from other types of patients.
At Rothman Orthopaedic Institute, our Sports Medicine specialists are dedicated to applying their specialized skills and elite methods to help injured athletes achieve their recovery goals and return to sports activity. Rothman Orthopaedic Institute is recognized as the leading regional Sports Medicine provider and features one of the world's highest volumes of Sports Medicine treatments: we evaluate 80,000 sports injuries annually and perform over 10,000 surgeries.
Proudly Serving
Our Manhattan office proudly serves a wide range of regional neighborhoods. Included in our accessible range of service are the following New York City neighborhoods:
Lower East Side

Gramercy Park

Lower Manhattan

Midtown

Kips Bay

NoHo/SoHo

Westchester

Union Square Park

Greenwich Village
Our Rothman Orthopaedic Institute Review Sites
Listed below are relevant sites where you can read the reviews of our renowned services and testimonials from patients of Rothman Orthopaedic Institute:
About Rothman Orthopaedic Institute in NYC
Rothman Orthopaedic Institute provides a range of orthopaedic services that are both diverse and highly specialized. From targeted non-operative therapies to the most advanced total joint replacement surgeries, our broad spectrum of treatment options can meet the particular treatment needs of all types of patients.
Meanwhile, the sub-specialized training of our physicians ensures that each patient at our Manhattan practice has access to a true specialist whose area of expertise is ideally suited for their condition and patient profile. We look forward to treating you at our Manhattan orthopaedics practice.
Physicians at this Location
All Specialties
Hip
Knee
Spine
Sports Medicine
Shoulder & Elbow
Foot & Ankle
Hand & Wrist
Physical Medicine & Rehabilitation
Orthopaedic Oncology
Orthopaedic Trauma & Fracture Care
General Orthopaedics
Filter Physicians
Filter
Sort
All Specialties
Hip
Knee
Spine
Sports Medicine
Shoulder & Elbow
Foot & Ankle
Hand & Wrist
Physical Medicine & Rehabilitation
Orthopaedic Oncology
Orthopaedic Trauma & Fracture Care
General Orthopaedics
NY & North Jersey
All Locations

{{item.title}}

{{distanceText(item)}}
Services at this Location
Stories Related to Manhattan - Gramercy