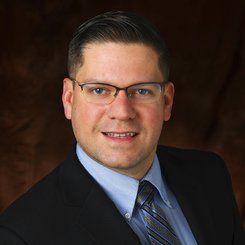 To schedule an appointment with Dr. Arrojas, please call 844-407-4070. For past patients of Dr. Arrojas, please click here for the medical record request form.
Dr. Alfredo Arrojas is a fellowship-trained orthopaedic surgeon specializing in hip and knee reconstruction. In 2012, Dr. Arrojas graduated from Drexel University College of Medicine in Philadelphia, PA and followed with a five year Orthopaedic surgery residency at Palmetto Health - University of South Carolina in Columbia, SC. In his last year of residency, he served as Chief Resident and was recognized as resident of the year.
Dr. Arrojas went on to complete his Total Joint Reconstruction fellowship at the CORE Institute in Phoenix, AZ. During this year he specialized in the latest joint replacement techniques including robotically assisted total hip and knee replacement, directed anterior total hip replacement and cementless total knee replacements. His practice aims at improving the pain and function of his patients so that they may return to their previous level of function, activities, and hobbies.
The joint replacement surgeons at Rothman Orthopaedics collectively perform over 17,000 hip and knee procedures each year in both an inpatient and outpatient capacity. They continue to lead the way in advanced technologies and procedures, providing our patients with the safest, most effective methods to get you back to what you were. Services offered include:
Hip:
Total Hip Replacement
Anterior Hip Replacement
Minimally Invasive Hip Replacement
Rapid Recovery Hip Replacement
Revision Hip Replacement
Posterior Hip Replacement
Computer Assisted Hip Replacement
Robotic Hip Replacement
Outpatient Total Hip Replacement
Anterolateral Approach
Direct Lateral Approach
Knee:
Total Knee Replacement
Partial Knee Replacement
Revision Knee Replacement
Minimally Invasive Knee Replacement
Rapid Recovery Knee Replacement
Computer Assisted Knee Replacement
Robotic Knee Replacement
Quad Sparing Knee Replacement
Outpatient Total Knee Replacement
Key Contact Information
Surgery Scheduler: 407-278-2143
Medical Questions: 407-278-2142
Billing Inquiries: 407-303-0500
Office Locations
Surgical Locations
Professional Profile
Education
M.D., Drexel University College of Medicine, Philadelphia, PA
Residency, Orthopaedic Surgery, Palmetto Health/University of South Carolina, Columbia, SC
Fellowship, Joint Reconstruction, The CORE Institute, Phoenix, AZ
Professional Associations
American Board of Orthopaedic Surgery
American Academy of Orthopaedic Surgeons
American Academy of Hip and Knee Surgeons
Stories Related to Alfredo Arrojas, M.D.