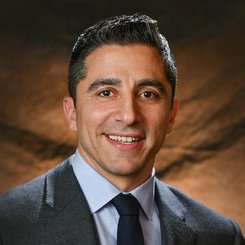 *For an appointment, please call 888-636-7840
**Accepting All Major Insurances**
Dr. Ari Seidenstein is well known throughout Northern New Jersey and New York as a hip and knee replacement specialist with expertise in both primary and revision surgery. He has over 10 years of experience treating the most difficult problems in these joints and remains committed to improving his patients' outcomes. He has particular interest in hip and knee replacement as well as hip arthroscopy and hip impingement.
Dr. Seidenstein is an elected member of the prestigious American Association of Hip and Knee Surgeons, a national society with admission based on recommendations of existing members, contributions to the field of hip and knee surgery and a lasting commitment to teaching and research. He is the recipient of top doctor accolades, including Bergen County Magazine's Top Doc distinction.
Dr. Seidenstein is the Chief of Orthopaedic Surgery at Holy Name Medical Center and is an attending physician at Hackensack University Medical Center.
Dr. Seidenstein has written several textbook chapters on subjects including advanced techniques and issues surrounding primary and revision hip and knee replacement surgery and has lectured at numerous conferences. He is also an Assistant Professor at Hackensack-Meridian School of Medicine at Seton Hall University.
Dr. Seidenstein is committed to his patients and restoring their quality of life.
The joint replacement surgeons at Rothman Orthopaedics collectively perform over 17,000 hip and knee procedures each year in both an inpatient and outpatient capacity. They continue to lead the way in advanced technologies and procedures, providing our patients with the safest, most effective methods to get you back to what you were. Services offered include:
Hip:
Total Hip Replacement
Anterior Hip Replacement
Minimally Invasive Hip Replacement
Rapid Recovery Hip Replacement
Revision Hip Replacement
Posterior Hip Replacement
Computer Assisted Hip Replacement
Robotic Hip Replacement
Outpatient Total Hip Replacement
Anterolateral Approach
Direct Lateral Approach
Knee:
Total Knee Replacement
Partial Knee Replacement
Revision Knee Replacement
Minimally Invasive Knee Replacement
Rapid Recovery Knee Replacement
Computer Assisted Knee Replacement
Robotic Knee Replacement
Quad Sparing Knee Replacement
Outpatient Total Knee Replacement
Rothman Physician Spotlight – Dr. Ari Seidenstein
Ari Seidenstein, MD — Patient Testimonial
Dr. Seidenstein discusses Tiger Woods' injury and recovery on WFAN
Key Contact Information
Appointments Only: 888-636-7840
Medical Questions for Established Patients Only: 201-450-9671
Surgical Scheduler: 551-278-5328
Billing Inquiries: 267-339-3558
Office Locations
Surgical Locations
Professional Profile
Education
B.A., Washington University, St. Louis, MO
M.D., UMDNJ - Robert Wood Johnson Medical School, Piscataway/Camden, NJ
Internship, General Surgery/Orthopaedics, The University Hospital for the Albert Einstein College of Medicine, Bronx, NY
Residency, Orthopaedic Surgery, The University Hospital for the Albert Einstein College of Medicine, Bronx, NY
Fellowship, Adult Reconstruction & Sports Medicine, Insall Scott Kelly Institute at Lenox Hill Hospital; New York, NY
Titles & Certifications
Board Certified, American Board of Orthopaedic Surgeons
Professional Associations
American Association of Hip and Knee Surgeons
American Association of Orthopaedic Surgeons
Publications
A Seidenstein. Infection in Total Joint Arthroplasty. Grand Rounds Presentation at Holy Name Medical Center (Teaneck, NJ); 11/16/2010.

A Seidenstein, G Scuderi, Exposing the Tight Knee: the Quadriceps Snip. Atlas of Essential Orthopaedic Procedures. 2010.

A Seidenstein, G Scuderi. Chapter 55: Quadriceps and Patella Tendon Disruptions. Insall & Scott
Surgery of the Knee, 5th Edition. 2010.
R Nierenberg, B Berliner, A Seidensrtein. Infectious Arthritis Leading to Rapid Septic Shock in a Patient with SLE, Leukopenia, and End Stage Renal Disease: A Case Presentation and Cautionary Notes. Annals of Clinical Case Reports.2020; 5, 1779.
A Seidenstein, M Hartzband. How to Choose an Implant in Revision Hip Arthroplasty – Femur. Mastering Orthopedic Techniques Revision Hip Arthroplasty. 2015.
A Seidenstein, M Hartzband. Two-Incision THA. The Hip: Preservation, Replacement and Revision. 2014.
A Seidenstein, G Klein. Surgical Exposures. The Knee: Reconstruction, Replacement, and Revision. 2012.
Stories Related to Ari Seidenstein, M.D.