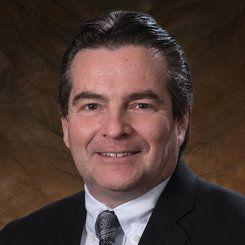 Meet Dr. Lee
Guy A. Lee, MD
Guy A. Lee, M.D., is a board-certified orthopaedic surgeon who specializes in spinal surgery, reconstruction, and degenerative conditions of the spine. He became interested in the field of orthopaedics after working as an X-ray technologist as an undergraduate. He earned his medical degree from Temple University School of Medicine, followed by a residency at Albert Einstein Medical Center in Philadelphia, where he received numerous honors and awards for his acumen and research.
Dr. Lee then completed a fellowship in reconstructive spinal surgery at the Maryland Spine Center in Towson, Maryland. Dr. Lee has published several articles related to conditions and treatment of the spine. He has also participated in multiple FDA trials and is actively involved in ongoing research.

Dr. Lee plans to stay on the leading edge of orthopaedic care, which he sees as including smaller incisions with quicker recovery and better long-term results. Dr. Lee holds a professional membership in the North American Spine Society and is a member of the American Academy of Orthopaedic Surgeons.

Dr. Lee lives in Bucks County with his wife and three children and enjoys traveling and spending time with his family. He is also the founding member and lead guitarist of the band Rose's Cross. His band has performed at Abington Health's Rockin' Docs for Diabetes and plays at numerous charitable events throughout the region.
Professional Profile
Education
Titles & Certifications
Professional Associations
Education
Undergraduate, Philadelphia University, Philadelphia, PA
Medical School, Temple University School of Medicine, Philadelphia, PA
Internship, General Surgery, Albert Einstein Medical Center, Philadelphia, PA
Residency, Orthopaedic Surgery, Albert Einstein Medical Center, Philadelphia, PA
Fellowship, Reconstructive Spine, Towson Orthopaedic Associates, Towson, MD
Titles & Certifications
Board Certified, American Board of Orthopaedic Surgery
Clinical Assistant Professor, Temple University School of Medicine
Director of Patient Safety and Quality Assurance, Abington Hospital
Professional Associations
American Academy of Orthopaedic Surgeons
North American Spine Society
Education
Undergraduate, Philadelphia University, Philadelphia, PA
Medical School, Temple University School of Medicine, Philadelphia, PA
Internship, General Surgery, Albert Einstein Medical Center, Philadelphia, PA
Residency, Orthopaedic Surgery, Albert Einstein Medical Center, Philadelphia, PA
Fellowship, Reconstructive Spine, Towson Orthopaedic Associates, Towson, MD
Titles & Certifications
Board Certified, American Board of Orthopaedic Surgery
Clinical Assistant Professor, Temple University School of Medicine
Director of Patient Safety and Quality Assurance, Abington Hospital
Professional Associations
American Academy of Orthopaedic Surgeons
North American Spine Society
Orthopaedic Residents 14.00
Normal 0 false false false EN-US X-NONE X-NONE /* Style Definitions */ table.MsoNormalTable {mso-style-name:"Table Normal"; mso-tstyle-rowband-size:0; mso-tstyle-colband-size:0; mso-style-noshow:yes; mso-style-priority:99; mso-style-parent:""; mso-padding-alt:0in 5.4pt 0in 5.4pt; mso-para-margin-top:0in; mso-para-margin-right:0in; mso-para-margin-bottom:10.0pt; mso-para-margin-left:0in; line-height:115%; mso-pagination:widow-orphan; font-size:11.0pt; font-family:"Calibri","sans-serif"; mso-ascii-font-family:Calibri; mso-ascii-theme-font:minor-latin; mso-hansi-font-family:Calibri; mso-hansi-theme-font:minor-latin;}
Publications
McAfee PC, Lee GA, Fedder IL, Cunningham BW. Anterior BAK Instrumentation and Fusion: Complete Versus Partial Discectomy. Clinical Orthopaedics and Related Research 394 (55-63). Lippincott Williams & Williams, Philadelphia, PA 2002
Henriques TA, Cunningham BW, Oleurod C, Shimamoto N, Lee GA, Larsson S, McAfee PC. Biomechanical Evaluation of Five Different Atlantoaxial Posterior Fixation Techniques. Spine 25:22 (2877-83) 2000
In Progress
Oda I, Cunningham BW, Haggerty CJ, Lee GA, Kuniyoshi A, Kaneda K, McAfee PC. Biomechanical Properties of Anterior Thoracolumbar Multisegmental Fixation: An Analysis of Construct Stiffness and Screw/Rod Strain. Spine25:18 (2303-11) 2000
Lee GA, Betz RR, Clements DH, Hess GR: Proximal Kyphosis Above Posterior Spinal Fusion in Patients with Idiopathic Scoliosis. Spine 24:8 (795-9) 1999
McAfee PC, Cunningham BW, Lee GA, Orbegoso CM, Haggerty CJ, Fedder IL, Griffith SL. Revision Strategies for Salvaging or Improving -Failed Cylindrical Cages. Spine 24:20 (2147-53) 1999
Keenan MA, Lee GA, Tuckman AS: Transfer of The Extrinsic Toe Flexors To The Os Calcis To Enhance Calf Strength In Patients With Spastic Equinovarus Deformities. Journal of Head Trauma 14:2 (163-75) 1999
Lee GA, Katz SS, Lazarus MD: Elbow Valgus Stress Radiography in an Uninjured Population. Amer J. Sports Med. 26:3 (425-7) 1998
Lee GA, Stolsteimer G, Lazarus MD: Case Report; Charcot Neuropathy of Lisfranc's Joint. Journal of Musculoskeletal Medicine. 14:4 (62-67) 1997
Book Chapters
Keenan, MA, Lee GA: Adult Lower Extremity and Stroke in Chapman's Operative Orthopaedics. Third Edition. In Press
Lee GA, Cunningham BW, McAfee PC. Lumbo-Sacral Fixation in Weinstein's The Pediatric Spine. 2nd Edition. Lippincott Williams & Williams, Philadelphia, PA 2001
Stories Related to Guy A. Lee, MD
https://www.youtube.com/watch?v=BenSIjWbQ80&ab_channel=RothmanOrthopaedics
Publications
Orthopaedic Residents 14.00
Normal 0 false false false EN-US X-NONE X-NONE /* Style Definitions */ table.MsoNormalTable {mso-style-name:"Table Normal"; mso-tstyle-rowband-size:0; mso-tstyle-colband-size:0; mso-style-noshow:yes; mso-style-priority:99; mso-style-parent:""; mso-padding-alt:0in 5.4pt 0in 5.4pt; mso-para-margin-top:0in; mso-para-margin-right:0in; mso-para-margin-bottom:10.0pt; mso-para-margin-left:0in; line-height:115%; mso-pagination:widow-orphan; font-size:11.0pt; font-family:"Calibri","sans-serif"; mso-ascii-font-family:Calibri; mso-ascii-theme-font:minor-latin; mso-hansi-font-family:Calibri; mso-hansi-theme-font:minor-latin;}
Publications
McAfee PC, Lee GA, Fedder IL, Cunningham BW. Anterior BAK Instrumentation and Fusion: Complete Versus Partial Discectomy. Clinical Orthopaedics and Related Research 394 (55-63). Lippincott Williams & Williams, Philadelphia, PA 2002
Henriques TA, Cunningham BW, Oleurod C, Shimamoto N, Lee GA, Larsson S, McAfee PC. Biomechanical Evaluation of Five Different Atlantoaxial Posterior Fixation Techniques. Spine 25:22 (2877-83) 2000
In Progress
Oda I, Cunningham BW, Haggerty CJ, Lee GA, Kuniyoshi A, Kaneda K, McAfee PC. Biomechanical Properties of Anterior Thoracolumbar Multisegmental Fixation: An Analysis of Construct Stiffness and Screw/Rod Strain. Spine25:18 (2303-11) 2000
Lee GA, Betz RR, Clements DH, Hess GR: Proximal Kyphosis Above Posterior Spinal Fusion in Patients with Idiopathic Scoliosis. Spine 24:8 (795-9) 1999
McAfee PC, Cunningham BW, Lee GA, Orbegoso CM, Haggerty CJ, Fedder IL, Griffith SL. Revision Strategies for Salvaging or Improving -Failed Cylindrical Cages. Spine 24:20 (2147-53) 1999
Keenan MA, Lee GA, Tuckman AS: Transfer of The Extrinsic Toe Flexors To The Os Calcis To Enhance Calf Strength In Patients With Spastic Equinovarus Deformities. Journal of Head Trauma 14:2 (163-75) 1999
Lee GA, Katz SS, Lazarus MD: Elbow Valgus Stress Radiography in an Uninjured Population. Amer J. Sports Med. 26:3 (425-7) 1998
Lee GA, Stolsteimer G, Lazarus MD: Case Report; Charcot Neuropathy of Lisfranc's Joint. Journal of Musculoskeletal Medicine. 14:4 (62-67) 1997
Book Chapters
Keenan, MA, Lee GA: Adult Lower Extremity and Stroke in Chapman's Operative Orthopaedics. Third Edition. In Press
Lee GA, Cunningham BW, McAfee PC. Lumbo-Sacral Fixation in Weinstein's The Pediatric Spine. 2nd Edition. Lippincott Williams & Williams, Philadelphia, PA 2001