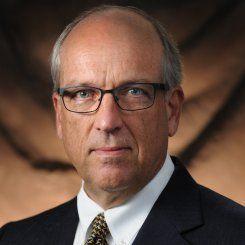 H. William Schaaf, MD
Dr. Schaaf joined Rothman Orthopaedic Institute in 2012, after practicing orthopaedic surgery in the Phoenixville and Pottstown areas since 1985. He has special interest in hip and knee replacement.
He is board certified in both orthopedic surgery and internal medicine, graduating with honors from Temple University Med School in 1977, completing an internal medicine residency there in 1980, and then completing his orthopaedic surgery training at The University of Chicago in 1985.
Dr. Schaaf is a member of The American Academy of Orthopaedic Surgeons, The American Academy of Hip and Knee Surgeons and Alpha Omega Alpha Medical Honor Society.
The joint replacement surgeons at Rothman Orthopaedics collectively perform over 17,000 hip and knee procedures each year in both an inpatient and outpatient capacity. They continue to lead the way in advanced technologies and procedures, providing our patients with the safest, most effective methods to get you back to what you were. Services offered include:
Hip:
Total Hip Replacement
Anterior Hip Replacement
Minimally Invasive Hip Replacement
Rapid Recovery Hip Replacement
Revision Hip Replacement
Posterior Hip Replacement
Computer Assisted Hip Replacement
Robotic Hip Replacement
Outpatient Total Hip Replacement
Anterolateral Approach
Direct Lateral Approach
Knee:
Total Knee Replacement
Partial Knee Replacement
Revision Knee Replacement
Minimally Invasive Knee Replacement
Rapid Recovery Knee Replacement
Computer Assisted Knee Replacement
Robotic Knee Replacement
Quad Sparing Knee Replacement
Outpatient Total Knee Replacement
Professional Profile
Education
Titles & Certifications
Professional Associations
Education
A.B. Biology, Bucknell University
M.D. Temple University School of Medicine
Titles & Certifications
Board certified, American Board of Internal Medicine
Board certified, American Board of Orthopaedic Surgeons
Professional Associations
American Academy of Orthopaedic Surgery
American Academy of Hip and Knee Surgeons
Pennsylvania Orthopaedic Society
Chester County Medical Society
Pennsylvania Medical Society
Physicians Care Surgical Hospital at Limerick
Education
A.B. Biology, Bucknell University
M.D. Temple University School of Medicine
Titles & Certifications
Board certified, American Board of Internal Medicine
Board certified, American Board of Orthopaedic Surgeons
Professional Associations
American Academy of Orthopaedic Surgery
American Academy of Hip and Knee Surgeons
Pennsylvania Orthopaedic Society
Chester County Medical Society
Pennsylvania Medical Society
Physicians Care Surgical Hospital at Limerick
More Information
Key Contact Information
Surgical Scheduler: 484-932-5040
Billing Inquiries: 267-339-3558
Stories Related to H. William Schaaf, MD