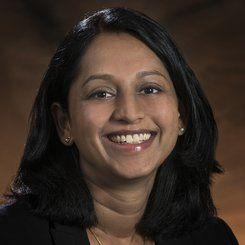 Malathy Srinivasan, M.D.
Dr. Srinivasan is a board certified physiatrist by the American Board of Physical Medicine and Rehabilitation. She completed her residency at North Shore Long Island Jewish Health System in New York where she served as chief resident. She completed her fellowship in Interventional Spine, Sports and Musculoskeletal Medicine at the University of Pennsylvania health system. She provides non-operative spine and musculoskeletal care for patients of all ages. Her treatment methods include exercise prescription, medication guidance, X-ray guided spinal and musculoskeletal injections and electrodiagnostic testing when appropriate.
Dr. Srinivasan has a particular interest in managing pelvic pain in women. Her previous experience, education and training allows for her to provide a comprehensive assessment for patients presenting with pelvic pain and to coordinate multidisciplinary care. This care includes diagnosis, appropriate exercise prescription and injection interventions.
She has an active interest in education and evidence based approaches. She has contributed and authored several peer reviewed medical journal publications and book chapters throughout her medical career.
Professional Profile
Education
Titles & Certifications
Professional Associations
Education
M.B.B.S., Sri Ramachandra Medical College and Research Institute, India
M.R.C.O.G., Royal College of Obstetricians and Gynecologists, United Kingdom
M.D., Royal Free and University College Medical School, United Kingdom
Internship, General Surgery, North Shore - Long Island Jewish Health System, New York, NY
Residency, Physical Medicine & Rehabilitation, North Shore – Long Island Jewish Health System, New York, NY
Fellowship, Interventional Spine, Penn Spine Center, University of Pennsylvania Health System, Philadelphia, PA
Titles & Certifications
American Board of Physical Medicine and Rehabilitation
Professional Associations
International Pelvic Pain Society (IPPS)
Delaware County Medical Society (DCMS)
Education
M.B.B.S., Sri Ramachandra Medical College and Research Institute, India
M.R.C.O.G., Royal College of Obstetricians and Gynecologists, United Kingdom
M.D., Royal Free and University College Medical School, United Kingdom
Internship, General Surgery, North Shore - Long Island Jewish Health System, New York, NY
Residency, Physical Medicine & Rehabilitation, North Shore – Long Island Jewish Health System, New York, NY
Fellowship, Interventional Spine, Penn Spine Center, University of Pennsylvania Health System, Philadelphia, PA
Titles & Certifications
American Board of Physical Medicine and Rehabilitation
Professional Associations
International Pelvic Pain Society (IPPS)
Delaware County Medical Society (DCMS)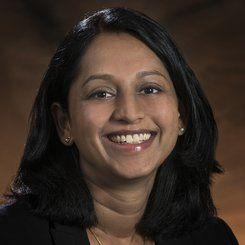 https://rothmanortho.radixhealth.com/dash/self/#/schedule/24124/search