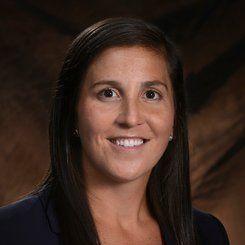 Dr. Leone is a native of Ontario, Canada and received her Doctor of Chiropractic from New York Chiropractic College in Seneca Falls, NY. She has extensive training in treating all levels of athletic needs as well as musculoskeletal conditions. She earned her Bachelors degree in Biology from Syracuse University where she played Division 1 ice hockey.
Dr. Leone has special interest in Golf and Hockey injuries. She is Titleist Performance Institute (TPI) trained in Golf and is currently pursuing CCSP (Certified Chiropractic Sports Physician) certification. Dr. Leone is certified in basic and functional Rock Tape as well as advanced treatment of soft tissue injuries using Graston technique.
Dr. Leone used chiropractic care throughout her sports career as it helped her quickly recover from injuries and maximize performance. She uses chiropractic to help others and promote an overall well being of patients through care and education.
She is an active member of The Association of New Jersey Chiropractors (ANJC).
Office Locations
Surgical Locations
Professional Profile
Education
Undergraduate: Syracuse University, Syracuse, New York
Doctor of Chiropractic: New York Chiropractic College, Seneca Falls, New York
Titles & Certifications
Graston Technique Certified
National Board of Chiropractic Examiners, Board Certified
CPR and Emergency Cardiac Care Provider
Titleist Performance Institute (TPI) Level 3 Certified
Rock Tape Certified
Whole Food Nutrition Certification
Professional Associations
American Chiropractic Association
New Jersey Sports Council