*For an appointment, please call 888-636-7840
**Accepting All Major Insurances**
Dr. Bassora is a board certified, fellowship-trained orthopaedic surgeon who specializes in shoulder reconstruction and sports related injuries of the shoulder, elbow and knee. He completed his residency in Orthopaedic Surgery at The Hospital of the University of Pennsylvania in Philadelphia, PA and followed with a dual fellowship in Shoulder Reconstruction and Sports Medicine in Los Angeles, under the influences of renowned shoulder and sports specialists, Dr. James Tibone and Dr. John Itamura.
Dr. Bassora has particular interest in the treatment of shoulder and knee conditions. He has expertise in total and reverse shoulder arthroplasty, arthroscopic rotator cuff tendon repair, shoulder instability, shoulder fractures, arthroscopic knee ligament reconstruction, meniscal repair, and cartilage restoration.

Dr. Bassora is a member of the American Shoulder and Elbow surgeons and a fellow of the American Academy of Orthopaedic Surgeons. He has been named a New York Top Doc and holds Top Doc status with Castle Connolly as well as Bergen County Magazine.
Professional Profile
Education
Titles & Certifications
Professional Associations
Education
B.S., Mechanical Engineering, New Jersey Institute of Technology, Newark, NJ
M.S., Biomedical Engineering, New Jersey Institute of Technology, Newark, NJ
M.D., Robert Wood Johnson Medical School (Rutgers Medical School), New Brunswick, NJ
Internship, General Surgery, The Hospital of the University of Pennsylvania, Philadelphia, PA
Residency, Orthopaedic Surgery, The Hospital of the University of Pennsylvania, Philadelphia, PA
Fellowship, Shoulder and Elbow Reconstruction and Sports Medicine, University of Southern California, Los Angeles, CA
Titles & Certifications
Board Certified, American Board of Orthopaedic Surgery
Castle Connolly Top Doctor
New York Top Doctor
Bergen County Magazine Top Doctor
Professional Associations
American Shoulder and Elbow Surgeons
American Academy of Orthopaedic Surgeons
Philadelphia Orthopaedic Society
Pennsylvania Orthopaedic Society
Education
B.S., Mechanical Engineering, New Jersey Institute of Technology, Newark, NJ
M.S., Biomedical Engineering, New Jersey Institute of Technology, Newark, NJ
M.D., Robert Wood Johnson Medical School (Rutgers Medical School), New Brunswick, NJ
Internship, General Surgery, The Hospital of the University of Pennsylvania, Philadelphia, PA
Residency, Orthopaedic Surgery, The Hospital of the University of Pennsylvania, Philadelphia, PA
Fellowship, Shoulder and Elbow Reconstruction and Sports Medicine, University of Southern California, Los Angeles, CA
Titles & Certifications
Board Certified, American Board of Orthopaedic Surgery
Castle Connolly Top Doctor
New York Top Doctor
Bergen County Magazine Top Doctor
Professional Associations
American Shoulder and Elbow Surgeons
American Academy of Orthopaedic Surgeons
Philadelphia Orthopaedic Society
Pennsylvania Orthopaedic Society
Publications:
Peer Reviewed Publications
2019 Bassora R, Namdari S, Beharrie AW, Inzerillo VC, Abboud J: Late onset
radial nerve palsy after closed treatment of periprosethetic humerus fracture:
A case report.
JBJS Case Connect. 2020 Jan-Mar;10(1):e0510

2014 Chin KR, Bassora R, Yu WD: Safety and usefulness of free fat grafts after
microdiscectomy using an access cannula: a prospective pilot study and
literature review.
Am J Orthop. 2014 Feb; 43(2):66-9
2011 Beason DP, Abboud JA, Kuntz AF, Bassora R, Soslowsky LJ: Cumulative effects of hypercholesterolemia on tendon biomechanics in a mouse model.
J Orthop Res. 2011 Mar;29(3):380-3
Presented at AAOS Academy, San Francisco, Ca. 2008
2011 Widmer BJ, Bassora R, Warrender WJ, Abboud JA: Thromboembolic events are uncommon after open treatment of proximal humerus fractures using aspirin and compressive devices.
Clin Orthop Relat Res. 2008 Jan ;466 (1):225-30
Presented at AAOS Academy, Las Vegas, NV. 2009
2008 Bowers AL, Severino RB, Bassora R, Kaye R, Wells L: Traumatic Lower Extremity Arteriovenous Fistulae in Children: A Case Series of Unusual Injuries. Orthopaedics 2008; 31:612
2008. Sodl JF, Bassora R, Huffman GR, Keenan, MA: Traumatic Myositis
Ossificans As a Result of College Fraternity Hazing: A Case Report.
Clin Orthop Relat Res. 2008 Jan ;466 (1):225-30
Book Chapters:
Bassora R, Chin KR: Cervical Herniated Disc. In Lotke PA, Abboud JA (eds): Orthopaedics for the Primary Care Physician. Philadelphia, Mosby, editorial review submission, September 2006
Bassora R, Chin KR: Cervical Degenerative Disc Disease. In Lotke PA, Abboud JA (eds): Orthopaedics for the Primary Care Physician. Philadelphia, Mosby, editorial review submission, September 2006
Publications
Publications:
Peer Reviewed Publications
2019 Bassora R, Namdari S, Beharrie AW, Inzerillo VC, Abboud J: Late onset
radial nerve palsy after closed treatment of periprosethetic humerus fracture:
A case report.
JBJS Case Connect. 2020 Jan-Mar;10(1):e0510

2014 Chin KR, Bassora R, Yu WD: Safety and usefulness of free fat grafts after
microdiscectomy using an access cannula: a prospective pilot study and
literature review.
Am J Orthop. 2014 Feb; 43(2):66-9
2011 Beason DP, Abboud JA, Kuntz AF, Bassora R, Soslowsky LJ: Cumulative effects of hypercholesterolemia on tendon biomechanics in a mouse model.
J Orthop Res. 2011 Mar;29(3):380-3
Presented at AAOS Academy, San Francisco, Ca. 2008
2011 Widmer BJ, Bassora R, Warrender WJ, Abboud JA: Thromboembolic events are uncommon after open treatment of proximal humerus fractures using aspirin and compressive devices.
Clin Orthop Relat Res. 2008 Jan ;466 (1):225-30
Presented at AAOS Academy, Las Vegas, NV. 2009
2008 Bowers AL, Severino RB, Bassora R, Kaye R, Wells L: Traumatic Lower Extremity Arteriovenous Fistulae in Children: A Case Series of Unusual Injuries. Orthopaedics 2008; 31:612
2008. Sodl JF, Bassora R, Huffman GR, Keenan, MA: Traumatic Myositis
Ossificans As a Result of College Fraternity Hazing: A Case Report.
Clin Orthop Relat Res. 2008 Jan ;466 (1):225-30
Book Chapters:
Bassora R, Chin KR: Cervical Herniated Disc. In Lotke PA, Abboud JA (eds): Orthopaedics for the Primary Care Physician. Philadelphia, Mosby, editorial review submission, September 2006
Bassora R, Chin KR: Cervical Degenerative Disc Disease. In Lotke PA, Abboud JA (eds): Orthopaedics for the Primary Care Physician. Philadelphia, Mosby, editorial review submission, September 2006
Physician Videos
Rothman Physician Spotlight – Dr. Rocco Bassora
Rocco Bassora, MD — Patient Testimonial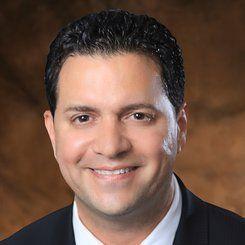 https://rothmanortho.radixhealth.com/dash/self/#/schedule/34288/search