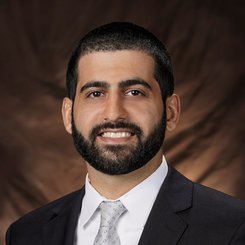 Sahba Oboudiyat, D.O.
Dr. Oboudiyat is board certified in Physical Medicine and Rehabilitation and specializes in non-surgical management of spine and musculoskeletal disorders. He completed his Bachelor Degree from The Pennsylvania State University and completed his residency training at Mercy Hospital/Good Samaritan Hospital Medical Center where he served as Chief Resident. He went on to complete an Interventional Spine, Sports and Musculoskeletal Medicine fellowship at the Hospital of the University of Pennsylvania.
Dr. Oboudiyat continues to educate and lecture on spine related matters and maintains memberships in the American Academy of Physical Medicine & Rehabilitation, Spine Intervention Society and the North American Spine Society. His treatment options include fluoroscopic and/or ultrasound guided injections, including epidural injections, selective nerve root injections, sacroiliac joint injections, facet injections, medial branch blocks, as well as radiofrequency ablation.
Professional Profile
Education
Titles & Certifications
Professional Associations
Education
BS, Schreyer Honors College of the Pennsylvania State University, University Park, PA
DO, Edward Via - Virginia College of Osteopathic Medicine, Blacksburg, VA
Internship, St. John's Episcopal Hospital, Queens, NY
Residency, Physical Medicine and Rehabilitation, Mercy Medical Center, Rockville Center, NY
Fellowship, Interventional Spine and Sports Musculoskeletal Medicine, The University of Pennsylvania, Philadelphia, PA
Titles & Certifications
Board Certified, American Board of Physical Medicine and Rehabilitation (ABPMR)
Fellow, American Academy of Physical Medicine and Rehabilitation (FAAPMR)
Professional Associations
American Academy of Physical Medicine and Rehabilitation (AAPMR)
North American Spine Society (NASS)
Spine Intervention Society (SIS)
Education
BS, Schreyer Honors College of the Pennsylvania State University, University Park, PA
DO, Edward Via - Virginia College of Osteopathic Medicine, Blacksburg, VA
Internship, St. John's Episcopal Hospital, Queens, NY
Residency, Physical Medicine and Rehabilitation, Mercy Medical Center, Rockville Center, NY
Fellowship, Interventional Spine and Sports Musculoskeletal Medicine, The University of Pennsylvania, Philadelphia, PA
Titles & Certifications
Board Certified, American Board of Physical Medicine and Rehabilitation (ABPMR)
Fellow, American Academy of Physical Medicine and Rehabilitation (FAAPMR)
Professional Associations
American Academy of Physical Medicine and Rehabilitation (AAPMR)
North American Spine Society (NASS)
Spine Intervention Society (SIS)