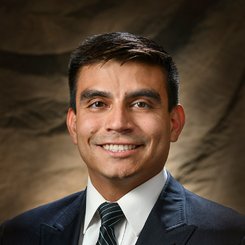 Sergio H. Pulido, DO
Dr. Pulido is a fellowship trained Orthopaedic Trauma and Fracture Care Surgeon. He completed his residency in Orthopaedic Surgery at Rowan University, School of Osteopathic Medicine, and followed with an Orthopaedic Trauma fellowship at Grant Medical Center in Columbus, OH.

Dr. Pulido specializes in complex periarticular injuries, as well as pelvic and acetabular fractures. He has an interest in all types of fractures including malunions and nonunions. He is a published physician and is actively involved in orthopaedic research. He is a member of multiple medical associations including the Orthopaedic Trauma Association and American Academy of Orthopaedic Surgeons. He is also fluent in Spanish.
For more than ten years, Dr. Pulido has volunteered with Warm Heart Worldwide, a non-profit foundation based in Phrao, Thailand, that is dedicated to education, social development and health care for those in need.
Professional Profile
Education
Titles & Certifications
Professional Associations
Education
B.S., The College of New Jersey, Ewing, NJ
D.O., University of Medicine and Dentistry of New Jersey School of Osteopathic Medicine, Stratford, NJ
Residency, Orthopaedic Surgery, Rowan University – School of Osteopathic Medicine, Stratford, NJ
Fellowship, Orthopaedic Trauma, Grant Medical Center, Columbus, OH
Titles & Certifications
Director of Orthopaedic Trauma, Capital Health Medical Center, Trenton, NJ
Assistant Professor, Department of Orthopaedic Surgery, Sidney Kimmel Medical College, Thomas Jefferson University, Philadelphia, PA
Professional Associations
American Academy of Orthopaedic Surgeons
American Osteopathic Academy of Orthopedics
Orthopaedic Trauma Association
Gold Humanism Honor Society
American Osteopathic Association
Education
B.S., The College of New Jersey, Ewing, NJ
D.O., University of Medicine and Dentistry of New Jersey School of Osteopathic Medicine, Stratford, NJ
Residency, Orthopaedic Surgery, Rowan University – School of Osteopathic Medicine, Stratford, NJ
Fellowship, Orthopaedic Trauma, Grant Medical Center, Columbus, OH
Titles & Certifications
Director of Orthopaedic Trauma, Capital Health Medical Center, Trenton, NJ
Assistant Professor, Department of Orthopaedic Surgery, Sidney Kimmel Medical College, Thomas Jefferson University, Philadelphia, PA
Professional Associations
American Academy of Orthopaedic Surgeons
American Osteopathic Academy of Orthopedics
Orthopaedic Trauma Association
Gold Humanism Honor Society
American Osteopathic Association
More Information
Key Contact Information
Medical Questions: 609-488-6872
Billing Inquiries: 267-339-3558
Peer Reviewed Publications:
2022 Myers DM, Pulido SH, Forsting S, Umbel B, Taylor BC. Effect of Early Weight Bearing on Outcomes After Open Reduction and Internal Fixation of Trimalleolar Ankle Fractures. Orthopedics 44 (2021) 160-165. PMID: 33416898

2017 Duque AF, Post ZD, Lutz RW, Orozco FR, Pulido SH, Ong AC. Is There Still a Role for Irrigation and Debridement with Liner Exchange in Acute Periprosthetic Total Knee Infection? The Journal of Arthroplasty 32 (2017) 1280-1284. PMID: 27876465

2010 Krizan JW, Pulido SH, Wehrhan SE, Chan BC. Cs6Nb4Se22 and K12Nb6Se35.3: Two New Compounds Containing the M4Q22 Building Block. Crystal Structure Communications (2010). C66, i75-i78. PMID: 20603545

Book Chapters:
2015 Orozco FR, Pulido SH, Ong AC. Preoperative Medical Evaluation. The Adult Hip: Hip Arthroplasty Surgery. 2015
Publications
Peer Reviewed Publications:
2022 Myers DM, Pulido SH, Forsting S, Umbel B, Taylor BC. Effect of Early Weight Bearing on Outcomes After Open Reduction and Internal Fixation of Trimalleolar Ankle Fractures. Orthopedics 44 (2021) 160-165. PMID: 33416898

2017 Duque AF, Post ZD, Lutz RW, Orozco FR, Pulido SH, Ong AC. Is There Still a Role for Irrigation and Debridement with Liner Exchange in Acute Periprosthetic Total Knee Infection? The Journal of Arthroplasty 32 (2017) 1280-1284. PMID: 27876465

2010 Krizan JW, Pulido SH, Wehrhan SE, Chan BC. Cs6Nb4Se22 and K12Nb6Se35.3: Two New Compounds Containing the M4Q22 Building Block. Crystal Structure Communications (2010). C66, i75-i78. PMID: 20603545

Book Chapters:
2015 Orozco FR, Pulido SH, Ong AC. Preoperative Medical Evaluation. The Adult Hip: Hip Arthroplasty Surgery. 2015