Careers
"Teamwork" is a word we take seriously at Rothman Orthopaedics. We recognize that the success of an organization doesn't rest on the shoulders of a single person. Rather, it requires the collective effort of talented, committed individuals. Our employees are our single greatest asset at Rothman Orthopaedics. We know that their support is vital in our mission to deliver high-quality orthopaedic care to our communities. As such, we strive to provide a professional, nurturing environment where every member of our team can make a meaningful difference in the lives of others. This commitment to our employees has earned us the distinction as a Best Place to Work in PA by Central Pennsylvania Business Journal and a Top Workplace in Philadelphia by the Philadelphia Inquirer. Our employees enjoy competitive pay, comprehensive health and dental benefits, tuition reimbursement, paid time off, and retirement savings plans. Click here for a comprehensive list of benefits! We invite you to join a team that is committed to success. Search for the position that is right for you and apply today!
Show More
View Open Positions Contact Us About Physician Job Openings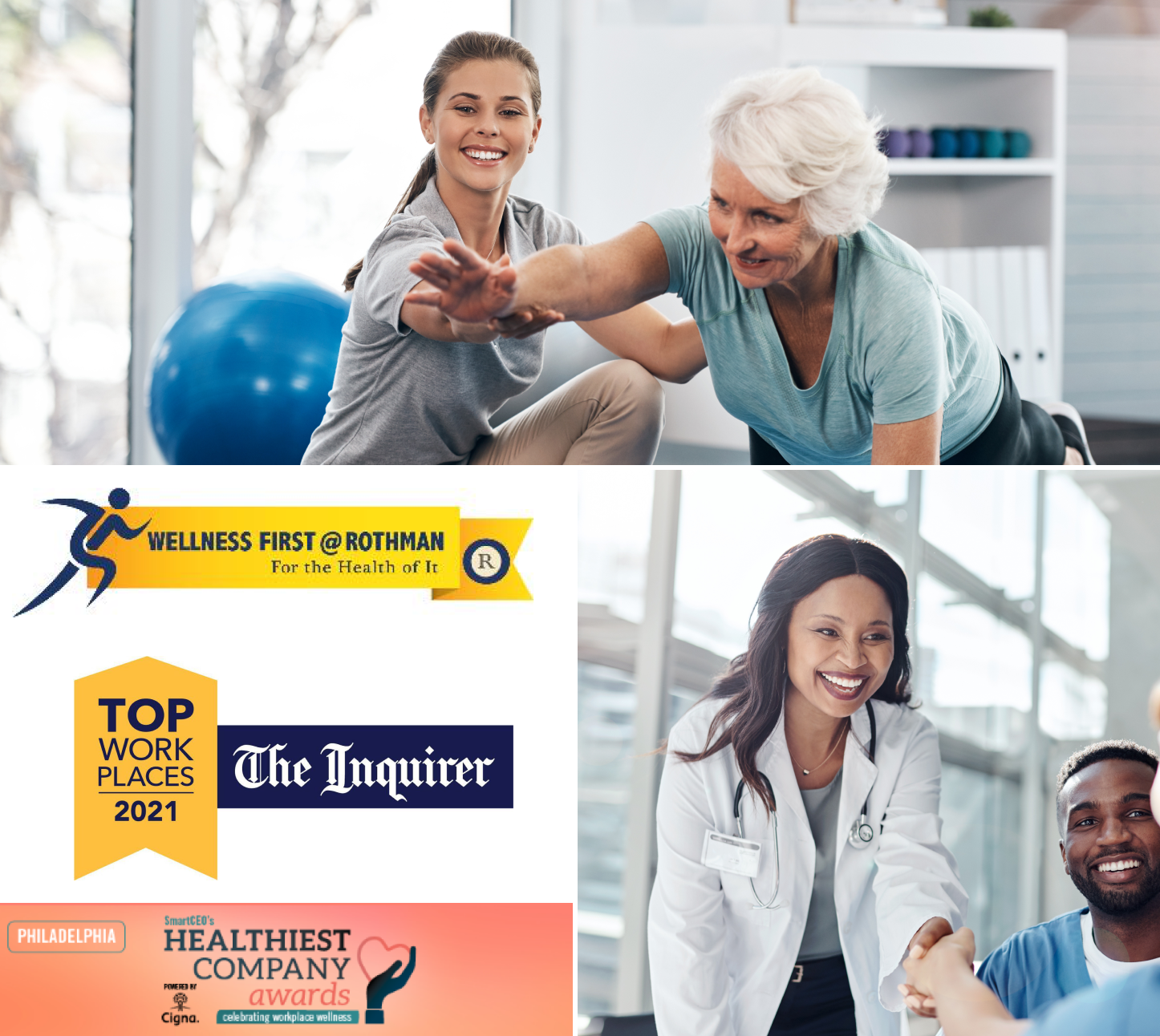 Total Rewards
At Rothman Orthopaedic Institute, we believe in offering a competitive Total Rewards Benefit and Compensation package to our employees who are essential in living our mission of providing our communities with high quality and compassionate care.
We are dedicated to the well-being of our employees and offer a variety of programs and coverage options that are flexible, competitive and comprehensive. Rothman Orthopaedics recognizes that life extends beyond the business day and we are committed to providing a well-rounded platform of plans, services, and support to guide your decision-making process.

PAY
Rothman Orthopaedics provides competitive compensation that is at or above the market so we can attract and retain top talent who help us achieve our mission and vision of being a Top Workplace and national leader in musculoskeletal clinical care, teaching and research. In addition, Rothman strives to align individual performance to overall business results by offering a discretionary bi-annual incentive bonus.

BENEFITS
Rothman is committed to providing affordable, quality health care coverage to employees and their families. Rothman Orthopaedics offers comprehensive health plan options to employees. Eligibility is based on average hours worked, length of service and position.

Additionally, Rothman offers Flexible Spending Accounts for health care, dependent care and transit expenses which allow employees to save a portion of their paycheck in a tax-free account to use for eligible expenses.

WELLNESS
To promote the overall health and wellbeing of our employees, Rothman offers a wellness program that gives employees the opportunity to earn discount toward the cost of healthcare by participating in healthy challenges and activities throughout the year. Rothman won the Healthiest Company Award 2015 through SmartCEO Magazine based on our commitment to employee wellness.




EMPLOYEE ASSISTANCE PROGRAM (EAP)
Rothman Orthopaedics employees have access to a confidential counselling service to help address any personal issues or challenges they may face. This free service is available by calling toll-free phone line 24 hours a day, seven days a week. Employees can also use this service for discounted legal resources and financial assistance.

PAID TIME OFF
Rothman assists employees in enjoying a work/life balance by providing paid time off. Vacation is accrued based on length of service, position and hours worked. We observe six national holidays and provide personal and sick time at the beginning of each calendar year for employees to use as needed.

RETIREMENT
All employees, regardless of employment status or number of hours worked, may join the Retirement Savings Plan. The RSP is a qualified 401(k) plan and employees may defer dollar or percentage amounts of pay on a pre-tax basis to save for your retirement. Rothman Orthopaedics provides Safe Harbor contributions at a percentage of your earnings, even if you don't personally contribute to your retirement plan. The plan is designed to offer flexibility and diversification in your investment choices to best suit your retirement goals.