Tarrytown, NY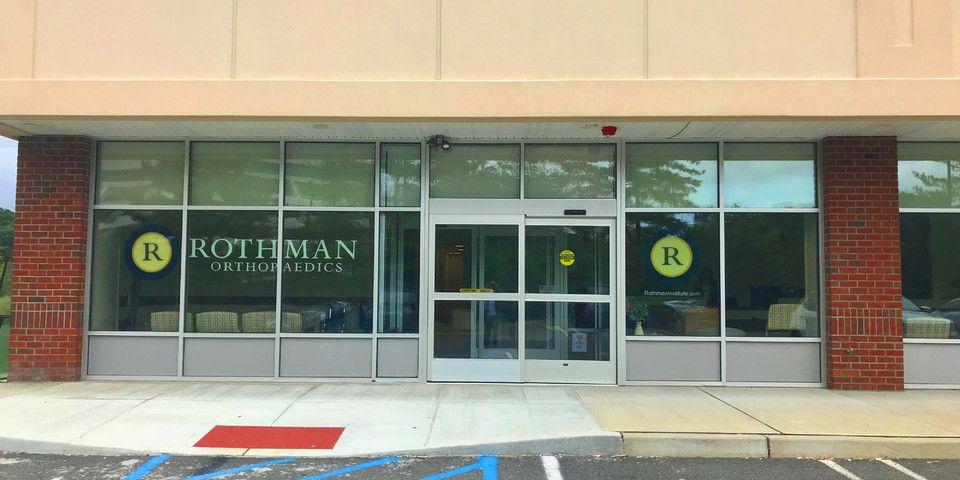 Address
658 White Plains Rd, Tarrytown, NY 10591, USA

Office Hours
Monday, Tuesday, Friday
:
8:00AM - 4:30PM
Map & Directions
At our Tarrytown, NY location, patients have access to the elite-grade physicians, services, and facilities that have earned Rothman Orthopaedic Institute an unparalleled reputation among both patients and the medical community. From cutting-edge joint replacement procedures to comprehensive Sports Medicine care, we are proud to provide Tarrytown patients with a full spectrum of exceptional orthopaedic treatments and services.
To learn more about Rothman Orthopaedics NY locations and physicians, click here.
---
Orthopaedic Services Offered in Tarrytown
Patients of all backgrounds can benefit from specialized surgical interventions and therapies, from the young athlete who has experienced a traumatic knee injury to the senior who is dealing with the symptoms of osteoarthritis—not to mention the estimated 50 million Americans who suffer from chronic pain.
At our Tarrytown location, we offer diverse services for diverse patients. Our specialized doctors perform elite treatment in a number of categories.
Sports Medicine
From ACL tear treatment to proper concussion protocol, Rothman Orthopaedic Institute's physicians are equipped to handle every medical mishap sent their way. We understand that injured athletes require a unique approach to their treatment - one that allows them to recover their full range of abilities and return to their sport as quickly as possible.

Our Sports Medicine department features a nationally-recognized team of specialists with unmatched clinical experience. Our team evaluates over 80,000 injuries and performs over 10,000 surgeries annually.
Hip & Knee
Hip and knee joints are critical for everyday activities and mobility. In addition to enabling movement, they play a crucial role in weight bearing. Unfortunately, the everyday activities that we depend upon our hips and knees for (from standing and sitting to walking and running) may cause gradual degeneration of these joints. For other patients, traumatic injuries may cause a sudden hip or knee issues which immediately inhibits function.
Whether you are in need of non-operative therapies or a total joint replacement, the hip and knee specialists at Rothman Orthopaedic Institute can provide you with the elite-grade care that you need to restore these essential components of your orthopaedic health.
Spine
Millions of Americans live with chronic back pain. Whether it's degenerative or genetic, spine conditions can cause more stress and pain than anybody should have to endure. With the knowledge and guidance of our board-certified physicians, Rothman Orthopaedic Institute can help patients get back on their feet faster than ever before.
Our spine surgeons offer comprehensive treatments for every type of back and spine condition. Among our featured services are such treatment options as artificial disc replacements, spinal fusion operations, and targeted, non-operative physical therapy regimens for managing back pain.
Hand & Wrist
Did you know that the wrist contains the body's most commonly fractured bone: the radius? Seemingly harmless conditions, such as typing, can cause serious hand and wrist disability later in life because of conditions like arthritis and carpal tunnel syndrome.
Foot & Ankle
Achilles tendon ruptures. Ankle fractures. Stress fractures. These are just a few of the serious foot and ankle conditions that affect Tarrytown patients. Fortunately, Rothman Orthopaedic Institute offers specialized treatments that can target and address the root cause of every type of foot and ankle issue. Some featured foot and ankle treatments range from reconstructive surgeries to tissue-strengthening therapies, which help take care of bunions and flat feet.
Are you in need of cutting-edge foot and ankle treatments? At our Tarrytown location, specialists will provide you with effective care that is designed to address your particular symptoms and meet your unique needs.
Proudly Serving
We are proud to serve the Tarrytown community and beyond at our new regional practice. We serve all neighborhoods in Westchester County and beyond including:
Elmsford

Nyack

White Plains
Our Rothman Orthopaedic Institute Review Sites
Check out what our patients, visitors, and others are saying about us:
About Rothman Orthopaedic Institute
Founded in 1970, Rothman Orthopaedic Institute has spent nearly the past five decades providing patients in South Jersey and the Philadelphia region with the nation's premier orthopaedic care. Now, the doctors at Rothman Orthopaedic Institute are extending the geographic reach of their renowned care to include patients in New York.
Physicians at this Location
All Specialties
Hip
Knee
Spine
Sports Medicine
Shoulder & Elbow
Foot & Ankle
Hand & Wrist
Physical Medicine & Rehabilitation
Orthopaedic Oncology
Orthopaedic Trauma & Fracture Care
General Orthopaedics
Filter Physicians
Filter
Sort
All Specialties
Hip
Knee
Spine
Sports Medicine
Shoulder & Elbow
Foot & Ankle
Hand & Wrist
Physical Medicine & Rehabilitation
Orthopaedic Oncology
Orthopaedic Trauma & Fracture Care
General Orthopaedics
All Locations

{{item.title}}

{{distanceText(item)}}
Services at this Location
Stories Related to Tarrytown, NY