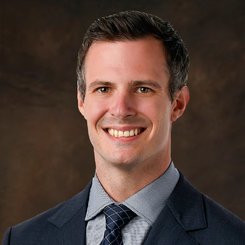 Adam J. Money, M.D.
Dr. Money is an orthopaedic sports medicine physician specializing in shoulder and knee conditions. He received his undergraduate degree from Yale University where he was a first team All-Ivy defensive back for the football team. He went on to receive his medical degree from Georgetown University Medical School and followed with a residency in orthopaedic surgery at Prisma Health/University of South Carolina. He then completed a Sports Medicine Orthopaedic fellowship at Stanford University.
Dr. Money treats all sports related conditions, with particular focus on arthroscopy (minimally invasive surgery) and ligament repair/reconstruction.
Dr. Money is active in orthopaedic research and has published numerous articles and book chapters on orthopaedic topics focused on sports medicine.
El Dr. Money es médico ortopédico en medicina deportiva especializado en afecciones del hombro y la rodilla. Recibió su título universitario de la Universidad de Yale, donde fue back defensivo del primer equipo All-Ivy de fútbol americano. Obtuvo su título de Médico en la Facultad de Medicina de la Universidad de Georgetown y luego realizó una residencia en cirugía ortopédica en Prisma Health/Universidad de Carolina del Sur. Posteriormente, obtuvo una beca de Medicina Deportiva Ortopédica en la Universidad de Stanford.
El Dr. Money trata todas las afecciones relacionadas con el deporte, dedicándose especialmente a la artroscopia (cirugía mínimamente invasiva) y a la reparación y reconstrucción de ligamentos.
Professional Profile
Education
BA, Yale University, New Haven, CT
MD, Georgetown University Medical School, Washington, DC
Residency, Orthopedic Surgery, Prisma Health/University of South Carolina, Columbia, SC
Fellowship, Sports Medicine, Stanford University, Stanford, CA
Education
BA, Yale University, New Haven, CT
MD, Georgetown University Medical School, Washington, DC
Residency, Orthopedic Surgery, Prisma Health/University of South Carolina, Columbia, SC
Fellowship, Sports Medicine, Stanford University, Stanford, CA
Publications
Learning Cardiac Auscultation: From Essentials to Expert Clinical Interpretation. 1st ed. 2015
Chapter 5: Aortic Stenosis
Kammel J, Bence C, Money A, Swinford S
Epidural Abscess Caused by Gas Producing Clostridium Septicum: A Case Report
Money A, Molloy S, Grabowski G
Published JBJS case connector 9.4 (2019): e0282.
PMID: 31688056
Acetabular Subchondral and Far Cortical Perforation During Labral Repair with Suture Anchors: Influence of Portal Location, Curved vs Straight Drill Guides, and Drill Start Point
Dumont G, Money A, Thier Z
Published Arthroscopy: The Journal of Arthroscopic & Related Surgery 35.8 (2019): 2349-2354.
PMID: 31395168
Para-acetabular Radiopaque Densities in Patients with Femoroacetabular Impingement: A Retrospective Assessment of Prevalence and Characteristics
Dumont G, Menge T, Money A
Published Orthopaedic Journal of Sports Medicine 8.1 (2020): 2325967119892330.
PMID: 32030344
Patient Specific Factors are Associated with Severity of Chondrolabral Injury in Patients with Femoroacetabular Impingement
Dumont G, Ergen T, Money A, Pacana M
Published Knee Surgery, Sports Traumatology, Arthroscopy, 2020 Apr 24
PMID: 32333055
Patellofemoral Pain, Chondrosis, and Arthritis in the Young to Middle Age Patient: 35 Year Old Female with Diffuse Bilateral Patellar and Trochlear Chondrosis
Sherman S, Ray T, Money A
Book Chapter submitted to ISAKOS for publication
August 2020
Patella Tendinitis at Osgood-Schlatter's Lesion of 32 Year Old
Tanka M, Sabbag O, Sherman S, Money A
Book Chapter submitted to ISAKOS for publication
August 2020
Publications
Publications
Learning Cardiac Auscultation: From Essentials to Expert Clinical Interpretation. 1st ed. 2015
Chapter 5: Aortic Stenosis
Kammel J, Bence C, Money A, Swinford S
Epidural Abscess Caused by Gas Producing Clostridium Septicum: A Case Report
Money A, Molloy S, Grabowski G
Published JBJS case connector 9.4 (2019): e0282.
PMID: 31688056
Acetabular Subchondral and Far Cortical Perforation During Labral Repair with Suture Anchors: Influence of Portal Location, Curved vs Straight Drill Guides, and Drill Start Point
Dumont G, Money A, Thier Z
Published Arthroscopy: The Journal of Arthroscopic & Related Surgery 35.8 (2019): 2349-2354.
PMID: 31395168
Para-acetabular Radiopaque Densities in Patients with Femoroacetabular Impingement: A Retrospective Assessment of Prevalence and Characteristics
Dumont G, Menge T, Money A
Published Orthopaedic Journal of Sports Medicine 8.1 (2020): 2325967119892330.
PMID: 32030344
Patient Specific Factors are Associated with Severity of Chondrolabral Injury in Patients with Femoroacetabular Impingement
Dumont G, Ergen T, Money A, Pacana M
Published Knee Surgery, Sports Traumatology, Arthroscopy, 2020 Apr 24
PMID: 32333055
Patellofemoral Pain, Chondrosis, and Arthritis in the Young to Middle Age Patient: 35 Year Old Female with Diffuse Bilateral Patellar and Trochlear Chondrosis
Sherman S, Ray T, Money A
Book Chapter submitted to ISAKOS for publication
August 2020
Patella Tendinitis at Osgood-Schlatter's Lesion of 32 Year Old
Tanka M, Sabbag O, Sherman S, Money A
Book Chapter submitted to ISAKOS for publication
August 2020
Physician Videos
Rothman Physician Spotlight - Adam J. Money, MD