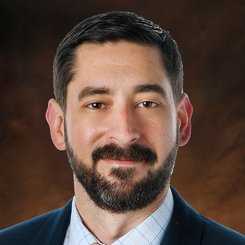 Andrew M. Pepper, MD
To schedule an appointment with Dr. Pepper, please call 844-407-4070.
Dr. Andrew M. Pepper is a fellowship trained orthopaedic surgeon who specializes in all aspects of hip and knee replacement surgery including total and partial primary knee replacement, primary total hip replacement, as well as complex and revision total joint replacement. Dr. Pepper is a native of Florida, growing up around the Tampa Bay area and received his medical degree from the University of South Florida Morsani College of Medicine. He then completed his residency in Orthopaedic Surgery at Henry Ford Hospital in Detroit, MI and went on to pursue fellowship training in Adult Joint Reconstruction at New York University Langone Orthopedic Hospital/Insall Scott Kelly Institute in New York, NY. During his residency and fellowship training, Dr. Pepper learned a variety of surgical techniques allowing him to individualize patients' care to obtain the best outcome for each patient. Dr. Pepper aims to provide patients with exceptional individualized care that returns patients to the quality of life they desire.
Dr. Pepper has been interested in clinical research throughout his career and his current research interests include: multimodal pain management after total joint replacement, improving outcomes after total joint replacement, and managing costs associated with joint replacement. He has authored numerous publications and is committed to advancing the science of and access to joint replacement surgery.
Dr. Pepper and his wife, Rachel, both grew up around Tampa Bay and are dedicated to giving back to their home community in Central Florida. They enjoy time with family, kayak fishing, golf, and following the Tampa Bay Lightning.
The joint replacement surgeons at Rothman Orthopaedics collectively perform over 17,000 hip and knee procedures each year in both an inpatient and outpatient capacity. They continue to lead the way in advanced technologies and procedures, providing our patients with the safest, most effective methods to get you back to what you were. Services offered include:
Hip:
Total Hip Replacement
Anterior Hip Replacement
Minimally Invasive Hip Replacement
Rapid Recovery Hip Replacement
Revision Hip Replacement
Posterior Hip Replacement
Computer Assisted Hip Replacement
Robotic Hip Replacement
Outpatient Total Hip Replacement
Anterolateral Approach
Direct Lateral Approach

Knee:
Total Knee Replacement
Partial Knee Replacement
Revision Knee Replacement
Minimally Invasive Knee Replacement
Rapid Recovery Knee Replacement
Computer Assisted Knee Replacement
Robotic Knee Replacement
Quad Sparing Knee Replacement
Outpatient Total Knee Replacement
Egresado de un programa de postgrado (fellowship) que le permitió un profundo entrenamiento en todos los aspectos del reemplazo de cadera y rodilla, incluyendo reemplazos parciales y totales, así como la revisión de reemplazos totales y operaciones complejas de las articulaciones de la cadera, el Dr. Pepper es originario de Florida, habiendo crecido en Tampa Bay y sus alrededores. Egresó del Colegio de Medicina Morsani de la Universidad del Sur de Florida, terminando su
residencia en Cirugía Ortopédica en el Hospital Henry Ford de Detroit, MI, para posteriormente realizar su entrenamiento de Postgrado en reconstrucción articular de Adultos en el New York University Langone Orthopedic Hospital/Insall Scott Kelly Institute en Nueva York, NY.
Durante sus estudios de postgrado, pudo adentrarse en una variedad de técnicas quirúrgicas, cuyo conocimiento le ha permitido individualizar el cuidado de sus pacientes, logrando encontrar las mejores soluciones para cada uno de sus padecimientos y, con ello mejorar notablemente la calidad de vida que sus pacientes esperan.
Durante toda su vida profesional ha mostrado gran interés en la investigación clínica, cuyos intereses actuales incluyen el manejo multimodal del dolor después del reemplazo total de articulaciones, mejorando el resultado posterior a los reemplazos totales y logrando manejar el costo asociado con dichas cirugías.
Es autor de numerosas publicaciones y está comprometido con el avance de la ciencia y el acceso de los pacientes al reemplazo articular, cuando este es necesario.
El Dr. Pepper y su esposa, Rachel, crecieron alrededor de Tampa Bay y están dedicados a servir a su comunicad en el Centro de Florida. A ambos les gusta pasar tiempo en familia, la pesca en kayak, el golf y apoyar al Tampa Bay Lightning.
Professional Profile
Education
Titles & Certifications
Professional Associations
Education
B.S. Microbiology, University of South Florida, Tampa, FL
M.D., University of South Florida, Morsani College of Medicine, Tampa, FL
Residency, Orthopaedic Surgery, Henry Ford Hospital, Detroit, MI
Fellowship, Adult Joint Reconstruction, New York University Langone Orthopedic Hospital/Insall Scott Kelly Institute, New York, NY
Titles & Certifications
Board Certified, American Board of Orthopaedic Surgery
Rising Star 2021, Castle Connolly
Professional Associations
American Association of Hip and Knee Surgeons (AAHKS), Fellow
American Academy of Orthopaedic Surgery (AAOS), Fellow
Florida Orthopaedic Society, Member
American Medical Association, Member
Education
B.S. Microbiology, University of South Florida, Tampa, FL
M.D., University of South Florida, Morsani College of Medicine, Tampa, FL
Residency, Orthopaedic Surgery, Henry Ford Hospital, Detroit, MI
Fellowship, Adult Joint Reconstruction, New York University Langone Orthopedic Hospital/Insall Scott Kelly Institute, New York, NY
Titles & Certifications
Board Certified, American Board of Orthopaedic Surgery
Rising Star 2021, Castle Connolly
Professional Associations
American Association of Hip and Knee Surgeons (AAHKS), Fellow
American Academy of Orthopaedic Surgery (AAOS), Fellow
Florida Orthopaedic Society, Member
American Medical Association, Member
Publications
• Pepper AM, Novikov D, Cizmic Z, Barrett J, Collins M, Schwarzkopf R, Iorio R, Long WJ. Age and Frailty Influence Hip and Knee Arthroplasty Reimbursement in a Bundled Payment Care Improvement (BPCI) Initiative. Journal of Arthroplasty. Volume 34, Issue 7, Supplement, July 2019, S80-83.
• Mercuri, JJ, Pepper AM, Werner JA, Vigdorchik JM. Gap Balancing, Measured Resection, And Kinematic Alignment. Feature Article ICJR: https://icjr.net/articles/evaluating-the-evidence-for-gap-balancing-measured-resection-and-kinematic-alignment. JBJS Reviews - Review Articles: 05 March 2019 - Volume 7 - Issue 3 - p. e2-e2
• Pepper AM, Mercuri JJ, Behery OA, Vigdorchik JM. Total Hip And Knee Arthroplasty Perioperative Pain Management. https://icjr.net/articles/perioperative-pain-management-in-tja-what-should-be-in-the-mix. JBJS Reviews - Review Articles: 18 December 2018 - Volume 6 - Issue 12 - p. e5-e5
• Frisch NB, Pepper AM, Rooney E, Silverton C. Intraoperative Hypothermia in Total Hip and Knee Arthroplasty. Orthopedics, 40(1), 2017, 56-63.
• Frisch NB, Pepper AM, Jildeh TR, Shaw J, Guthrie TS, Silverton C. Intraoperative Hypothermia During Surgical Fixation of Hip Fractures. Orthopedics, 39(6), 2016, e1170-e1177.
• Pepper AM, North WT, Sunderland A, Davis J. Intraoperative Adductor Canal Block for Augmentation of Periarticular Injection in Total Knee Arthroplasty: A Cadaveric Study. Journal of Arthroplasty. 31(9), 2016, 2072-2076.
• Henderson ER, Pepper AM, Johnson DA, Cheong D, Letson GD. What are Estimated Expansion Costs of Prostheses Capable of Surgical and Non-Surgical Lengthening? Clin Orthop Relat Res. 2012 Apr; 470(4): 1194-203. doi: 10.1007/s11999-011-2186-2. Epub 2011 Nov 29. PMID: 22125242
• Henderson ER, Pepper AM, Marulanda G, Binitie OT, Cheong D, Letson GD. Outcomes After Pediatric Limb Preservation with Expandable Endoprosthesis for Tumor. J Bone Joint Surg Am. 2012 Mar 21;94(6):537-47. doi: 10.2106/JBJS.I.01575. PMID: 22438003
• Henderson ER, Pepper AM, Marulanda GA, Millard JD, Letson GD; What is the Emotional Acceptance After Limb Salvage with an Expandable Prosthesis? Clin Orthop Relat Res. 2010 Nov;468(11):2933-8. doi: 10.1007/s11999-010-1456-8. PMID: 20632139
Stories Related to Andrew M. Pepper, MD
Publications
Publications
• Pepper AM, Novikov D, Cizmic Z, Barrett J, Collins M, Schwarzkopf R, Iorio R, Long WJ. Age and Frailty Influence Hip and Knee Arthroplasty Reimbursement in a Bundled Payment Care Improvement (BPCI) Initiative. Journal of Arthroplasty. Volume 34, Issue 7, Supplement, July 2019, S80-83.
• Mercuri, JJ, Pepper AM, Werner JA, Vigdorchik JM. Gap Balancing, Measured Resection, And Kinematic Alignment. Feature Article ICJR: https://icjr.net/articles/evaluating-the-evidence-for-gap-balancing-measured-resection-and-kinematic-alignment. JBJS Reviews - Review Articles: 05 March 2019 - Volume 7 - Issue 3 - p. e2-e2
• Pepper AM, Mercuri JJ, Behery OA, Vigdorchik JM. Total Hip And Knee Arthroplasty Perioperative Pain Management. https://icjr.net/articles/perioperative-pain-management-in-tja-what-should-be-in-the-mix. JBJS Reviews - Review Articles: 18 December 2018 - Volume 6 - Issue 12 - p. e5-e5
• Frisch NB, Pepper AM, Rooney E, Silverton C. Intraoperative Hypothermia in Total Hip and Knee Arthroplasty. Orthopedics, 40(1), 2017, 56-63.
• Frisch NB, Pepper AM, Jildeh TR, Shaw J, Guthrie TS, Silverton C. Intraoperative Hypothermia During Surgical Fixation of Hip Fractures. Orthopedics, 39(6), 2016, e1170-e1177.
• Pepper AM, North WT, Sunderland A, Davis J. Intraoperative Adductor Canal Block for Augmentation of Periarticular Injection in Total Knee Arthroplasty: A Cadaveric Study. Journal of Arthroplasty. 31(9), 2016, 2072-2076.
• Henderson ER, Pepper AM, Johnson DA, Cheong D, Letson GD. What are Estimated Expansion Costs of Prostheses Capable of Surgical and Non-Surgical Lengthening? Clin Orthop Relat Res. 2012 Apr; 470(4): 1194-203. doi: 10.1007/s11999-011-2186-2. Epub 2011 Nov 29. PMID: 22125242
• Henderson ER, Pepper AM, Marulanda G, Binitie OT, Cheong D, Letson GD. Outcomes After Pediatric Limb Preservation with Expandable Endoprosthesis for Tumor. J Bone Joint Surg Am. 2012 Mar 21;94(6):537-47. doi: 10.2106/JBJS.I.01575. PMID: 22438003
• Henderson ER, Pepper AM, Marulanda GA, Millard JD, Letson GD; What is the Emotional Acceptance After Limb Salvage with an Expandable Prosthesis? Clin Orthop Relat Res. 2010 Nov;468(11):2933-8. doi: 10.1007/s11999-010-1456-8. PMID: 20632139
Physician Videos
Rothman Physician Spotlight - Andrew M. Pepper, MD