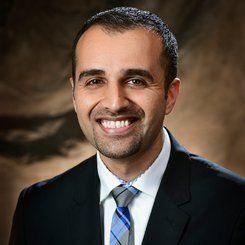 Atif K. Ahmed, M.D.
To schedule an appointment with Dr. Ahmed, please call 844-407-4070.
Dr. Ahmed is an Orthopaedic Trauma and Fracture Care Surgeon. He completed his residency in Orthopaedic Surgery at Montefiore Medical Center in Bronx, NY and went on to complete his fellowship in Orthopaedic Traumatology at Allegheny General Hospital in Pittsburgh, PA.
Dr. Ahmed has particular interest in fracture care, both complex and straightforward, as well as malunion and nonunion of fractures.
Professional Profile
Education
Professional Associations
Education
D.M.D., Nova Southeastern University, Fort Lauderdale, FL
M.D., Wayne State University, Detroit, MI
Residency, Orthopaedic Surgery, Montefiore Medical Center, Bronx, NY
Fellowship, Orthopaedic Traumatology, Allegheny General Hospital, Pittsburgh, PA
Professional Associations
American Academy of Orthopaedic Surgeons
Orthopaedic Trauma Association
Pennsylvania Orthopaedic Society
Education
D.M.D., Nova Southeastern University, Fort Lauderdale, FL
M.D., Wayne State University, Detroit, MI
Residency, Orthopaedic Surgery, Montefiore Medical Center, Bronx, NY
Fellowship, Orthopaedic Traumatology, Allegheny General Hospital, Pittsburgh, PA
Professional Associations
American Academy of Orthopaedic Surgeons
Orthopaedic Trauma Association
Pennsylvania Orthopaedic Society