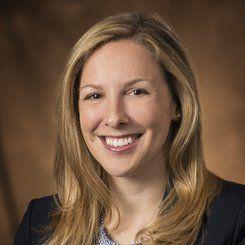 Dr. Danielle Ponzio is a board certified Orthopaedic Surgeon with specialized training in hip and knee joint replacement and complex revision joint replacement.
Dr. Ponzio was born and raised in New Jersey. She completed her undergraduate education at Princeton University, where she was a molecular biology major and varsity lightweight women's rower. She received her medical degree from Jefferson Medical College and went on to complete residency in Orthopaedic Surgery at the Rothman Orthopaedic Institute at Thomas Jefferson University Hospital. She completed a fellowship in Adult Reconstruction at Hospital for Special Surgery (HSS) in New York City. Dr. Ponzio has authored numerous journal publications and textbook chapters and actively conducts research in the field of Orthopaedic Surgery. As an avid athlete, enjoying cycling, running, skiing, and yoga, Dr. Ponzio is committed to getting her patients back to active lifestyles.
Dr. Ponzio provides guidance through options of non-surgical and surgical care for musculoskeletal conditions affecting the hip or knee. These include degenerative arthritis, inflammatory arthritis, post-traumatic arthritis, avascular necrosis, hip dysplasia, infection, and fracture. Dr. Ponzio also evaluates patients who are having difficulty after a prior hip or knee replacement. She strives to provide each individual patient with highly personalized care.
The joint replacement surgeons at Rothman Orthopaedics collectively perform over 17,000 hip and knee procedures each year in both an inpatient and outpatient capacity. They continue to lead the way in advanced technologies and procedures, providing our patients with the safest, most effective methods to get you back to what you were. Services offered include:
Hip:
Total Hip Replacement
Anterior Hip Replacement
Minimally Invasive Hip Replacement
Rapid Recovery Hip Replacement
Revision Hip Replacement
Posterior Hip Replacement
Computer Assisted Hip Replacement
Robotic Hip Replacement
Outpatient Total Hip Replacement
Anterolateral Approach
Direct Lateral Approach
Knee:
Total Knee Replacement
Partial Knee Replacement
Revision Knee Replacement
Minimally Invasive Knee Replacement
Rapid Recovery Knee Replacement
Computer Assisted Knee Replacement
Robotic Knee Replacement
Quad Sparing Knee Replacement
Outpatient Total Knee Replacement
Key Contact Information
Surgical Scheduler (Egg Harbor Twp/Cape May Court House): 609-677-7017
Surgical Scheduler (Manahawkin): 609-488-6846
Medical Questions: 609-407-6452
Billing Inquiries: 267-339-3558
Office Locations
Surgical Locations
Professional Profile
Education
B.A., Princeton University, Princeton, NJ
M.D., Jefferson Medical College, Philadelphia, PA
Residency, Orthopaedic Surgery, Rothman Orthopaedic Institute at Thomas Jefferson University Hospital, Philadelphia, PA
Fellowship, Adult Reconstruction, Hospital for Special Surgery, New York, NY
Titles & Certifications
Board Certified, American Board of Orthopaedic Surgery
Associate Attending Orthopaedic Surgeon, Rothman Orthopaedic Institute
Associate Attending Orthopaedic Surgeon, Thomas Jefferson University Hospital
Hospital Affiliations
AtlantiCare Regional Medical Center
Thomas Jefferson University Hospital
Professional Associations
American Association of Hip and Knee Surgeons (AAHKS)
American Academy of Orthopaedic Surgeons (AAOS)
Publications
Publications, peer reviewed:
Tennen RI, Haye JE, Wijayatilake HD, Arlow T, Ponzio D, Gammie AE. Cell-cycle and DNA damage regulation of the DNA mismatch repair protein Msh2 occurs at the transcriptional and post-transcriptional level. DNA Repair. 2013 Feb 1;12(2):97-109. doi: 10.1016/j.dnarep.2012.11.002.
Tischler EH, Ponzio DY, Diaz-Ledezma, C, Parvizi J. Prevention of Venous Thromboembolic Events Following Femoroacetabular Osteoplasty: Aspirin is Enough for Most. Hip Int. 2013 Aug 9:0. doi: 10.5301/hipint.5000079
Ponzio DY, Vaccaro AR, Harrop JS, Ponzio RJ, Kepler CK, Meredith D. Vertebral Artery Pseudoaneurysm Resulting in Embolic Stroke as a Complication of Posterior C1 Lateral Mass Screw Fixation: A Case Report. JBJS Case Connector. 2013 Sep 25;3(3):e93 1-5. doi: 10.2106/JBJS.CC.M.00109
Ponzio DY, Lonner JH. Preoperative Mapping in Unicompartmental Knee Arthroplasty Using Computed Tomography Scans is Associated with Radiation Exposure and Carries High Cost. Journal of Arthroplasty. 30 (2015) 964-967. http://dx.doi.org/10.1016/j.arth.2014.10.039
Ponzio DY, Sina Shahi A, Park AG, Purtill JJ. Intraoperative Proximal Femoral Fracture in Primary Cementless Total Hip Arthroplasty. Journal of Arthroplasty. 30 (2015) 1418-1422. http://dx.doi.org/10.1016/j.arth.2015.02.043
Ponzio DY, Pedowitz DI, Verma K, Malenfort MG, Winters BS, Raikin SM. Radiographic Outcomes of Postoperative Taping Following Hallux Valgus Correction. Foot & Ankle International. 2015, Vol 36(7) 820-826. DOI: 10.1177/1071100715573748 fai.sagepub.com
Ponzio DY, VanBeek C, Wong JC, Padegimas EM, Anakwenze OA, Getz CL, Abboud JA, ACESS Group. Profile of Current Opinion on Arthroscopic Acromioplasty: A Video Survey Study. Arthroscopy. 2016 Jul;32(7):1253-62. doi: 10.1016/j.arthro.2016.01.010. Epub 2016 Apr 23.
Ponzio DY, Park AG, Bhat SB, Purtill JJ. Can We Reduce the Utilization of Home-Visiting Nurse Services After Primary Total Joint Arthroplasty? J Arthroplasty. 2016 Sep;31(9 Suppl):50-3. doi: 10.1016/j.arth.2016.02.078. Epub 2016 Mar 17.
Ponzio DY, Lonner JH. Robotic Technology Produces More Conservative Tibial Resection than Conventional Techniques in UKA. Am J Ortho. November/December 2016: E465-E468.
Ponzio DY, Poultsides L, Salvatore A, Lee L, Memtsoudis S, Alexiades M. In-Hospital Morbidity amd Postoperative Revisions Following Direct Anterior versus Posterior Total Hip Arthroplasty. J Arthroplasty. 2017 Dec 9.pii: S0883-5403(17)31058-6. doi: 10.1016/j.arth.2017.11.053.
Ponzio DY, Syed UM, Purcell K, Cooper AM, Maltenfort M, Shaner J, Chen AF.Low Prevalence of Hip and Knee Arthritis in Active Marathon Runners. JBJS. 2018 Jan 17; 100(2):131-137. doi: 10.2106/JBJS.16.01071
Ponzio DY, Chiu YF, Salvatore A, Lee YY, Salvatore A, Lyman S, Windsor RE. An Analysis of the Influence of Physical Activity Level on Total Knee Arthroplasty Expectations, Satisfaction & Outcomes: Increased Revision Rate in Active Patients at 5 to 10 Years. JBJS. 2018 Sept 19; 100(18):1539-1548. doi: 10.2106/JBJS.17.00920
Stories Related to Danielle Y. Ponzio, M.D.