David S. Stolzenberg, D.O.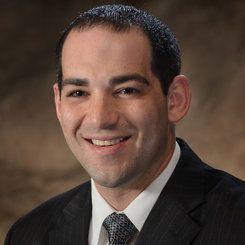 Dr. Stolzenberg is a board certified and fellowship trained specialist in Physical Medicine and Rehabilitation and Interventional Pain Medicine. He serves as a Clinical Assistant Professor of Rehabilitation Medicine at Thomas Jefferson University Hospital.
He provides comprehensive, non-operative spine and musculoskeletal care, electrodiagnostic testing, fluoroscopically-guided spine injections, and advanced minimally-invasive procedures such as radiofrequency ablation and spinal cord stimulation. Dr. Stolzenberg has published numerous research articles and textbook chapters, and continues to lecture on topics related to spine, sports, interventional pain and electrodiagnostic medicine. He has been honored as a Top Doctor by Main Line Today Magazine.
Office Locations
Surgical Locations
Professional Profile
Education
B.S. in Nutritional Sciences, Pennsylvania State University
D.O., Philadelphia College of Osteopathic Medicine
Internship, Delaware County Memorial Hospital
Residency in PM&R, Temple University Hospital & Moss Rehab
Fellowship in Pain Management, Penn State Hershey Medical Center
Titles & Certifications
American Board of Physical Medicine and Rehabilitation
Subspecialty Board Certification in Interventional Pain Medicine
Professional Associations
International Spine Intervention Society
North American Spine Society
American Osteopathic College of Physical Medicine and Rehabilitation
American Academy of Physical Medicine and Rehabilitation
Publications
RESEARCH AND PUBLICATIONS
2018
Raju R, Stolzenberg D. Needle Tip Depth Assessment on Foraminal Oblique Fluoroscopic Views During
Cervical Radiofrequency Neurotomy: A Technical Note. IPM Report. epub ahead print June 2018.
Stolzenberg D, Pfeifer R, Armstrong J, Young G, Gehret J, Simon J, Chang Chien G. Improving
Fluoroscopic Visualization for Lower Cervical Medial Branch Blocks with a Modified Swimmers
View: A Technical Report. Pain Physician, 2018; 21:303-308
Stolzenberg D, Greis A. The Space of Okada with Bilateral Facet Joint Arthrograms During a
Lumbar Interlaminar Epidural Injection. Pain Medicine 2018; 19:3, 636–637
Raju R, Stolzenberg, D, Gehret J. Needle Tip Depth Assessment on Contralateral Oblique Fluoroscopic
Views During Cervical Radiofrequency Ablation. American Academy of Pain Medicine Annual Meeting,
Vancouver, BC, Canada. Poster Presentatation.
Stolzenberg D, Chou H, Janerich D. Complex Regional Pain Syndrome: Interventional Treatment
Challenging Neuropathic Pain Syndromes: Evaluation and Evidence-Based Treatment. Elsevier
St. Louis, 2018
2017
Stolzenberg D, Ahn J, Kurd M. Fluoroscopically-Guided Lumbar Transforaminal Epidural Steroid
Injection: Procedural Technique. Clinical Spine Surgery, epub ahead of print December 2017
2015
Conway J, Stolzenberg D, Adhikary S, Giampetro D. A Survey of Ultrasound Training Among U.S. and
Canadian Chronic Pain Fellowship Programs. Pain Medicine, 2015;16(11):1923-1929.
2014
Stolzenberg D, Vorobeychik Y, Gordin V. Incidence of Neuropathic Pain after Cooled Radiofrequency
Ablation of Sacral Lateral Branch Nerves. Pain Medicine, 2014;15(11):1857-1870
Cruz E, Stolzenberg D, Maitin I. Emergencies in Rehabilitation, Current Diagnosis and Treatment: PM&R.
McGraw-Hill, NY, 2014

2013
Conner C, Stolzenberg D, Weinik M. True Arterial Thoracic Outlet Syndrome in a High School Baseball
Pitcher: A Case Report. American Academy of Physical Medicine and Rehabilitation Annual Assembly,
Washington, DC, Poster Presentation
2012
Stolzenberg D, Cruz E, Siu G. Current and Future Interventions for Glenohumeral Subluxation in
Hemiplegia, Topics in Stroke Rehabilitation, Thomas Land Publishers, 2012;19(5):444–456
Gu Y, Schmeer J, Stolzenberg D. Low Back Pain With Mixed Upper and Lower Motor Neuron Deficits.
Diastematomylia: A Case Report. American Academy of Physical Medicine and Rehabilitation Annual
Assembly, Atlanta, GA, Poster Presentation
2011
Stolzenberg D, Siu G. Rehabilitation Emergencies, Pocket Card, Borm Bruckmeier Publishing
Stolzenberg D, Stevens P. Unusual Cause of Compartment Syndrome with Tibial and Peroneal
Neuropathy Following Total Knee Arthoplasty: A Case Report. American Academy of Physical
Medicine and Rehabilitation Annual Assembly, Orlando, FL, Poster 161
2010
Stolzenberg D, Siu G, Cruz E. Traumatic Carotid Artery Dissection and Ischemic Stroke following
Abrupt Cervical Extension and Flexion from a Gunshot: A Case Report. Association of Academic
Physiatrists Annual Meeting, Las Vegas, NV, Poster 720
2009
Student Advice Columnist, The Scoop on Step I, USMLE and COMLEX Study Advice
Lippincott, Williams and Wilkins

2006
Summer Research Extern, Norman Harden, MD, Center for Pain Studies
Rehabilitation Institute of Chicago, Northwestern University
2002-2003
Research Assistant, Barbara Rolls, PhD, Center for Study of Human Ingestive Behavior
Pennsylvania State University
PRESENTATIONS
2018
Evidence-Based History and Physical Examination of Axial Low Back Pain
Grand Rounds Presentation, Temple University Hospital/ MossRehab
2017
Cervical Spine Interventional Procedures: Optimizing Fluoroscopic Visualization
National Osteopathic Medical Education Conference, PM&R Section, Philadelphia, PA
2016
Advanced Non-Operative Spine Procedures
Community Education Lecture, Rothman Orthopaedic Institute
Clincal Spine Anatomy
Grand Rounds Presentation, Temple University Hospital/ MossRehab
2015
Introduction to PM&R for Medical Students
PM&R Club, Philadelphia College of Osteopathic Medicine
2014
Fluoroscopic Spine Procedure Aberrant Contrast Flow Lecture and Case Conference
Pain Fellow Lecture Series, Penn State Hershey Medical Center
Neurosurgical Procedures for Intractable Pain
Pain Fellow Lecture Series, Penn State Hershey Medical Center
2013
Interventional Pain Management Procedures in Cancer Pain and Palliative Care
Palliative Care Lecture Series, Penn State Hershey Medical Center
Evidence-Based History and Physical Examination of Axial Low Back Pain
Multidisciplinary Spine Conference, Penn State Hershey Medical Center
Physical Examination of the Low Back, Sacroiliac and Hip Joint
Resident Lecture Series, Temple University Hospital/ MossRehab
2012
Discogenic Low Back Pain: Past, Present and Future Non-Operative Treatments
Grand Rounds Presentation, Temple University Hospital/ MossRehab
Thoracic Outlet Syndrome
Noon Conference Lecture Series, Temple University Hospital
EMG Case Conference: Martin Gruber Anastomosis
Noon Conference Lecture Series, Temple University Hospital
2011
Current and Future Interventions for Glenohumeral Subluxation in Hemiplegia
American Osteopathic College of PM&R National Conference, Orlando, FL

Chronic Exertional Compartment Syndrome
Grand Rounds Presentation, Temple University Hospital/ MossRehab

Agitation in Traumatic Brain Injury
Noon Conference Lecture Series, Temple University Hospital
Acute Compartment Syndrome in the Upper Limb
Noon Conference Lecture Series, Temple University Hospital

Physical Medicine and Rehabilitation On-Call Emergencies
Resident Lecture Series, Temple University Hospital/ MossRehab

Clinical and Electrodiagnostic Evaluation of the Musculocutaneous Nerve
Resident Lecture Series, Temple University Hospital/ MossRehab
2009
Current and Future Interventions for Glenohumeral Subluxation in Hemiplegia
Grand Rounds Presentation, Temple University Hospital/ MossRehab
COMLEX and USMLE Board Review Studying Skills
Philadelphia College of Osteopathic Medicine
Evaluation and Management of Foot Drop
Orthopedic Surgery Lecture Series, Delaware County Memorial Hospital
2006
Effect of Pain Rating on Work Status and Healthcare Utilization
Summer Externship Research Presentation, Rehabilitation Institute of Chicago