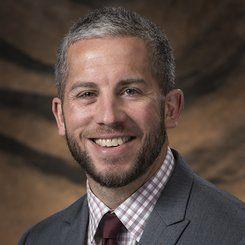 Dr. Helber is a Physical Medicine & Rehabilitation specialist. He completed his residency training at Thomas Jefferson University Hospital and went on to complete a Spine Medicine fellowship at the Cleveland Clinic.
Dr. Helber is a published physician and holds medical memberships with the American Academy of Physical Medicine & Rehabilitation as well as the Spine Intervention Society.
Office Locations
Surgical Locations
Professional Profile
Education
B.S., University of Dayton
D.O., Ohio University College of Osteopathic Medicine
Internship, St. John West Shore Hospital, Westlake, OH
Residency, Physical Medicine & Rehabilitation, Thomas Jefferson University Hospital, Philadelphia, PA
Fellowship, Spine Medicine, Cleveland Clinic, Cleveland, OH
Professional Associations
American Academy of Physical Medicine & Rehabilitation
Spine Intervention Society
Publications
Publications:
Thomas SA, Helber GJ. Cervical stenosis and myelopathy. Case Studies in Pain Management. Cambridge University Press. 2014: 95-101.
Helber, GJ. Understanding Sciatica and its Treatments. Cleveland Clinic In Motion eNews. December 2013 (available online).
Ilyas AM, Freedman M, Helber GJ, Berk JM, et al. Management of Compressive Neuropathies of the Upper Extremity. Orthopedic Clinics of North America. 2012;43(4):409-540.
Helber GJ and Mehnert M. Knowledge NOW Clinical Topic: Carpal Tunnel Syndrome. PM&R Knowledge NOW is an online resource from the AAPM&R of the identified and defined areas of knowledge that defines and showcases the PM&R specialty.
Abstracts:
Helber GJ, Shahwan TG, Zhou L. Allergic Reaction to Peripheral Nerve Stimulator. Am. J. Phys. Med. Rehabil. 2010; 89(S4):S32 (Presented at Association of Academic Physiatrists Annual Meeting, Bonita Springs, 2010)
Helber GJ, Kia F, Harrop JS, Schreiber AL. Rheumatoid Arthritis of the Cervical Spine causing Central Cord Pattern: A Case Report. PM&R 2010; 2(S1):S184-S185 (Presented at American Academy of Physical Medicine and Rehabilitation Annual Assembly and Technical Exhibition, Seattle, 2010)
Kia F, Helber GJ, Zhou L. Spinal Cord Stimulation for Treatment of Chronic Abdominal Pain After Intra-Abdominal Surgeries: Case Report. PM&R 2010; 2(S1):S130 (Presented at American Academy of Physical Medicine and Rehabilitation Annual Assembly and Technical Exhibition, Seattle, 2010)
Shahwan, TG, Helber GJ, Morina A, Schüssler-Fiorenz M, Schreiber AL. Rehabilitation Strategies and Outcome of Nonketotic Hyperglycemic Induced Chorea (NKHIC). Am. J. Phys. Med. Rehabil. 2010; 89(S4):S53 (Presented at Association of Academic Physiatrists Annual Meeting, Bonita Springs, 2010)