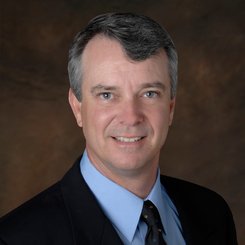 Gerald Bornstein, DPM
Gerald (Jay) Bornstein, DPM, F.A.C.F.A.S., has more than 30 years of experience treating foot and ankle conditions ranging from diabetic foot care, sports medicine, reconstructive foot and ankle surgery, and traumatology. He earned his medical degree from the Ohio College of Medicine in Cleveland and completed his residency training in podiatric surgery at Orlando General Hospital in Orlando, FL. As a board-certified podiatric foot and ankle surgeon, Dr. Bornstein focuses on the diagnosis and treatment of any ailment or injury to the toes, foot and ankle. In addition to patient care, Dr. Bornstein also helps train the next generation of podiatric physicians in his role as Director of the Podiatric Medicine and Surgical Residency Training Program based at the AdventHealth East Orlando campus.
Gerald (Jay) Bornstein, DPM, F.A.C.F.A.S., tiene más de 30 años de experiencia en el tratamiento de afecciones de pie y tobillo que van desde el cuidado del pie diabético, medicina deportiva, cirugía reconstructiva de pie y tobillo y traumatología. Obtuvo su título de médico en la Facultad de Medicina de Ohio en Cleveland y completó su residencia en cirugía podiátrica en el Hospital General de Orlando en Orlando, FL. Como cirujano podiátrico de pie y tobillo certificado por la junta, el Dr. Bornstein se enfoca en el diagnóstico y tratamiento de cualquier dolencia o lesión en los dedos del pie, el pie y el tobillo. Además de la atención al paciente, el Dr. Bornstein también ayuda a capacitar a la próxima generación de médicos podiátricos en su papel como Director del Programa de Capacitación de Residencia Quirúrgica y Medicina Podiátrica con sede en el campus de AdventHealth East Orlando.
Professional Profile
Education
Titles & Certifications
Professional Associations
Education
DPM, Ohio College of Podiatric Medicine, Independence, OH
Podiatric Surgical Residency, Orlando General Hospital, Orlando, FL
Titles & Certifications
Director of Podiatric Medicine and Surgical Residency Training, AdventHealth East Orlando
Professional Associations
American Podiatric Medical Association
Florida Podiatric Medical Association
Central Florida Podiatry Association
Fellow American College of Foot and Ankle Surgeons
Education
DPM, Ohio College of Podiatric Medicine, Independence, OH
Podiatric Surgical Residency, Orlando General Hospital, Orlando, FL
Titles & Certifications
Director of Podiatric Medicine and Surgical Residency Training, AdventHealth East Orlando
Professional Associations
American Podiatric Medical Association
Florida Podiatric Medical Association
Central Florida Podiatry Association
Fellow American College of Foot and Ankle Surgeons