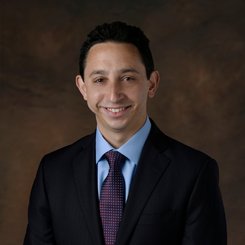 Jason M. Epstein, M.D.
Dr. Epstein is a board certified physician specializing in sports medicine. He completed his residency in family medicine at Inspira Healthcare Network in Woodbury, NJ and followed with a sports medicine fellowship at Halifax Health. He has served as a team physician for the Cincinnati Reds minor league affiliate Daytona Tortugas, Bethune Cookman University, Embry Riddle Aeronautical University, Daytona State College, Legacy Dance Studio, and several local high schools. He has previously worked with SpaceX to perform exercise treadmill testing for cardiovascular evaluation.

His areas of expertise include physical fitness and the treatment and prevention of musculoskeletal injuries. He is fellowship trained in musculoskeletal ultrasound for both diagnostic and therapeutic purposes. In addition, he is skilled in the management of sports-related concussion. He is active in research and has particular interest in core muscle and overuse injuries along with injury prevention.
Dr. Epstein is a native of New Jersey and grew up in Cherry Hill. He holds memberships among a number of professional societies, including the American Medical Society for Sports Medicine, the American College of Sports Medicine, and the American Academy of Family Physicians.
El Dr. Epstein es médico certificado por la junta y especializado en medicina deportiva. Completó su residencia en Medicina Familiar en Inspira Healthcare Network de Woodbury, Nueva Jersey y continuó con una especialización becada en medicina deportiva en Halifax Health. Trabajó como médico de equipo de los Daytona Tortugas, afiliado a la liga menor de los Cincinnati Reds, y de la Universidad Bethune Cookman, la Universidad Aeronáutica Embry Riddle, el colegio superior Daytona State College, el estudio de danzas Legacy Dance Studio y de varias escuelas secundarias locales. Anteriormente trabajó con SpaceX realizando pruebas de esfuerzo en cintas caminadoras para la evaluación cardiovascular.
Sus áreas de especialización abarcan la aptitud física, y el tratamiento y prevención de lesiones musculoesqueléticas. Tuvo una beca de capacitación en ecografía musculoesquelética con fines diagnósticos y terapéuticos. También es experto en el tratamiento de conmociones cerebrales relacionadas con el deporte. Participa activamente en investigaciones y tiene especial interés en lesiones de los músculos del core, lesiones por sobrecarga y en la prevención de lesiones.
El Dr. Epstein es oriundo de Nueva Jersey y creció en Cherry Hill. Es miembro de varias sociedades profesionales, entre ellas la American Medical Society for Sports Medicine (Sociedad Médica Estadounidense de Medicina Deportiva), el American College of Sports Medicine (Colegio Estadounidense de Medicina Deportiva) y la American Academy of Family Physicians (Academia Estadounidense de Médicos de Familia).
Professional Profile
Education
Professional Associations
Education
MD, St. George's University School of Medicine, True Blue, Grenada
Internship, General Surgery, Albert Einstein Healthcare Network, Philadelphia, PA
Residency, Family Medicine, Inspira Healthcare Network, Woodbury, NJ
Fellowship, Sports Medicine, Halifax Health, Daytona Beach, FL
Professional Associations
American College of Sports Medicine
American Medical Society for Sports Medicine
American Academy of Family Physicians
Education
MD, St. George's University School of Medicine, True Blue, Grenada
Internship, General Surgery, Albert Einstein Healthcare Network, Philadelphia, PA
Residency, Family Medicine, Inspira Healthcare Network, Woodbury, NJ
Fellowship, Sports Medicine, Halifax Health, Daytona Beach, FL
Professional Associations
American College of Sports Medicine
American Medical Society for Sports Medicine
American Academy of Family Physicians
PUBLISHINGS
2020 SAFETY OF TOPICAL DICLOFENAC IN ADULT PATIENTS WITH CONTRAINDICATIONS TO ORAL NSAID THERAPY
Family Physicians Inquiries Network Help Desk Answer
2018 DOES FOLIC ACID SUPPLEMENTATION IMPROVE DEPRESSION SYMPTOMS
Family Physicians Inquiries Network Help Desk Answer
Publications
PUBLISHINGS
2020 SAFETY OF TOPICAL DICLOFENAC IN ADULT PATIENTS WITH CONTRAINDICATIONS TO ORAL NSAID THERAPY
Family Physicians Inquiries Network Help Desk Answer
2018 DOES FOLIC ACID SUPPLEMENTATION IMPROVE DEPRESSION SYMPTOMS
Family Physicians Inquiries Network Help Desk Answer
Physician Videos
Rothman Physician Spotlight - Jason M. Epstein, MD