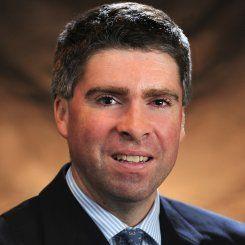 John A. Anderson, MD
John Anderson M.D. is a Physician at Rothman Orthopaedic Institute. He completed an Orthopaedic Sports Medicine Fellowship at Duke University and was Assistant Team Physician to the Duke Basketball and Football teams. He also completed a Clinical Fellowship in Adult Reconstruction and Joint Replacement at Hospital for Special Surgery in New York City.
Dr. Anderson received an M.Sc (in Clinical and Translational Investigation) from Cornell University's Weill Medical College and completed Harvard Business School's Executive Education Program for Leadership Development 2009-2010.
Dr. Anderson has Physician Licenses in FL, PA, and NY. His clinical focus is the non-operative relief of adult knee pain.

Click here to view Dr. Anderson's American Journal of Sports Medicine paper on Stem Cell Therapies for Knee Cartilage Repair.
Professional Profile
Education
Titles & Certifications
Professional Associations
Education
Clinical Fellowship in Adult Reconstruction and Joint Replacement - Hospital For Special Surgery
Orthopaedic Sports Medicine Fellowship - Duke University
Masters of Science in Clinical and Translational Investigation - Cornell University's Weill Medical College
Harvard Business School's Executive Education Program for Leadership Development
Titles & Certifications
Assistant Professor Thomas Jefferson University Hospital
Professional Associations
American Orthopaedic Society for Sports Medicine [AOSSM]
Pennsylvania Orthopaedic Society
Arthroscopy Association of North America [AANA]
Orthopaedic Research Society [ORS]
International Cartilage Repair Society [ICRS]
International Society for Stem Cell Research (ISSCR)
Education
Clinical Fellowship in Adult Reconstruction and Joint Replacement - Hospital For Special Surgery
Orthopaedic Sports Medicine Fellowship - Duke University
Masters of Science in Clinical and Translational Investigation - Cornell University's Weill Medical College
Harvard Business School's Executive Education Program for Leadership Development
Titles & Certifications
Assistant Professor Thomas Jefferson University Hospital
Professional Associations
American Orthopaedic Society for Sports Medicine [AOSSM]
Pennsylvania Orthopaedic Society
Arthroscopy Association of North America [AANA]
Orthopaedic Research Society [ORS]
International Cartilage Repair Society [ICRS]
International Society for Stem Cell Research (ISSCR)