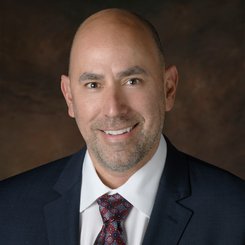 To schedule an appointment with Dr. Hawks, please call 844-407-4070.
Dr. Michael Hawks is a board certified, fellowship trained orthopaedic surgeon specializing in Orthopaedic Trauma and Fracture Care and currently serves as the Orthopaedic Trauma Medical Director of the AdventHealth Central Florida Division and Rothman Orthopaedics multi-specialty team. Raised in Tampa, Florida, Dr. Hawks attended Kennesaw State University before returning to his hometown to obtain his medical degree from the University of South Florida. He then completed his orthopaedic surgery residency at the Creighton University/University of Nebraska Medical Center, and followed with a fellowship in Orthopedic Traumatology at the world-renowned Shock Trauma Center in Baltimore, Maryland.
Dr. Hawks began his career at AdventHealth in 2009, caring for the orthopaedic injured patients of the Central Florida region, specializing in complex periarticular fractures of the upper and lower extremity, nonunions, malunions, and acute pediatric trauma. He has particular interest in research involving surgical innovation and efficiencies. During the last twelve years, he has had the opportunity to train and mentor medical residents and physician assistants, to work closely with hospital administration on improving care delivery, and to deliver presentations to academic audiences across the country. He is an active member of several national and international medical organizations.
In his free time, Dr. Hawks enjoys fishing, watersports, and spending time with his wife and three young children.
Office Locations
Surgical Locations
Professional Profile
Education
MD, University of South Florida College of Medicine, Tampa, FL
Residency, Orthopaedic Surgery, University of Nebraska Medical Center/Creighton University, Omaha, NE
Fellowship, Orthopaedic Traumatology, University of Maryland Medical Center, Baltimore, MD
Titles & Certifications
Board Certified, American Board of Orthopaedic Surgery
Professional Associations
Florida Orthopaedic Society
Eastern Orthopaedic Association
Mid-America Orthopaedic Association
Orthopaedic Trauma Association
American Academy of Orthopaedic Surgeons
Publications
PUBLICATIONS
2013 Hawks MA, Kim H, Strauss JE, Oliphant BW, Golden RD, Hsieh AH, Nascone JW, O'Toole RV: Does a trochanteric lag screw improve fixation of vertically oriented femoral neck fractures? A biomechanical analysis in cadaveric bone. Clin Biomech 2013;28:886-891.
2013 Oliphant BW, Kim H, Osgood GM, Golden RD, Hawks MA, Hsieh AH, O'Toole RV: Predrilling does not improve pullout strength of external fixator pins: a biomechanical study. J Ortho Trauma 2013;27(2):e25-30.
2011 Fitzgibbons TC, Hawks MA, McMullen ST, Inda DJ:Bone grafting in surgery about the foot and ankle: indications and techniques. J Am Acad Orthop Surg 2011:19(2):112-120.
Stories Related to Michael A. Hawks, MD