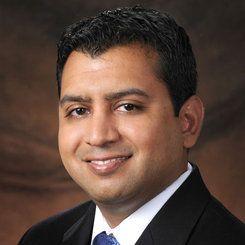 Dr. Patel is a board certified non-surgical sports medicine physician specializing in pediatric and adult musculoskeletal injuries. He serves as the medical director for the Rothman Orthopaedic Institute urgent care. He is a Clinical Assistant Professor in Family and Community Medicine at Thomas Jefferson University and is heavily involved in teaching medical students. He serves as a team physician for a variety of sports teams.
Dr. Patel is a member of several professional societies including the American Medical Society For Sports Medicine. He has published several peer reviewed journal articles and lectures on Sports Medicine topics regularly.
Office Locations
Surgical Locations
Professional Profile
Education
M.D., University of Silesia School of Medicine, Katowice, Poland
Residency, Somerset Family Practice, Somerset, NJ
Fellowship, Sports Medicine, Grant Medical Center, Columbus, OH
Titles & Certifications
Board Certified, Family Medicine
Certificate of Added Qualification in Sports Medicine
Advanced Cardiac Life Support
Pediatric Advanced Life Support
Basic Life Support
Hospital Affiliations
Thomas Jefferson University Hospital
Kennedy Health System
Professional Associations
American College of Sports Medicine
American Medical Society of Sports Medicine
American Academy of Family Physicians
American Medical Association
Publications
Presentations and Public Appearances
2/2009 • "Management of Common Orthopedic Fractures" A talk given to Grant Family Medicine residents
12/2009 • Injection Workshop Grant Medical Center, Gave 3 hour talk and presentation to Family Medicine Residents
4/2009 • Family Practice Grand Rounds, Somerset Medical Center, "Current Treatment Strategies for Common Knee Injuries"
1/2008 • "Common Arthropathies," Went to local nursing homes to educate patients on common causes of joint pain.
10/2007 – 6/2009 • "Diet and Exercise Workshop," Somerset Family Practice, Helped create a monthly workshop that a select patient population was invited to. My role focused on the importance of exercise and the promotion of ACSM'S "Exercise is Medicine" Campaign
9/2007 • Internal Medicine Grand Rounds, Somerset Medical Center, "Crohn's Disease - A Case Presentation"
12/2006 – 6/2009 • Chart Audits, Somerset Family Practice, Designed and implemented chart audits with interventions . Topics included: Screening for urgent sources of low back pain diagnosing and treating metabolic syndrome
Patel, MK, Sturmi, J; Spontaneous Pulmonary Infarct in a Long Distance Cross Country Runner; abstract prepared and submitted to ACSM 2010 19th Annual Meeting
Patel, MK; Osteoid Osteoma in a long distance runner; abstract prepared and submitted to AMSSM 2010 Annual Meeting
Patel, MK, Brunetti, L; Neuroleptic malignant syndrome secondary to aripiprazole initiation in a clozapine intolerant patient: case report and review; A case review submitted to "The Annals of Pharmacotherapy"

Petrin Z, Sinha A, Gupta S, Patel M. Young man with sudden severe hip pain secondary to femoral neck stress fracture. BMJ Case Rep. Published online 26 Oct 2016. doi:10.1136/bcr-2016-216820.

Gupta S, Patel M, Sinha A, Wowkanech C. Electrodiagnosis of medial pectoral nerve mononeuropathy. Indian J Phys Med Rehab; March 2016; 27(1): pp 19-21

Patel M, Petrin Z, Sinha A, Gupta S. A Female Runner with Painful Left Thigh Swelling: A Case of May-Thurner Syndrome PMRJ1929 Accepted manuscript available online: 27-JUN-2017 DOI information: 10.1016/j.pmrj.2017.06.016
Stories Related to Mitesh K. Patel, M.D.