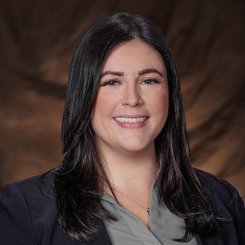 Samantha Mastanduno, DO
Dr. Mastanduno is a fellowship trained Physical Medicine and Rehabilitation specialist. She received her doctor of osteopathy from the New York Institute of Technology College of Osteopathic Medicine. She went on to complete her residency in Physical Medicine and Rehabilitation at New York University Langone Medical Center where she served as chief resident during her final year of training. She continued with a fellowship in Interventional Spine and Sports Medicine at the Hospital for Special Surgery in New York, NY.
Dr. Mastanduno prefers a more conservative approach to treatment prior to exploring more invasive options. She takes a holistic view, which allows her to create an effective treatment plan based on each patient's lifestyle and functional ability, and enjoys educating her patients about their conditions and ways to manage their symptoms. Her clinical interests include lower back pain, neck pain, and degenerative processes in patients of all activity levels, from athletes to weekend warriors and everyone in between. She is trained in the use of fluoroscopic guided injections including epidural injections, facet injections, medial branch blocks, radiofrequency ablations, and sacroiliac joint injections. Additionally, she is trained in the use of ultrasound guided injections to the knee, hip, shoulder, and various other joints.
She is a member of numerous professional associations including the Spine Intervention Society and the North American Spine Society.
Dr. Mastanduno enjoys hiking, yoga, and baking desserts for friends and family.
Professional Profile
Education
Professional Associations
Education
Bachelor of Science, Human Physiology, Boston University, Boston, MA
Doctor of Osteopathy, NYIT College of Osteopathic Medicine, Old Westbury, NY
Internship, Northwell Health Plainview Hospital, Plainview, NY
Residency, Physical Medicine and Rehabilitation, New York University Langone Medical Center, New York, NY
Fellowship, Interventional Spine and Sports, Hospital for Special Surgery, New York, NY
Professional Associations
Spine Intervention Society
North American Spine Society
American Academy of Physical Medicine and Rehabilitation
Association of Academic Physiatrists
New York Society of Physical Medicine and Rehabilitation
Education
Bachelor of Science, Human Physiology, Boston University, Boston, MA
Doctor of Osteopathy, NYIT College of Osteopathic Medicine, Old Westbury, NY
Internship, Northwell Health Plainview Hospital, Plainview, NY
Residency, Physical Medicine and Rehabilitation, New York University Langone Medical Center, New York, NY
Fellowship, Interventional Spine and Sports, Hospital for Special Surgery, New York, NY
Professional Associations
Spine Intervention Society
North American Spine Society
American Academy of Physical Medicine and Rehabilitation
Association of Academic Physiatrists
New York Society of Physical Medicine and Rehabilitation
RESEARCH AND PUBLICATIONS
Prevalence of Neck Pain During COVID, Hospital for Special Surgery, Principal Investigator:
George Cyril, MD, Aug. 2020 - present
Characterization of patients presenting to Physiatric practices with a cervical complaint, Hospital for Special Surgery, Principal Investigator: Jonathan Kirschner, MD, Aug. 2020 -present
PM&R Secrets 4th Edition, Rehabilitation through Transplantation, Co-author, in press 2019
Rehab in Review, Ultrasound Structural Changes in Triceps Surae after a 1-Year Daily Selfstretch Program: A Prospective Randomized Controlled Trial in Chronic Hemiparesis, May 2019
Stories Related to Samantha Mastanduno, DO
646-891-5514 646-783-0012 267-339-3558
Publications
RESEARCH AND PUBLICATIONS
Prevalence of Neck Pain During COVID, Hospital for Special Surgery, Principal Investigator:
George Cyril, MD, Aug. 2020 - present
Characterization of patients presenting to Physiatric practices with a cervical complaint, Hospital for Special Surgery, Principal Investigator: Jonathan Kirschner, MD, Aug. 2020 -present
PM&R Secrets 4th Edition, Rehabilitation through Transplantation, Co-author, in press 2019
Rehab in Review, Ultrasound Structural Changes in Triceps Surae after a 1-Year Daily Selfstretch Program: A Prospective Randomized Controlled Trial in Chronic Hemiparesis, May 2019