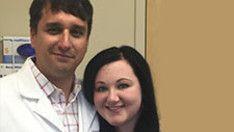 I suffered for four long years with severe left knee pain. I saw multiple doctors and no one could pinpoint what my diagnosis was. A lady at my church who is a Rothman Orthopaedic Institute patient, told me that I should seek an opinion from a doctor at Rothman. I was desperate for relief so I immediately made an appointment at the office in Cape May Courthouse, NJ and saw Dr. Tjoumakaris.
From that very first appointment I knew that I had made the best decision of my life. After examination, he realized that my knee cap wasn't sitting in the proper place, which explained all of my pain, catching, grinding. So a week later, he had me in for surgery at which time I had a lateral release on July 24th, 2014. Unfortunately, the procedure didn't bring the result that we had hoped for. Though my knee cap had come back down where it belonged, I still had continued pain. To try to buy time before going i n for another surgery, Dr. Tjoumakaris tried a series of the OrthoVisc injections, which did buy us about a month or so.
A month after the injections, I was back in his office without relief so he proceeded to order a bone scan. I had my scan and had an appointment the following week to discuss the results. As soon as he came in the room he knew what he was going to tell me, so he looked at the scans and came right out and said I would need a Fulkerson Osteotomy with medial reefing if I wanted any chance of pain relief. He had said it wasn't guaranteed, but at this point it was our only option.
So, even though I was scared to death to go under the knife yet again, I trusted him, and I knew that this would be the end of the road. On January 8th, 2015 I had my reconstructive surgery. Now, 14 weeks later, I feel absolutely incredible. It's as if I've been given a new opportunity to live my life. I remember Dr. Tjoumakaris had said that it was a teamwork between him and I, and he couldn't have been anymore right. He has been there every step of the way and thank you will never be enough for everything he's done.
I used to go in his office and cry to him about how much pain I was in, and no matter what I had to say he would listen and he understood. I'm proud to say that now I am walking pain-free and I am able to go up and down stairs without wanting to scream. I hadn't been able to walk my dog in 9 months, and now I am able to do that. I honestly want to tear up every time I think about how far I've come on this journey, because it is absolutely amazing to see how bad I was, and how great I feel now. I am forever grateful to Dr. Tjoumakaris and the Rothman Orthopaedic Institute, I owe it all to you and more.
Related Specialties
Related Physicians
All Specialties
Hip
Knee
Spine
Sports Medicine
Shoulder & Elbow
Foot & Ankle
Hand & Wrist
Physical Medicine & Rehabilitation
Orthopaedic Oncology
Orthopaedic Trauma & Fracture Care
General Orthopaedics
Physician Language
All Languages
Spanish
English
Persian
Swedish
Tamil
Korean
Arabic
Italian
Chinese
German
Turkish
Hindi
Gujarati
Punjabi
Filter Physicians
Filter
Sort
All Specialties
Hip
Knee
Spine
Sports Medicine
Shoulder & Elbow
Foot & Ankle
Hand & Wrist
Physical Medicine & Rehabilitation
Orthopaedic Oncology
Orthopaedic Trauma & Fracture Care
General Orthopaedics
All Languages
Spanish
English
Persian
Swedish
Tamil
Korean
Arabic
Italian
Chinese
German
Turkish
Hindi
Gujarati
Punjabi
Greater Philadelphia
All Locations

{{item.title}}

{{distanceText(item)}}