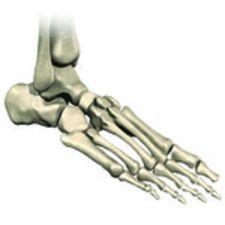 For many years, orthopedic doctors were limited in the treatment options they were able to recommend for patients suffering from injury or arthritis in their ankles. These sturdy joints support so much of our everyday movements and while they are resilient to a certain point, they are also notorious for sustaining repeat injuries after the initial weakening of the joint. Patients complaining of severe pain or lack of mobility in one or both ankles were often told to:
Limit exercise, and avoid the motions that hurt
Take anti-inflammatory medication
Use steroid injections
Wear special shoes
Wear a brace
While these
non-operative treatments
are still viable options for many cases of more mild ankle arthritis, medical advances have now provided the option for highly effective surgical solutions as well.
f
has become increasingly popular in recent years, as it has proven to be a successful and long-term solution for ankle injuries or for severe arthritis.
All About Total Ankle Replacement in New Jersey
First of all, you may be wondering what this surgery entails. You are probably ready for pain relief at almost any costs, but the prospect of a major surgery can still be intimidating. The good news is that you can rest assured in the fact that when you come to Rothman Orthopaedic Institute, you'll be seeing the
nation's foremost physicians in the area of foot and ankle treatments
, specifically joint replacement procedures.
If you're wondering what's entailed in the surgery itself, here's a brief overview to help you get a better idea of what total ankle replacement in New Jersey will offer you. In short, it provides the ability for you to have a "new" joint and get back to the healthy, active lifestyle you once enjoyed. And the best part is that the most noticeable and significant result of having this procedure is dramatic pain relief!
Overview of Ankle Replacement Surgery
Surgeon removes both sides of the ankle joint in preparation to replace those sides with new prosthetic pieces
The tibial and talar metal components are made up of cobalt-chrome and the areas in contact with the bone are sprayed w titanium plasma to enhance bony ingrowth (ie Salto Talaris implant). The tibial component is implanted in the tibia only and not the fibula. The polyethylene (plastic) is in between and allows for low friction up/down motion.
The talar component is added to remove the arthritis on that side of the joint...it's contour contributes to up/down motion
For more details on the procedure itself, the recovery process and to find out whether total ankle replacement in New Jersey is right for you, call Rothman Orthopaedic Institute today!