Why are female athletes 2 to 6 times more likely to tear their ACL's than male athletes? A recent study suggests it has to do with the way girls land after they jump, reports NBC News.
An Anterior Cruciate Ligament (ACL) injury occurs when there is either a partial or complete tear of the knee ligament. An ACL injury can also occur when the ligament, or both the ligament and bone, detach from the rest of the bone.
According to the American Academy of Pediatrics, girls experience ACL injuries more often than boys due to the "valgus landing position." When girls jump and land on the ground, their knees go inward, causing them to be more susceptible to injuring the ACL.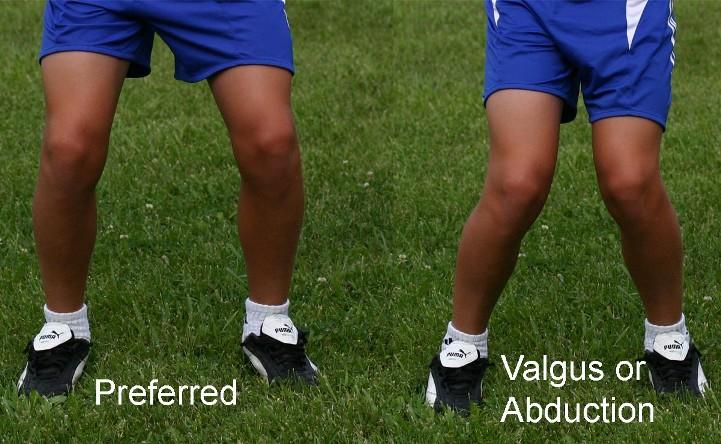 Image source: http://www.fitnessgoop.com/

The causes of the difference between landing positions for boys and girls can be attributed to a few factors. Girls have wider hips than boys, causing more force on the knees. It also has to do with puberty. Generally, girls enter puberty earlier than boys and do not experience a lot of muscle growth after puberty. Boys, on the other hand, enter puberty later and continue to gain muscle as they get older. As a result, adolescent girls' proximal muscles are weaker than males.

So, what are the doctor's orders pertaining to preventing ACL tears? Studies suggest female athletes should try neuromuscular training. This type of training helps to strengthen the lower extremity muscles, improve core stability, improve balance and teach athletes about potentially dangerous knee stances.

Regardless of gender or stage of growth, all athletes must take the necessary precautions to avoid ACL tears.
Related Specialties
Related Physicians
All Specialties
Hip
Knee
Spine
Sports Medicine
Shoulder & Elbow
Foot & Ankle
Hand & Wrist
Physical Medicine & Rehabilitation
Orthopaedic Oncology
Orthopaedic Trauma & Fracture Care
General Orthopaedics
Physician Language
All Languages
Spanish
English
Italian
Persian
Swedish
Tamil
Korean
Arabic
Chinese
Turkish
German
Hindi
Gujarati
Filter Physicians
Filter
Sort
All Specialties
Hip
Knee
Spine
Sports Medicine
Shoulder & Elbow
Foot & Ankle
Hand & Wrist
Physical Medicine & Rehabilitation
Orthopaedic Oncology
Orthopaedic Trauma & Fracture Care
General Orthopaedics
All Languages
Spanish
English
Italian
Persian
Swedish
Tamil
Korean
Arabic
Chinese
Turkish
German
Hindi
Gujarati
Greater Philadelphia
All Locations

{{item.title}}

{{distanceText(item)}}