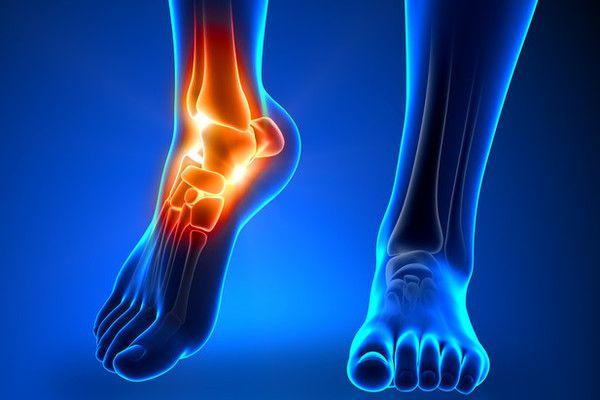 Total ankle replacement surgery is a treatment that occasionally becomes necessary when an injury or debilitating condition cannot be treated with other surgical or non-surgical methods. Foot and ankle pain is a rather common occurrence, whether as a natural result of aging or due to an accident, and it can limit your ability to run, walk, dance, and do the things you love and need to do on a regular basis. If you have recently sustained a severe ankle injury, or if arthritis or another condition is affecting your ankle joint, you should talk to your doctor before the pain and damage gets any worse.
Most incidents of ankle pain are the result of a simple sprain, which can be treated by relatively simple steps at home: elevation, ice, and rest while the ankle heals naturally. Unfortunately, some patients suffer from devastating injuries to their ankles, or the cartilage in the ankle joint gradually deteriorates to the point that it becomes extremely painful and difficult just to walk, let alone tolerate any more serious impact from faster movements.
Rothman Orthopaedic Institute
treats a wide variety of foot and ankle conditions, including broken bones, damaged tendons, torn ligaments, arthritis, and various injuries that are typical of athletes. Some of the most severe cases require what is known as an ankle arthroplasty, more commonly called total ankle replacement surgery. Our surgeons who specialize in the procedure for total ankle replacement are some of the top foot and ankle physicians in the country. Even people from far outside of the Philadelphia area often call the ankle specialists at Rothman Orthopaedic Institute for information on the best practices and techniques for ankle arthroplasty.
If you and your doctor have discussed the condition of your ankle and are currently considering the option of surgery for total ankle replacement, read some of these commonly asked questions about this procedure.
Total Ankle Replacement Surgery: Frequently Asked Questions
How do I know if I need total ankle replacement surgery?
The surgeons at Rothman Orthopaedic Institute take a conservative approach in recommending surgery to any patient. In most cases, we will explore a series of non-surgical treatments before exploring surgical options. If it is possible to remedy the issue without giving the patient an ankle prosthesis, this may be the optimal treatment, depending on the patient's medical condition, age, lifestyle, and other factors to be considered by the physicians.
What does the ankle arthroplasty surgery entail?
The first step in an ankle replacement surgery is the removal of both sides of the ankle. After these are removed, a prosthesis is inserted into the tibia and fibula (leg bones). This prosthesis is made of medical grade plastic with a titanium base. The talar part of the joint, which is responsible for the ability of the ankle joint to move up and down, is replaced with a cobalt chromium alloy (a common metal in medical prostheses).
What are the risks of this surgery?
While every surgery has potential risks, total ankle replacement surgeries are relatively safe and successful. If a
Rothman Orthopaedic Institute surgeon
has recommended this procedure, it is likely that a more conservative option would be equally risky or ineffective for your pain and debilitation.
How long will it take to recover?
After your surgery, you will wear a splint or ankle boot for several days, after which you will be able to remove the boot to perform some simple ankle exercises. You will continue to wear the splint when you are not exercising, and you will need to use crutches or a walker to move around for approximately six weeks following your surgery. If other procedures are required alongside of your total ankle replacement surgery, you may not be able to begin ankle exercises for two or three weeks after surgery. Some patients will require a physical therapist to help them through the recovery process; however, not all patients' recovery processes are the same.
Contact Rothman Orthopaedic Institute
with any further questions or concerns about total ankle replacement surgery. We look forward to helping you on your road to a more active and pain-free life.
Related Specialties
Related Physicians
All Specialties
Hip
Knee
Spine
Sports Medicine
Shoulder & Elbow
Foot & Ankle
Hand & Wrist
Physical Medicine & Rehabilitation
Orthopaedic Oncology
Orthopaedic Trauma & Fracture Care
General Orthopaedics
Physician Language
All Languages
Spanish
English
Persian
Korean
Arabic
Italian
Swedish
Chinese
German
Hindi
Gujarati
Punjabi
Turkish
Tamil
Filter Physicians
Filter
Sort
All Specialties
Hip
Knee
Spine
Sports Medicine
Shoulder & Elbow
Foot & Ankle
Hand & Wrist
Physical Medicine & Rehabilitation
Orthopaedic Oncology
Orthopaedic Trauma & Fracture Care
General Orthopaedics
All Languages
Spanish
English
Persian
Korean
Arabic
Italian
Swedish
Chinese
German
Hindi
Gujarati
Punjabi
Turkish
Tamil
Greater Philadelphia
All Locations

{{item.title}}

{{distanceText(item)}}