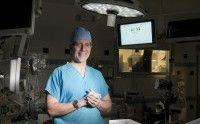 An orthopedic surgeon and spinal specialist, Alex Vaccaro maintains a tightly organized schedule. He's the Chairman of Orthopaedic Surgery at the Sidney Kimmel Medical Center at Thomas Jefferson University and President of Philadelphia's Rothman Orthopaedic Institute.
He's also pursuing his Online Master's of Business Administration through Temple University's Fox School of Business.
In January, U.S. News & World Report named the Fox Online MBA the No. 1 program in the nation, in its 2015 rankings of the best online graduate business programs. Vaccaro estimates he commits two hours daily to his Fox Online MBA. Often, it's more.
"I'm being honest when I say this: It's one of the hardest and one of the most-rewarding things I've ever done," said Vaccaro. "You know what you do for a living. Getting your MBA helps you figure out why you do what you do, and you're able to do it better."
To read more about Dr. Vaccaro's story,
click here
.
Related Physicians
All Specialties
Hip
Knee
Spine
Sports Medicine
Shoulder & Elbow
Foot & Ankle
Hand & Wrist
Physical Medicine & Rehabilitation
Orthopaedic Oncology
Orthopaedic Trauma & Fracture Care
General Orthopaedics
Physician Language
All Languages
Spanish
English
Persian
Korean
Arabic
Italian
Swedish
Chinese
German
Hindi
Gujarati
Punjabi
Turkish
Tamil
Telugu
Filter Physicians
Filter
Sort
All Specialties
Hip
Knee
Spine
Sports Medicine
Shoulder & Elbow
Foot & Ankle
Hand & Wrist
Physical Medicine & Rehabilitation
Orthopaedic Oncology
Orthopaedic Trauma & Fracture Care
General Orthopaedics
All Languages
Spanish
English
Persian
Korean
Arabic
Italian
Swedish
Chinese
German
Hindi
Gujarati
Punjabi
Turkish
Tamil
Telugu
Greater Philadelphia
All Locations

{{item.title}}

{{distanceText(item)}}