March is National Nutrition Month. This year's theme is "Eat Right, Your Way, Every Day". This encourages personalized healthy eating and recognizes that food choices are impacted by food preferences, life style, cultural and ethnic traditions and health concerns. The bottom line is moderation. All foods can be included if we preplan and control the portion size.
But, what is a portion? This is where we usually get in trouble. Portion sizes have and continue to increase through the years. I remember when I was growing up a soft pretzel or bagel were equivalent to eating 2 slices of bread. Now they are equal to at least 4 slices of bread. We continue to receive larger portions and eat what we are given.
Portion control is a key tool for weight management. It is important to become familiar with what a standard portion is vs. what we believe is a portion.
Tips to help control portion sizes:
Order "small" sizes

Take ½ home (a restaurant usually serves you double what you are supposed to consume)

Use a smaller plate or bowl

Use small glasses

Read labels to check serving size

Palm of a women's hand or deck of cards (3 oz.) is a standard meat portion

A women's fist (about 1 cup) should be your starch portion

½ your plate should be vegetables and fruit

Don't be afraid to throw food away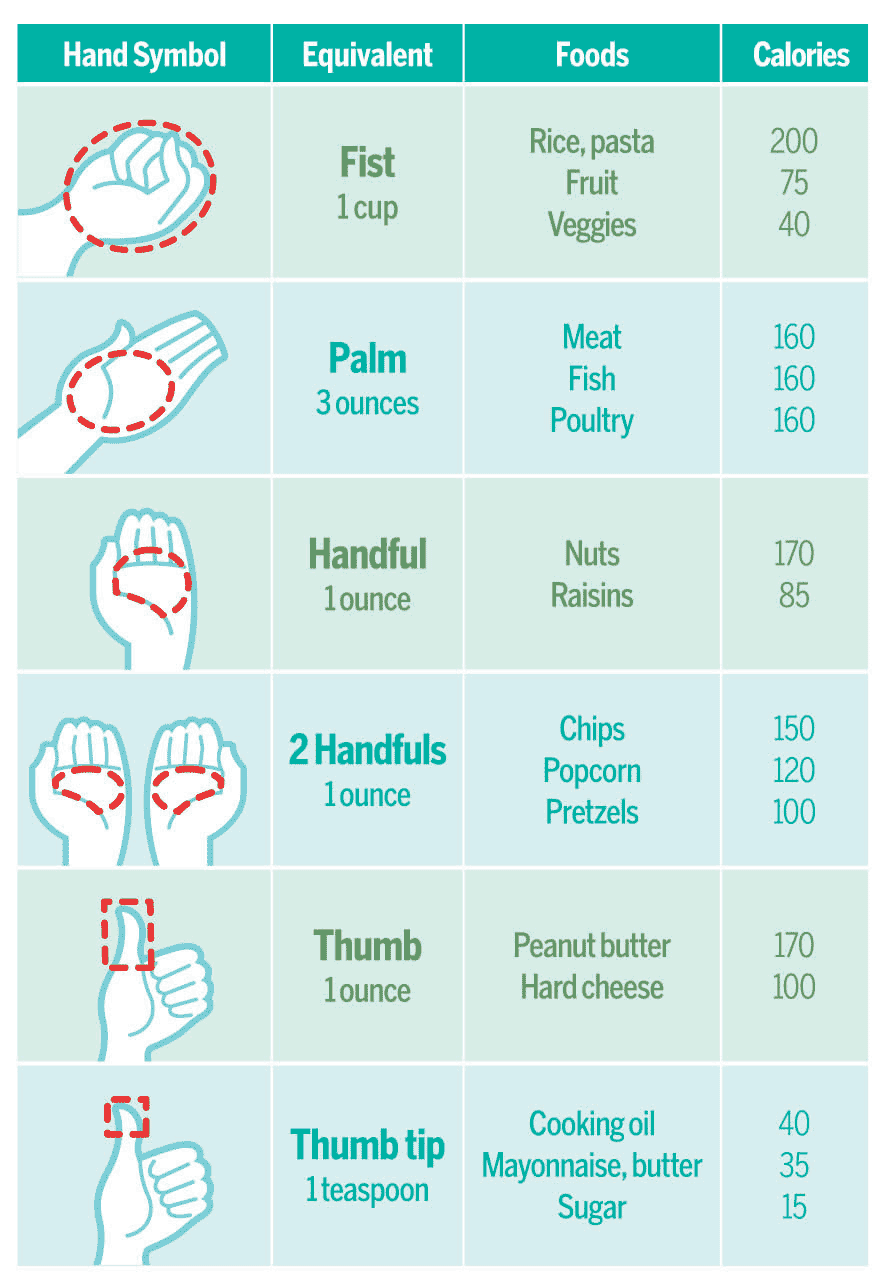 Prevention Magazine created this helpful chart to help you remember proper portion size. They suggest printing out the guide and carrying with with you until you've committed it to memory. Read the full article here.
My advice is to start decreasing portions today and see how the calories saved will add up. Something to remember: an extra 100 calories/day can lead to a 10-pound weight gain in one year! Rothman Orthopaedic Institute offers Nutrition Counseling by Registered Dieticians. Please visit http://rothmanortho.com/services/nutrition-and-wellness-counseling for more information and to find out how to make an appointment with one of our Nutrition and Wellness consultants.