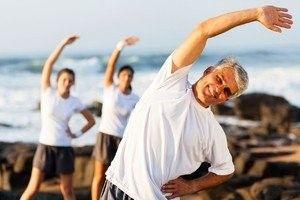 If you or someone you love is suffering from hip arthritis in New Jersey, you are probably well aware of the pain and stiffness this condition can cause. Not only does it cut into your ability to do the things you love, but it can also significantly impact your quality of life. At Rothman Orthopaedic Institute, we understand what patients experiencing this joint inflammation are going through. We have compiled three helpful hints for patients with hip arthritis in New Jersey.
Pay Attention To Diet And Exercise
Many patients do not initially see the connection between the painful erosion of cartilage from arthritis and overall health. However, taking positive steps in your diet and exercise can make a big difference in strengthening joints, relieving pressure, and improving overall mobility.
Focus on low impact exercises such as yoga, water aerobics, swimming, or bicycling to build joint strength without aggravating arthritis symptoms.
Exercise and a proper diet can also help you to lose weight, an important step for those above their ideal weight who suffer from arthritis. Healthy weight loss can reduce pressure placed on the hips and relieve pain.
Before starting a new diet or exercise plan, be sure to talk with your doctor.
Discover Your Options
There are a number of options available for individuals who are suffering from hip arthritis in New Jersey. For those with less severe conditions, exercise and weight loss, in combination with certain medications, may be sufficient to reduce pain and stiffness.
For those with more advanced cases of arthritis, however, a surgical approach may be a more effective option to reduce pain and improve mobility. Surgical treatment options range from hip arthroscopy and revision surgery to total hip replacement. Talk with your doctor about what option may be best, based on your overall health and the current condition of your hip joints.
Rothman Orthopaedic Institute Can Help
If you are in need of treatment for hip arthritis in New Jersey, expert orthopaedic help is available at nearby Rothman Orthopaedic Institute. You can make an appointment to talk with one of our hip specialists who will assess your condition and recommend a treatment plan.
Rothman Orthopaedic Institute is an international leader in excellence in orthopaedic science and technology. Whether your hip treatment is nonsurgical or total hip replacement, you can have confidence that you are receiving the highest level of care.
For more information, or to make an appointment, contact Rothman Orthopaedic Institute today at 1.800.321.9999.