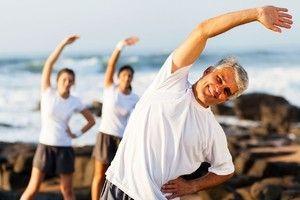 At
Rothman Orthopaedic Institute
, we understand the importance of having a strong and supportive hip joint. Whether you are walking downstairs, sitting down at a desk, playing a sport or dancing the night away, you depend upon your hip for activities that range from the mundane to the magical. An injured hip, however, can slow down or even inhibit your usual routine. For athletes, one common injury to the hip is a labral tear. At Rothman Orthopaedic Institute, we are dedicated to providing the best treatment for a
hip labral tear in South Jersey
, so that our local athletes can get back in the game as soon as possible.
One of the first steps in seeking treatment for your hip labral tear in South Jersey is to fully understand your diagnosis. Your hip joint is made up of a ball and socket, called the femoral head and acetabulum respectively, which allows for both stability and a significant range of motion. The labrum is a fibrocartilage pad which lies between the femoral head and the acetabulum of the hip joint. When healthy, it works to stabilize the hip and to absorb the shock of impact and movement. When torn, however, deep pain in the hip joint may be one of the first signs of injury.
Just as there are many different causes for hip labral tears, there are also a variety of treatments available. For tears which are not severe, non-surgical approaches may be sufficient. These would include physical therapy, activity modification, and medication. However, if pain and other symptoms persist after these treatments are tried, hip arthroscopy may be necessary to repair the joint. Arthroscopy is a unique, outpatient technique which uses fiber-optic cameras and small instruments to repair the labrum. To determine the right course of treatment for your particular tear, contact your doctor or orthopaedic surgeon.
For the best treatment for your hip labral tear in South Jersey, turn to Rothman Orthopaedic Institute. Our hip specialists have the experience and expert approach you can trust. In fact, Rothman Orthopaedic Institute is one of the nation's leaders in the growing field of hip arthroscopy and hip preservation. So, you can have confidence that you are receiving the best, state-of-the-art treatment for your hip labral tear in South Jersey. Along with outstanding service, you will also appreciate the caring, compassionate approach of our doctors, surgeons, and therapists. We are there to support you every step of the way, from diagnosis until you take your first step back onto the field.
For more information about treatment for your hip labral tear in South Jersey or to make an appointment, call 1-800-321-9999 today.