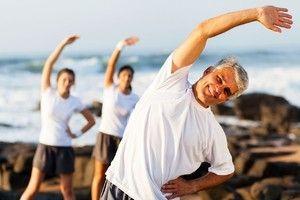 Inflammatory arthritis affects millions of people around the world and the experts at
Rothman Orthopaedic Institute have extensive training and experience to diagnose and treat this disease. If you or someone you love is suffering from
inflammatory arthritis near New Castle, Rothman Orthopaedic Institute can help you with the diagnosis, treatment, and care you need.
Inflammatory arthritis is a term used to describe a group of conditions that affect the immune system. This means that the body's defense system starts attacking its own tissues, which can cause stiffness, pain, and joint damage. The three most common forms of inflammatory arthritis are:
Rheumatoid Arthritis

Ankylosing Spondylitis

Psoriatic Arthritis
Most forms of inflammatory arthritis are progressive, and if left untreated, can result in serious damage to the joints, pain, and disability. However, Rothman Orthopaedic Institute has treatment options available to help patients cope with their symptoms and maintain their quality of life.
Once diagnosed, there are many non-surgical treatment options for patients with inflammatory arthritis near New Castle. Gentle exercise can help to strengthen the muscles surrounding the joints while also combating fatigue. Applying heat can ease pain and relax the muscles, whereas the cold of an ice pack may dull the sensation of pain and decrease muscle spasms.
There are a number of medications available to help relieve pain and protect the joints affected by inflammatory arthritis. You should always consult your physician to find the best option for you. Finally, if non-surgical treatments fail to slow or prevent joint damage associated with inflammatory arthritis, a specialist may recommend surgical options such as tendon repair, joint fusion, or total joint replacement.
When trying to decide how to treat inflammatory arthritis near New Castle, patients should always begin by consulting their doctors. For more specialized help, they should see a hip expert at Rothman Orthopaedic Institute. Our physicians are some of the most experienced specialists for inflammatory arthritis near New Castle, and they can offer comprehensive and caring treatment for your hip.
Call Rothman Orthopaedic Institute today to schedule an appointment at 800.321.9999.