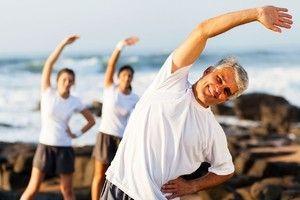 Has joint pain simply become a regular part of your daily life? If so, you may have already tried a variety of non-surgical approaches, such as rest, medication, physical therapy or nutritional supplementation. You may have even resorted to simply avoiding some of the activities that you used to enjoy.
We're here to tell you that you that there's a better solution - a way to regain your mobility, independence and get back to an active, pain free life!
Where to Have Joint Surgery in South Jersey
Whether the pain you're experiencing is in your ankles, at the top of your spine, or in any joint in between, you will find the highest quality joint surgery in South Jersey at Rothman Orthopaedic Institute. We have the technology and experience to offer the services you need - from arthroscopic approaches to full joint replacement. In fact, our surgeons perform thousands of various joint replacement procedures each year, so you know you're in good hands at Rothman Orthopaedic Institute.
Some of the most commonly performed joint replacement surgeries include hips, knees, shoulders and ankles. Click on the links below to learn even more specifics about each particular procedure.
Are ready to experience the following?
Decreased pain
Improved mobility
Increased independence