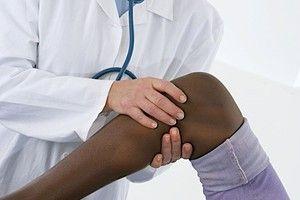 If you have experienced ongoing knee pain that is beginning to interfere with your normal activities or lifestyle, it could be knee arthritis. If your doctor determines that knee arthritis is the source of pain, swelling, and stiffness in your knee, turn to Rothman Orthopaedic Institute for the best options to treat knee arthritis in Chester County. Our expert physicians, therapists, and surgeons can help you return to the pain free lifestyle you love.
Knee arthritis is inflammation of the joint which causes pain, swelling, stiffness, and even deformity. Although most forms of knee arthritis manifest similar symptoms, there may be a number of different causes. Osteoarthritis is the most common form, also known as "wear and tear arthritis." This degenerative disease wears away at the cartilage which typically provides a cushion between the bones, causing them to rub together painfully. Inflammatory arthritis, accompanied by swelling and heat within the joint, may come in the forms of rheumatoid arthritis, lupus, or psoriatic arthritis. Sometimes, trauma to the knee, such as a bad fall or other impact, may injury the joint in a way that causes the cartilage to wear away as well. Using a combination of your medical history, a physical exam, and x-rays of the arthritic knee, your doctor can help you understand the nature and cause of your particular case.
No matter what the cause is for the swelling and pain in your knee, there are a number of options to treat knee arthritis in Chester County. Doctors will try to begin with non-operative options. These more conservative treatments include anti-inflammatory medication, cortisone shots, or physical therapy. In some cases, these can permanently ease the pain of arthritis. In others, they provide temporary relief. If more involved treatment is required, patients have a number of surgical options available.
Whichever treatment plan your doctor recommends, expert help is available at Rothman Orthopaedic Institute. As leaders in treatment for knee arthritis in Chester County, our physicians, therapists, and surgeons are some of the most experienced in the field. This advanced level of expertise is achieved through focused study of this particular area of orthopaedics. At Rothman Orthopaedic Institute, you will find clinical excellence combined with a compassionate and caring approach.