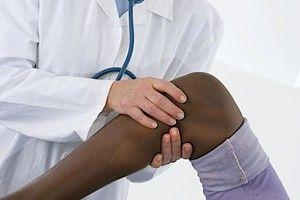 Going for a walk through the park with someone you love. Bending down to pick up an excited grandchild. Sitting to watch your favorite team win the championship. Hiking up the steps to a beautiful view… or just to the entrance of the library. Each one of these activities, as well as many more, depends upon your knees to provide support, stability, and mobility in all the right ways. If movements like walking, standing, or sitting have become painful due to an injury or chronic condition, it may be time to talk with your doctor about knee pain treatment options.
When healthy, the knee joint provides the support you need for many of your daily activities. The joint joins the femur (thigh bone) and the tibia (shin bone) like a hinge. The ends of each of the bones are covered in a cushion of cartilage. This thick, smooth coating provides the cushioning you need for the bones to move easily, without pain. However, if disease or injury compromises this cartilage, the ends of the bones may rub together, producing pain and inflammation. Over time, this can also lead to weakness and limited movement. For both sudden injuries and ongoing knee pain treatment is available from the experts at
Rothman Orthopaedic Institute
.
The type of knee pain treatment your doctor recommends will depend upon the nature of your injury or condition. She or he will begin by gathering information about your symptoms as well as your healthy history and other current conditions. Often, your doctor will try to begin with more "conservative" treatment options that may be effective, such as injections, anti inflammatories , physical therapy or activity adjustment. However, if these have proved ineffective for your condition, there are other options available. For example, those with ongoing knee pain from arthritis may be good candidates for replacement surgery, which can both relieve pain and improve mobility.
Whether your doctor recommends conservative treatment or a surgical procedure to address your knee pain, Rothman Orthopaedic Institute is your source for the best knee pain treatment in the area. Because our knee specialists focus on this particular area of orthopaedics, they bring a unique level of experience to each patient. In addition to the expertise of our doctors, therapists, and surgeons, you will also find the latest in orthopaedic science and technology at Rothman Orthopaedic Institute. For more information about our knee pain treatment options, contact us today at 1-800-321-9999.