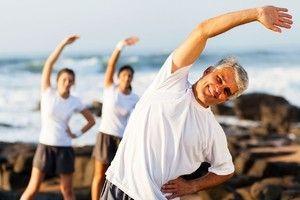 You depend upon your hip for the strength and flexibility to do many of the things that you love. From walking and bending to biking or even lifting precious grandchildren, the use of your hip is vital to many important aspects of your day to day life. However, disease and injury can compromise your hip, resulting in pain, weakness, and limited movements. Today, there are a number of promising procedures an orthopedic hip surgeon can offer which may help to restore your hip to a healthier, pain-free state. At Rothman Orthopaedic Institute, you will find the best of these surgeons working together to help patients like you achieve the relief you need.
When it comes to choosing the right orthopedic hip surgeon, it is important that you look for someone who has specialized in this field. Compared to a more generalized surgeon, someone who focuses solely on the hip will have more extensive knowledge and experience with the area, and so they will be able to provide you with better service. Whether you need a total hip replacement or something more conservative, it is important to be working with a physician with extensive experience working on the hip.
You can find such an experienced orthopedic hip surgeon at Rothman Orthopaedic Institute. Each of our orthopedic surgeons specializes in his or her particular field, ensuring an unparallelled level of experience. Because Rothman Orthopaedic Institute's joint replacement program performs more than 9,000 of the surgeries each year, our surgeon's depth of experience is among the top in the nation. This specialization, in addition to extensive residency training, ensures that our doctors have superior knowledge of their chosen area.
Not only are our hip surgeons outstanding in their fields, but they are a part of a world-renowned community of expert orthopedic doctors. We are dedicated not only to performing excellent service now, but also to researching and developing even better technology and methods for tomorrow. At Rothman Orthopaedic Institute, our specialists are training the current and next generations of orthopedic hip surgeons both locally and around the world. As leaders in research, education, and joint replacement surgery, there is no question that Rothman Orthopaedic Institute stands apart as the home of the best orthopedic hip surgeon you can find in the Tri-State area.
For more information about your options for hip surgery, please
contact us
today. We would be happy to schedule a consultation with one of our hip specialists.