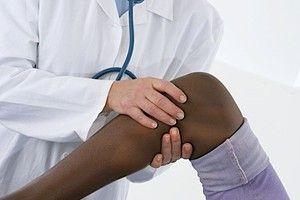 If you or someone you love has been living with osteoarthritis knee pain, you are well aware of the significant effect this condition can have on your life. The pain, swelling, and stiffness, can become more than just a nuisance; over time, these symptoms can inhibit your ability to perform the activities you love, or even simple, day to day tasks.
In fact, the World Health Organization considers osteoarthritis to be one of the ten most disabling diseases in developed countries. If you are one of the 25 million Americans affected by this condition, now is the time to turn to
Rothman Orthopaedic Institute
for the help you need. With the help of our specialists, you can follow these simple steps to a more pain free life.
Step One: Know The Signs
The first step to seeking treatment for knee pain is identifying the cause. When you are aware of the symptoms of osteoarthritis knee pain, you will be better equipped to seek the right treatment. Common symptoms of osteoarthritis, which is also known as degenerative joint disease, include:
Joint stiffness when standing up from a sitting or lying position
Swelling in the knee joints
Stiffness in the knee
Sensation of bones "crunching" or rubbing together
Difficulty sleeping
Pain and weakness in the knee
If you consistently experience most or all of the above symptoms, it is probably time to talk with a doctor about osteoarthritis.
Step Two: Find A Specialist
When looking for a doctor who can help you with the diagnosis and treatment of osteoarthritis knee pain, be sure to seek out someone who specializes in conditions of the knee. With such a targeted focus in their study and practice, knee specialists will be better equipped to help you address the changes and challenges in this area of your body.
If you live in or around Philadelphia, excellent care is available nearby at Rothman Orthopaedic Institute. Our team of knee specialists provide expert, compassionate care to patients with osteoarthritis every day.
Step Three: Find The Right Treatment
Finally, after your doctor evaluates the condition of your knee joints, you can begin discussing treatment options. There are a number of different potential treatments available; your doctor will work with you to select one based on your current condition as well as other health factors. Some options may include medication, physical therapy, knee surgery, or even total knee replacement.
For more information, please
visit us here
or contact us at
1-800-321-9999
.