The explosion of Latin American ball players has altered the dynamics of the sport forever. Teams are chock full of guys from the Dominican Republic, Puerto Rico, and Central and South America. Some of these players pose an interesting predicament for the medical staff - a complication that goes beyond their physical issues and injuries… their grasp of the English language won't allow them to fully articulate or to properly communicate the extent and nature of their problem.
But the organization is well prepared for this issue and has numerous translators, mostly among the trainers, on hand… some speak Spanish, others Japanese and Korean.
"They basically understand what I am trying to do based on my visual cues," says Dr. Ciccotti. "However, precision is everything, not only here, but when I am in King of Prussia or South Philly. I need to understand the nature of the problem and how it is affecting them. I need to be able to clearly communicate, so the translators are of utmost importance."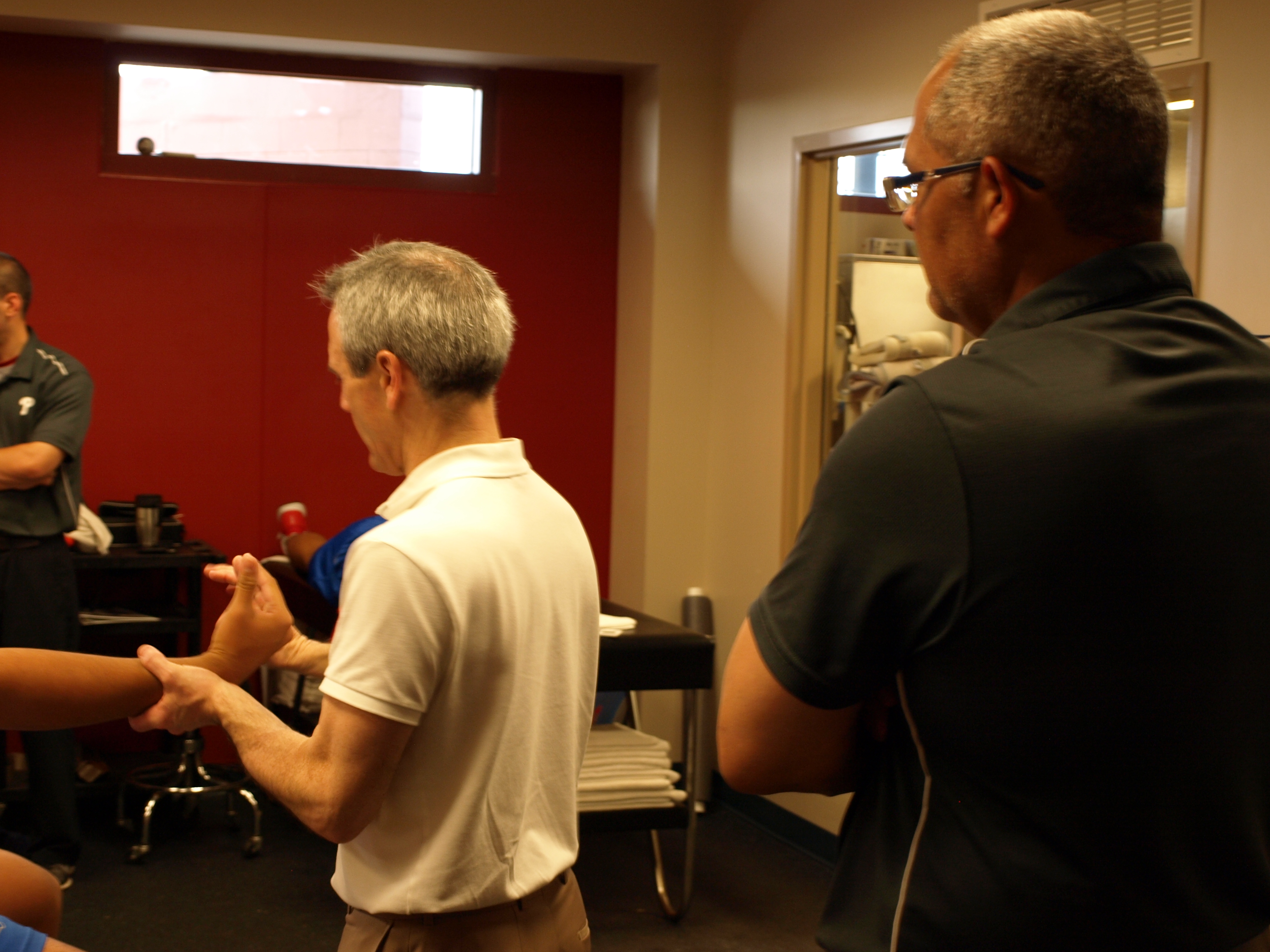 One young Latin American player has an elbow injury that is causing soreness in his throwing arm. The pain is on the inside of the joint, which is Ulnar Collateral Ligament territory. A torn UCL generally means Tommy John elbow surgery which can require a year or longer of intense rehab.

This elbow injury used to be a career-ender, but with advancements in sports medicine by physicians like Dr. Ciccotti, 80 percent of players return to their pre-injury level of activity.


But Tommy John isn't the case just yet for this gentleman, who despite being with the organization for several years, looks very young. He's the kind of kid that would be asked for ID anywhere he went. He has a soft, but long body that betrays his youth.


"Just like delivering news to any patient that is an athlete, whether high school, college or recreational, I review all of their options," Ciccotti says. "It really is no different here than in office hours at the RI."


The exam indicates to Dr. Ciccotti that the elbow injury is a sprain at the least, but could be worse. The translator delivers the news and the next steps in Spanish. They will need to look at the MRI, but Dr. Ciccotti remains optimistic. A smile and a fist pound sends the young ball player on his way. He exits with his head up and a slight smile, picking up his previous conversation right where he left it… all in Spanish of course.
Elbow Injuries | Elbow Injury
Related Specialties
Related Physicians
All Specialties
Hip
Knee
Spine
Sports Medicine
Shoulder & Elbow
Foot & Ankle
Hand & Wrist
Physical Medicine & Rehabilitation
Orthopaedic Oncology
Orthopaedic Trauma & Fracture Care
General Orthopaedics
Physician Language
All Languages
English
Swedish
Tamil
Spanish
Italian
Korean
Persian
Arabic
Filter Physicians
Filter
Sort
All Specialties
Hip
Knee
Spine
Sports Medicine
Shoulder & Elbow
Foot & Ankle
Hand & Wrist
Physical Medicine & Rehabilitation
Orthopaedic Oncology
Orthopaedic Trauma & Fracture Care
General Orthopaedics
All Languages
English
Swedish
Tamil
Spanish
Italian
Korean
Persian
Arabic
Greater Philadelphia
All Locations

{{item.title}}

{{distanceText(item)}}