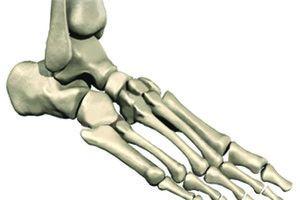 If you have suffered long enough from debilitating pain in your ankle due to arthritis or another condition, your doctor may have recommended total ankle replacement. This procedure can make an astonishing difference, eliminating pain as well as improving mobility. However, while these benefits may sound appealing, many patients have questions about what to expect during their
recovery time for total ankle replacement surgery
. The ankle experts at
Rothman Orthopaedic Institute
can help to answer these questions.
One of the biggest questions that patients have about the procedure is how long the recovery time for total ankle replacement actually is. Some patients worry that a full joint replacement will have them out of commission longer than they are able to spare. However, the surgery need not slow you down for an unreasonable amount of time. Because the recovery process comes in stages, you will be able to regain different day-to-day activities as you progress.
For the first 2 weeks after the surgery, you will have to wear a splint. After your first post-op visit, you will likely be placed in a boot that, with the permission of your doctor, you will be able to remove to perform some simple exercises for your ankle. However, when you are not exercising, you should continue to wear your boot and use crutches or a walker for about six weeks after the surgery.
Of course, this outline of the recovery time for total ankle replacement will vary from one patient to the next. For instance, if you have another procedure alongside your ankle replacement, you may not be able to begin your ankle exercises right away. Additionally, some patients require physical therapy to aid in the recovery process. Ultimately, it is important to communicate with your doctor before and after the procedure in order to know how best to ensure that you are healing correctly.
After you have made it through the recovery time for total ankle replacement, you can enjoy the benefits of your new joint. Typically, this procedure helps patients to experience less pain, while increasing their flexibility and stability. In some cases, it may even help to correct deformities which have resulted from degeneration or injury. Most importantly, an ankle replacement surgery should help you live and feel better.
If you are in need of total ankle replacement, turn to the ankle specialists at Rothman Orthopaedic Institute. There, you will receive experienced and compassionate care at the area's best facility. For more information about this procedure, or its recovery process, call Rothman Orthopaedic Institute today at 1-800-321-9999 or
make an appointment.