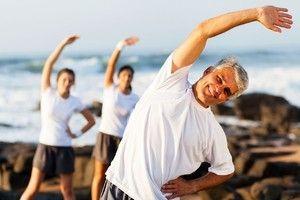 At Rothman Orthopaedic Institute, our teams of subspecialists provide the orthopedic expertise to address a wide range of musculoskeletal issues. Joint pain and restricted mobility are some of the most common complaints from patients with arthritis. But techniques to treat osteoarthritis can differ from those used to address the kind of rheumatoid arthritis South Jersey patients often report.
What is Rheumatoid Arthritis?
This autoimmune disease causes the body to attack it's own joint tissue and produce long-term inflammation of multiple joints. While the root cause of this harmful behavior inside the body is still unknown, the process is understood and observable in patients:
The immune system becomes "compromised" as white blood cells begin to attack, rather than protect, the joints
In the case of the kind of rheumatoid arthritis South Jersey patients often have, the white blood cells directly damage joints by causing their lining, called the synovium, to become inflamed
The synovium thickens and causes the joint to feel and even visibly appear swollen
In addition to swelling, other symptoms are redness, warmth and, of course, pain
But that's not where rheumatoid arthritis stops. The disease becomes especially problematic when the irritated joint lining begins to then attack and break down the joint's bone and cartilage. While the root problem of RA is inflammation, more comprehensive joint damage can be seen in patients over time as affected joints ultimately weaken and compromise the ability of surrounding muscles and ligaments to function properly.
The Kind of Rheumatoid Arthritis South Jersey Patients Report
If you're a local patient with joint pain and you're wondering if you may be suffering from rheumatoid arthritis, read through this list of facts below and then set up an appointment with a physician at Rothman Orthopaedic Institute for a physical exam and diagnosis.
Usually, patients with RA have symptoms in symmetrical joints (for example, in both knees instead of in just one)
Over one million adults in the U.S. suffer from this disease and a large majority of patients with rheumatoid arthritis experience problems with their ankles and feet
Other symptoms, such as fevers and fatigue, are commonly reported
RA is considered to be the most common type of autoimmune arthritis
This disease is usually chronic and episodes of more severe inflammation can come and go over the years and can affect different joints throughout the body
Research is still out on what causes rheumatoid arthritis, but it is believed to be a combination of environmental, genetic and hormonal factors