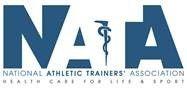 DALLAS, June 22, 2014 – Linda Fabrizio Mazzoli, MS, LAT, ATC, PTA, PES, has been selected as one of the National Athletic Trainers' Association's 2014 Most Distinguished Athletic Trainer (MDAT) award recipients. Mazzoli, a resident of Garnet Valley, Pa., is the director of the Comprehensive Concussion Center at the Rothman Orthopaedic Institute in Philadelphia.
The Most Distinguished Athletic Trainer award recognizes NATA members who have demonstrated exceptional commitment to leadership, volunteer service, advocacy and distinguished professional activities as an athletic trainer. MDAT exclusively recognizes NATA members who have been involved in service and leadership activities at the national and district level.
This award acknowledges outstanding dedication and service to the athletic training profession. Candidates for the award must have held the certified athletic trainer (ATC) credential, conferred by the Board of Certification, and have been an NATA member, both for at least 20 years.
"We are always excited to recognize the dedication, excellence, inspirational outlook and commitment of our honorees, and this year is no exception. These recipients serve as role models to their peers and represent some of the best of the best of the athletic training profession, said NATA Honors & Awards Committee Chair Chuck Kimmel, ATC. "We know they will continue to contribute to their place of work and their community at large in ensuring quality of care and optimal health moving into the years ahead."
The presentation will be made during NATA's 65th Clinical Symposia & AT Expo in Indianapolis on June 27, 2014.
About NATA: National Athletic Trainers' Association (NATA) – Health Care for Life & Sport
Athletic trainers are health care professionals who specialize in the prevention, diagnosis, treatment and rehabilitation of injuries and sport-related illnesses. They prevent and treat chronic musculoskeletal injuries from sports, physical and occupational activity, and provide immediate care for acute injuries. Athletic trainers offer a continuum of care that is unparalleled in health care. The National Athletic Trainers' Association represents and supports 39,000 members of the athletic training profession. Visit www.nata.org.