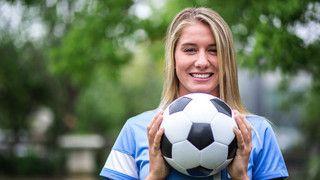 Although in decades past, female athletes often trained at a lower intensity than their male counterparts, in recent years the gap between their levels of training and competition has been closing. In fact, today many female athletes perform at similar levels, and young women's involvement in sports has significantly increased. While all of these developments are to be celebrated, they do bring with them the increased need for a women's sports medicine program to meet the unique needs of female athletes. As strong supporters of female athletes, Rothman Orthopaedic Institute has worked to meet this need by developing a multidisciplinary, women-centered sports medicine program.

Common Female Athlete Injuries
Although athletic injuries tend to be more related to the player's choice of sport than his or her gender, there are a few sports-related injuries which are more common among women. Because of differences in anatomy, physiology, and movement patterns, women may be more likely to experience ACL tears, patellar instability, and stress fractures. In both of these cases, the greater frequency of these injuries among women is likely due to a variety of interrelated factors. For this reason, it is imperative that any women's sports medicine program seeking to treat such injuries should take an multidisciplinary approach in order to address each injury comprehensively.

Female Athlete Triad
One powerful example of the need to provide comprehensive care to female athletes is the female athlete triad. This syndrome is made up of three interrelated conditions: irregular menstrual cycles, energy deficiency, and low bone mass. Often unrecognized and untreated, the triad can be devastating for a female athlete.

However, when identified and treated early with an appropriate diet and moderation of exercise, some elements of the condition can be prevented or even reversed. Effective treatment of the triad, though, requires a multidisciplinary team including sports medicine physicians, nutritionists, physical therapists, orthopaedic surgeons, and others.

Rothman Orthopaedic Institute's Women's Sports Medicine Program
For those in the Philadelphia area, such a comprehensive team can be found at Rothman Orthopaedic Institute's Women's Sports Medicine Program. Through the intentional teamwork of many expert doctors, therapists, and surgeons, female athletes can be confident that they will receive the thorough treatment they need to recover, regain strength, and prevent future injuries. Even when a young female athlete comes in with what appears to be a straightforward fracture or torn ACL, she will receive the benefit of a thorough evaluation to determine potential underlying causes or concerns.

This multidisciplinary approach is one of only a few throughout the United States, and it is the first of its kind in the Philadelphia area. Dr. Sommer Hammoud, the director of the program and one of the Program's sports medicine surgeons, explains that "The Women's Sports Medicine Program emphasizes rehabilitation, injury prevention, and an overall healthy lifestyle." Simply put, the goal is to treat not just the injury, but the whole female athlete."

The services offered in our program for female athletes include:
Orthopaedic Sports Medicine Evaluation and Surgical Treatment
Non-operative Sports Medicine Evaluation and Treatment
Nutritional Services
Sports Psychology Services
Physical Therapy
Testing and Other Services at the Velocity Sports Performance Center

Rothman Orthopaedic Institute
The Rothman Orthopaedic Institute stands out for more than just our Women's Sports Medicine Program. As the area's largest and most experienced orthopaedic institute, we are devoted to providing everyone in our community with the quality, compassionate musculoskeletal care that they need.

Rothman Orthopaedic Institute has been internationally recognized for excellence in orthopaedic science and technology. Our specialized surgeons stand out for their focused expertise, while our teaching and leadership team train the orthopaedic specialists of tomorrow. Additionally, our research and development has led to important advances in both prevention and treatment in orthopaedics. At every level, Rothman Orthopaedic Institute performs with excellence. To learn more about how our team can help you, contact us today.
Related Specialties
Related Physicians
All Specialties
Hip
Knee
Spine
Sports Medicine
Shoulder & Elbow
Foot & Ankle
Hand & Wrist
Physical Medicine & Rehabilitation
Orthopaedic Oncology
Orthopaedic Trauma & Fracture Care
General Orthopaedics
Physician Language
All Languages
Spanish
English
Italian
Persian
Swedish
Tamil
Korean
Arabic
Chinese
Turkish
German
Hindi
Gujarati
Filter Physicians
Filter
Sort
All Specialties
Hip
Knee
Spine
Sports Medicine
Shoulder & Elbow
Foot & Ankle
Hand & Wrist
Physical Medicine & Rehabilitation
Orthopaedic Oncology
Orthopaedic Trauma & Fracture Care
General Orthopaedics
All Languages
Spanish
English
Italian
Persian
Swedish
Tamil
Korean
Arabic
Chinese
Turkish
German
Hindi
Gujarati
Greater Philadelphia
All Locations

{{item.title}}

{{distanceText(item)}}