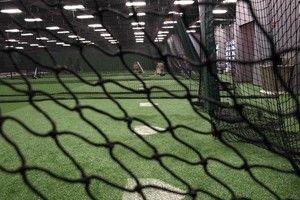 With the minor league players squared away, Dr. Ciccotti makes his way over to another building that houses the weight room and batting cages.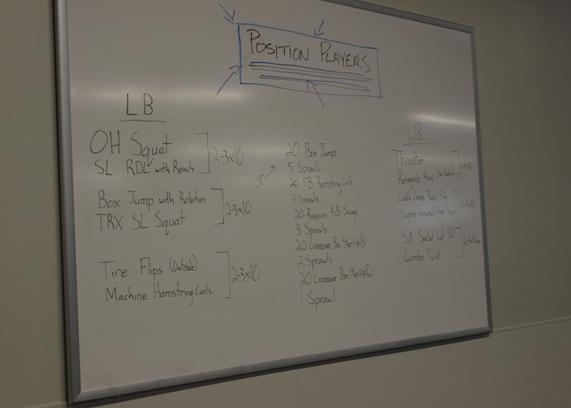 The weight room space is huge; as big as a gym people pay each month to go to and with much nicer equipment. Exercise programs for position players and pitchers are posted on white boards. Motivational sayings dot the walls.
One reads in part:
I am a Philadelphia Phillie
I will always place my Team First
I will never accept defeat
I will never quit
I believe in the Phillies Way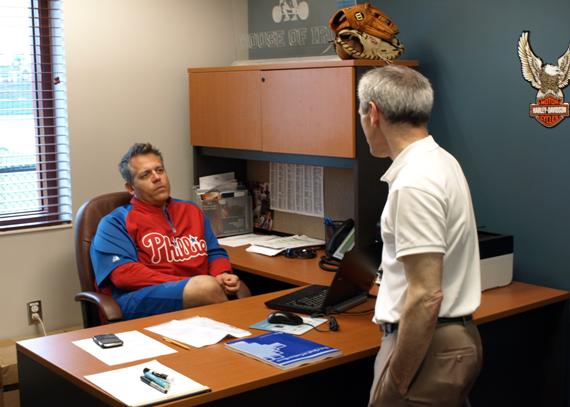 Dr. Ciccotti stops in the office of Minor League Strength and Conditioning Coordinator Paul Fourtier. He is, as you would expect, a big man, but not an intimidating hulk by any stretch. Today he is battling a bit of a bug but greets Dr. Ciccotti warmly as the two talk shop. Five minutes later Dr. Ciccotti exits and walks toward the door to the indoor batting cages.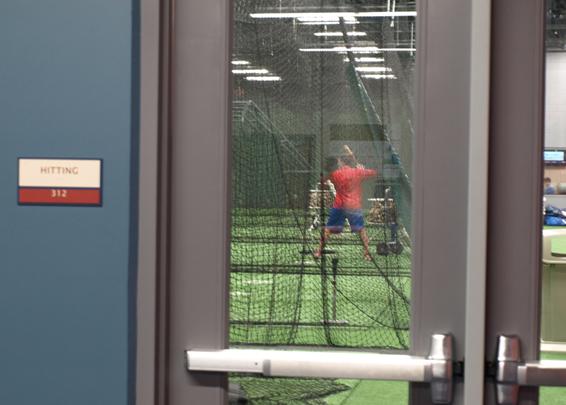 The indoor batting cage room is cavernous. Several rows of mounds and plates run the length of the room. There is a video room for recording and reviewing swing, stance and follow through. It is impeccably clean and deserted save one player hitting off a tee. He seems to be done and is walking the 60 feet to retrieve his pseudo singles, doubles, triples and home runs from around the mound.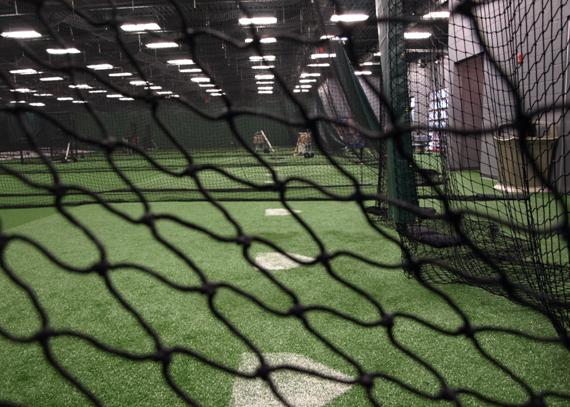 In total Dr. Ciccotti has spent about two and a half hours on the minor league side of things. He pops back outside. The ominous sky from this morning has opened up and it is raining just enough to get him wet but not soaked. He briskly walks back to Bright House Network Field and disappears into the bowels of the stadium.
Related Specialties
Related Physicians
All Specialties
Hip
Knee
Spine
Sports Medicine
Shoulder & Elbow
Foot & Ankle
Hand & Wrist
Physical Medicine & Rehabilitation
Orthopaedic Oncology
Orthopaedic Trauma & Fracture Care
General Orthopaedics
Physician Language
All Languages
English
Spanish
Italian
Persian
Swedish
Tamil
Korean
Arabic
German
Turkish
Chinese
Filter Physicians
Filter
Sort
All Specialties
Hip
Knee
Spine
Sports Medicine
Shoulder & Elbow
Foot & Ankle
Hand & Wrist
Physical Medicine & Rehabilitation
Orthopaedic Oncology
Orthopaedic Trauma & Fracture Care
General Orthopaedics
All Languages
English
Spanish
Italian
Persian
Swedish
Tamil
Korean
Arabic
German
Turkish
Chinese
Greater Philadelphia
All Locations

{{item.title}}

{{distanceText(item)}}