If an injury were to occur during the game, Dr. Ciccotti would be notified immediately through a call or text from Scott Sheridan, the Phillies Head Athletic Trainer. The two have known each other a long time and the protocol for communication has been long since standardized. Thankfully no calls or text comes and Dr. Ciccotti finds Sheridan in the trainer's room watching the game on TV.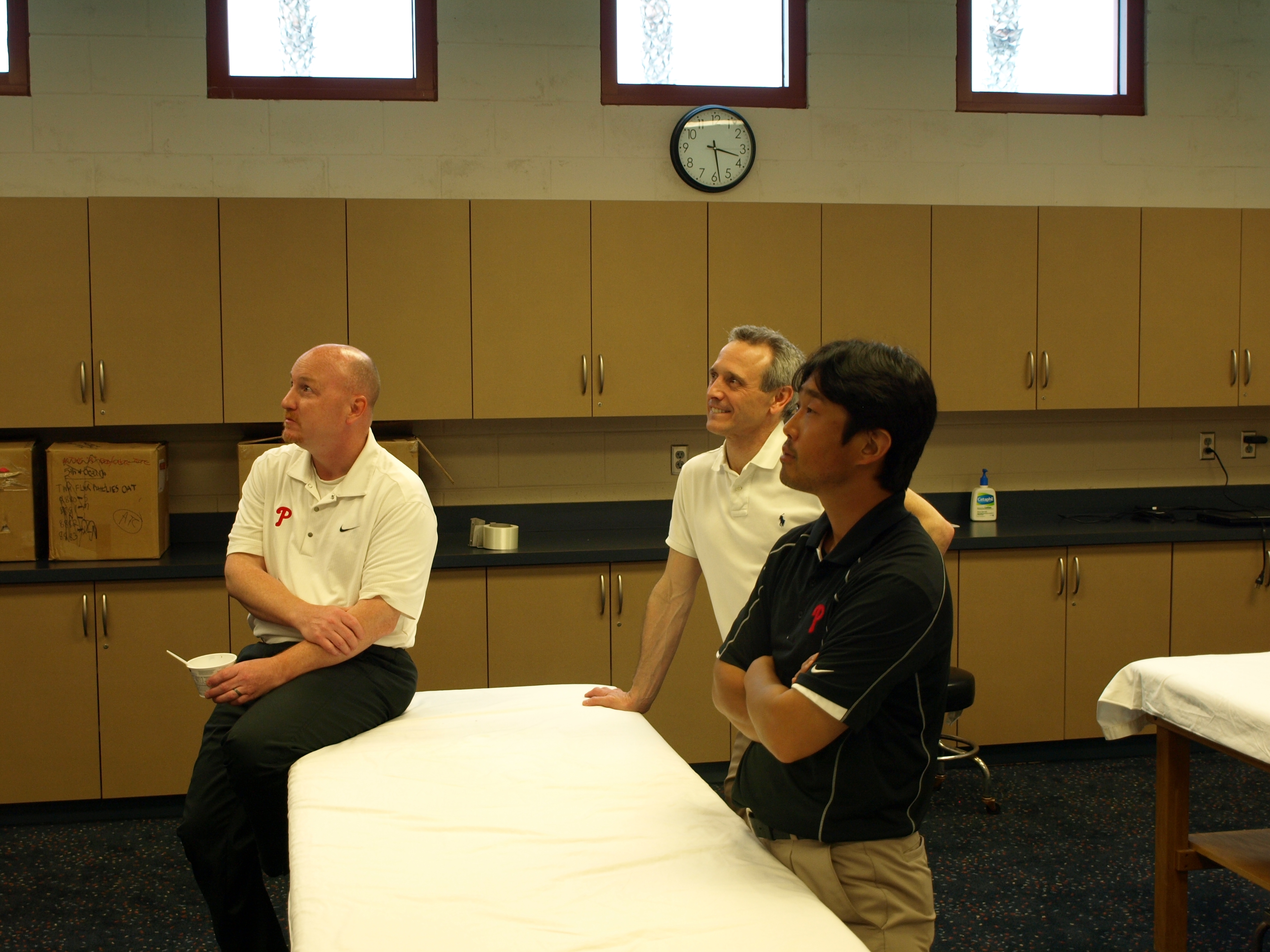 Right then Chase Utley lifts a towering two run home run, his fourth of the season to make it 6-5 Boston. Next batter is Ryan Howard and he launches one deep. Tie ball game.
Not five minutes after tying the game at six, Howard comes lumbering into the training room to get post game treatment that begins with a soak in the tub.
It is fascinating that one minute he is circling the bases and then a few minutes later he is here in the training room. He isn't the only one either. As the guys come out of the game they start filtering in one at a time.
There are no pressing issues at the moment and as the game continues Dr. Ciccotti and Sheridan begin talking about a host of different things.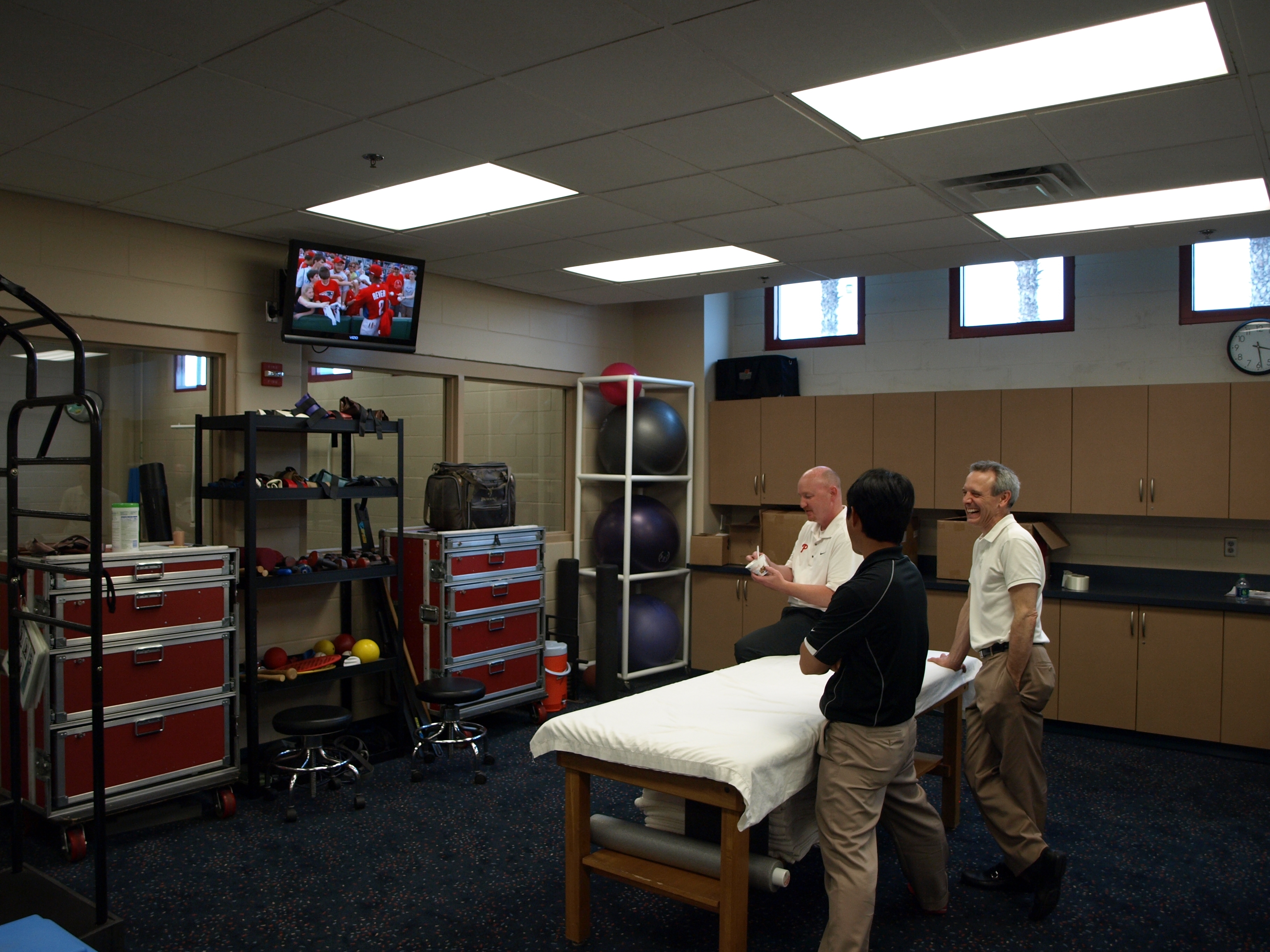 One is about Dr. Ciccotti's newly appointed position as president of the Major League Baseball Team Physicians Association (MLBTPA). In his role, Dr. Ciccotti will report to the Commissioner's Office and the players union on a host of medical topics. He will also be responsible for the reporting of any research projects to both of these entities.
"It's really great that Dr. Ciccotti will be in that position of leadership," says Sheridan. "He will have his finger right on the pulse of everything going on across the whole league. It gives us a chance to try new ideas and ask different kinds of questions. We are always trying to do things better. Leading a large and influential group like the MLBTPA is a good way to keep pushing forward."
"One thing I'd love to look at is genetic testing," says Sheridan "Start a tissue bank like they have at any hospital and see if there are biomarkers for why tissue breaks down? Why do the players get hurt? How come one guy breaks down and another does not?"
"Or take a closer look at the impact of travel and sleep cycles on the guys," Sheridan continues. ThesWate guys aren't on a normal a 9-5 schedule. They have games at 1pm and then the next day at 7pm. Combine that with the travel, changing time zones, squeezing onto planes night in and night out. Not sleeping in your own bed for weeks on end. There are some preliminary studies on some of this stuff, but it's all worth a deeper look."
Related Specialties
Related Physicians
All Specialties
Hip
Knee
Spine
Sports Medicine
Shoulder & Elbow
Foot & Ankle
Hand & Wrist
Physical Medicine & Rehabilitation
Orthopaedic Oncology
Orthopaedic Trauma & Fracture Care
General Orthopaedics
Physician Language
All Languages
Spanish
English
Persian
Korean
Arabic
Italian
Swedish
Chinese
German
Hindi
Gujarati
Punjabi
Turkish
Tamil
Filter Physicians
Filter
Sort
All Specialties
Hip
Knee
Spine
Sports Medicine
Shoulder & Elbow
Foot & Ankle
Hand & Wrist
Physical Medicine & Rehabilitation
Orthopaedic Oncology
Orthopaedic Trauma & Fracture Care
General Orthopaedics
All Languages
Spanish
English
Persian
Korean
Arabic
Italian
Swedish
Chinese
German
Hindi
Gujarati
Punjabi
Turkish
Tamil
Greater Philadelphia
All Locations

{{item.title}}

{{distanceText(item)}}