Dr. Ciccotti folds the injury report into his pocket and makes his way across the sprawling Carpenter Complex to the minor league facilities. As he passes a sign showing the fields and buildings a, "Hi Doc" booms from behind him.
It's first baseman Ryan Howard, the Big Piece. He is dressed casually on his way in for the day.
"Good day again yesterday huh," says Ciccotti referencing Howard's opposite field moon shot against the Orioles, his 6th home run and 15th RBI of the preseason.
"Yea well it's Sarasota," Ryan replies.
"He always has tremendous success in Sarasota," says Dr. Ciccotti. "He loves the conditions there."
After continuing his trek across the fields, Dr. Ciccotti opens the door to the minor league training building into a beehive of activity.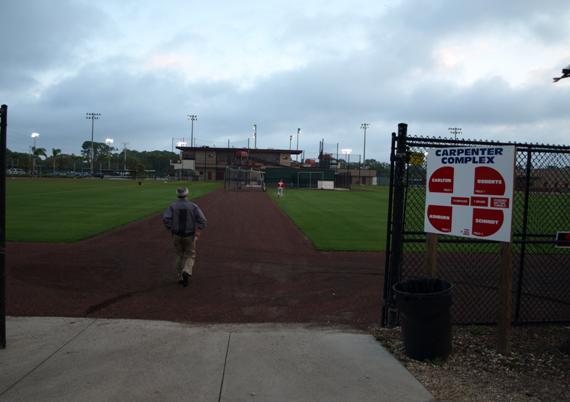 Straight ahead is the minor league clubhouse with lockers bursting with clothes and equipment.
It is mobbed with players… the minor leaguers… the farm guys and hopefully the Phillies stars of tomorrow, many of whom are from Latin America.
Dr. Ciccotti ducks into an open doorway on the left into the minor league training room. It is basically the same as the big leaguers… several exam tables covered with sheets, some rehab exercise equipment, hot and cold whirlpools and an office. It is 8 am, and it's crowded.
After a check in with the minor league trainers, including James Ready, Head Minor League Training Coordinator for the Phillies, a voice says, "I'm here to see Dr. Ciccotti." The day has officially begun.
Related Specialties
Related Physicians
All Specialties
Hip
Knee
Spine
Sports Medicine
Shoulder & Elbow
Foot & Ankle
Hand & Wrist
Physical Medicine & Rehabilitation
Orthopaedic Oncology
Orthopaedic Trauma & Fracture Care
General Orthopaedics
Physician Language
All Languages
Spanish
English
Persian
Swedish
Tamil
Korean
Arabic
Italian
Chinese
German
Turkish
Hindi
Gujarati
Punjabi
Filter Physicians
Filter
Sort
All Specialties
Hip
Knee
Spine
Sports Medicine
Shoulder & Elbow
Foot & Ankle
Hand & Wrist
Physical Medicine & Rehabilitation
Orthopaedic Oncology
Orthopaedic Trauma & Fracture Care
General Orthopaedics
All Languages
Spanish
English
Persian
Swedish
Tamil
Korean
Arabic
Italian
Chinese
German
Turkish
Hindi
Gujarati
Punjabi
Greater Philadelphia
All Locations

{{item.title}}

{{distanceText(item)}}