"I'd love to be able to sit and be a fan more often… have a beer in the sun… and watch the game, but it just isn't possible," he says. "I get to do that at other events, though, like an Eagles or college hoops game. I go to the Big East Tournament every year (Dr. Ciccotti is a graduate of Georgetown University) with a group of friends. There I can be a fan and it's great. I love the camaraderie."
After his quick lunch, he leans back to digest and opens up on his dual roles as Phillies Physician and Chief of Sports Medicine at the Rothman Orthopaedic Institute.
"The two organizations are very similar in their philosophies regarding medical care," he says. "Both provide the best physicians available. Both are very keen on ancillary services like nutrition, physical therapy and orthotics. Both are very academically oriented with numerous ongoing studies. Both organizations strive to continually get better. It really isn't that much different."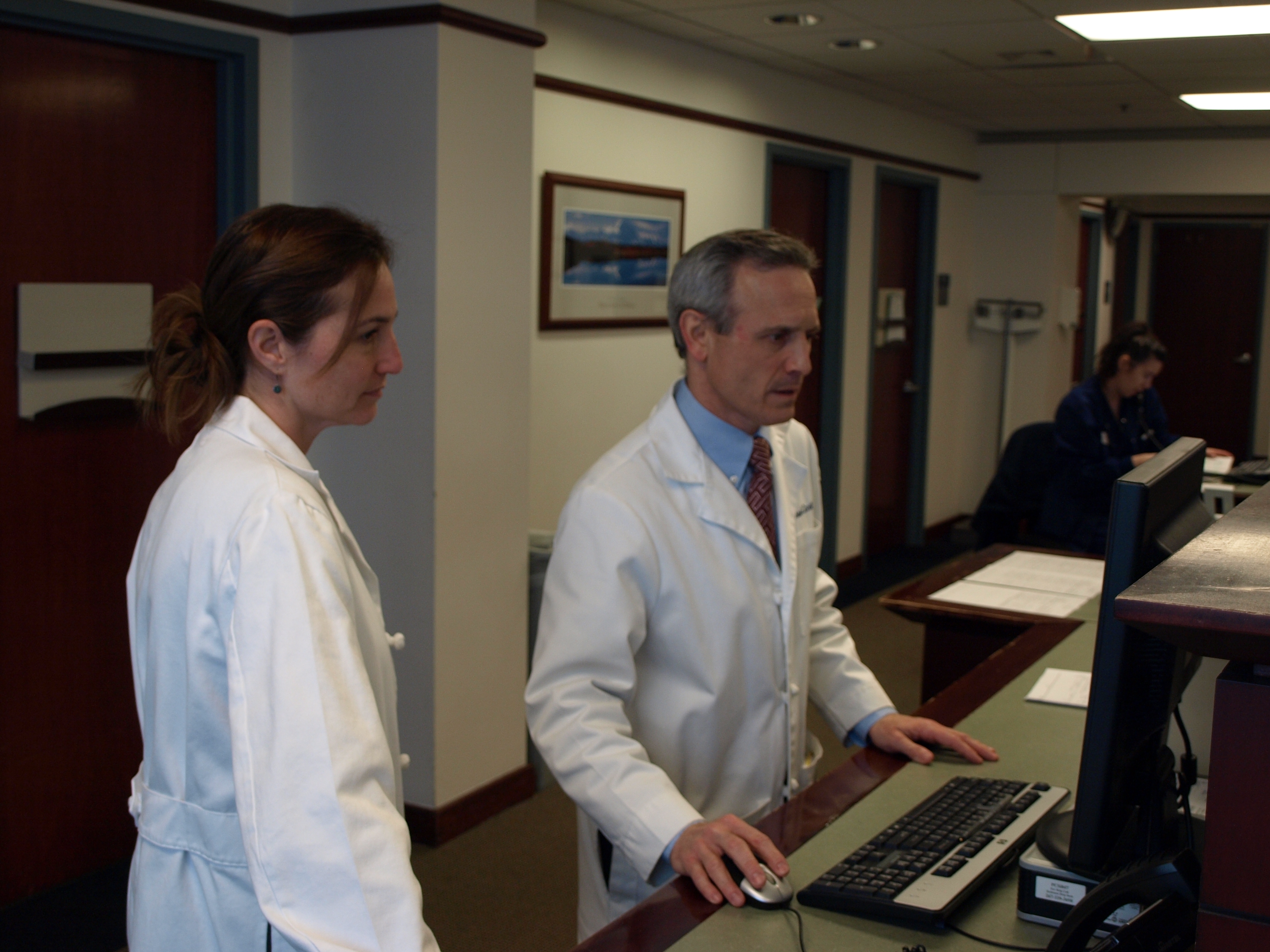 "One thing people overlook is that it's a team-based approach. I coordinate several Rothman Orthopaedic Institute sports medicine physicians who care for the Phillies. Drs. Rob Frederick, Steven Cohen, Brad Tucker, Marc Harwood, Peter Vitanzo and Rob Franks are all team physicians with the club in addition to their roles at the Rothman institute. The Rothman Orthopaedic Institute also has sports medicine physicians that care for the Eagles led by Dr. Peter DeLuca. His medical team includes Drs. Paul Marchetto, Matt Pepe, Chris Dodson and Alex Vaccaro. Dr. DeLuca also is the official team physician for the Flyers, a dual role that is very rare in professional sports.
"All of these doctors, who work on this, the highest level of sports medicine, bring their expertise to the patients of the Rothman Orthopaedic Institute on a daily basis. I think it's tremendously beneficial for our regular patients to have this caliber of doctor. The experience and expertise, the academic studies, the research, all of it translates to them at the Rothman Orthopaedic Institute."
"This is only possible because of the foresight of our founder, Dr. Rothman. When I was in training, the sports medicine specialty was in its infancy. Dr. Rothman recognized my passion for it and let me pursue it with vigor. He knew it was the future and would eventually be invaluable to our patients. Now we are one of the largest, if not the largest, orthopaedic sports medicine departments in the country. The evolution has been monumental, and I will always be thankful that Dr. Rothman let me pursue it."
The role of academic research is also instrumental to both organizations. At the American Academy of Orthopaedic Surgeons meeting in Chicago, where Dr. Ciccotti was prior to his arrival at spring training, the Rothman Orthopaedic Institute had over 100 papers, presentations and panelist - more than any other orthopaedic center in the United States. It's no wonder then that Rothman is known for employing some of the best sports medicine physicians in the country.
"Here with the Phillies, I was recently elected President of the Major League Baseball Team Physicians Association. This group, comprised of all the physicians who care for Major League Baseball Teams, coordinates all the research projects throughout Major League Baseball. It is this kind of dedication to research, to making the sport safer, that sets our organizations apart."
Sports Medicine Physicians | Sports Medicine Physician
Related Specialties
Related Physicians
All Specialties
Hip
Knee
Spine
Sports Medicine
Shoulder & Elbow
Foot & Ankle
Hand & Wrist
Physical Medicine & Rehabilitation
Orthopaedic Oncology
Orthopaedic Trauma & Fracture Care
General Orthopaedics
Physician Language
All Languages
Spanish
English
Persian
Korean
Arabic
Italian
Swedish
Chinese
German
Hindi
Gujarati
Turkish
Tamil
Mandarin
Taiwanese
Telugu
Punjabi
Filter Physicians
Filter
Sort
All Specialties
Hip
Knee
Spine
Sports Medicine
Shoulder & Elbow
Foot & Ankle
Hand & Wrist
Physical Medicine & Rehabilitation
Orthopaedic Oncology
Orthopaedic Trauma & Fracture Care
General Orthopaedics
All Languages
Spanish
English
Persian
Korean
Arabic
Italian
Swedish
Chinese
German
Hindi
Gujarati
Turkish
Tamil
Mandarin
Taiwanese
Telugu
Punjabi
Greater Philadelphia
All Locations

{{item.title}}

{{distanceText(item)}}