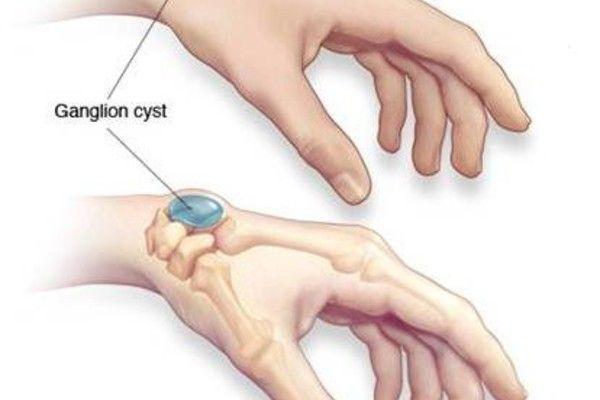 The game has ended with the home team on the losing end of the 7-6 score. The traffic in the training room is picking up. One of the players comes in with a lump on the back of his hand.
Dr. Ciccotti asks him to come into his office. "I'll get the needle."
The lump on his hand is a ganglion cyst. It is one of the numerous side effects of being a professional ball player.
Dr. Ciccotti tells the player to sit down and hold out his hand. The player knows the drill. Apparently this is not the first time he needs it drained.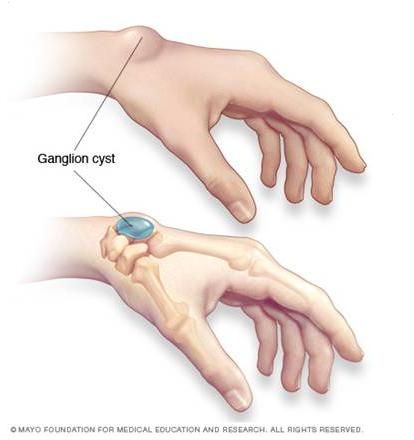 Once seated, Dr. Ciccotti numbs the area and inserts the needle. He draws out a thick amber fluid the consistency of molasses. It is not watery at all. Almost like a hardening sap.
The player doesn't even flinch with this going on and actually pulls out a cell phone so he can take a picture to show his wife who is curious about the procedure.
The whole thing takes two minutes and he's gone with only a band aid to show for it. With the ganglion cyst issue taken care of, Dr. Ciccotti leans back for a moment.
"Now I sit here and wait," says Ciccotti. "I am here to be available for any and all issues."
Issues are few today with only one or two of the guys asking some basic questions.
Ganglion Cyst | Ganglion Cysts
Related Specialties
Related Physicians
All Specialties
Hip
Knee
Spine
Sports Medicine
Shoulder & Elbow
Foot & Ankle
Hand & Wrist
Physical Medicine & Rehabilitation
Orthopaedic Oncology
Orthopaedic Trauma & Fracture Care
General Orthopaedics
Physician Language
All Languages
Spanish
English
Italian
Persian
Swedish
Tamil
Korean
Arabic
Chinese
Turkish
German
Hindi
Gujarati
Filter Physicians
Filter
Sort
All Specialties
Hip
Knee
Spine
Sports Medicine
Shoulder & Elbow
Foot & Ankle
Hand & Wrist
Physical Medicine & Rehabilitation
Orthopaedic Oncology
Orthopaedic Trauma & Fracture Care
General Orthopaedics
All Languages
Spanish
English
Italian
Persian
Swedish
Tamil
Korean
Arabic
Chinese
Turkish
German
Hindi
Gujarati
Greater Philadelphia
All Locations

{{item.title}}

{{distanceText(item)}}