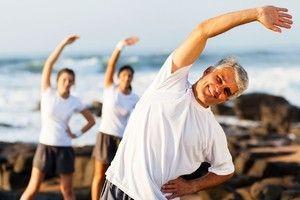 Between the femur (thigh bone) and tibia (shin bone), the knee joint works as a hinge. Both ends of these bones are covered with cartilage, which provides a thick cushion between the two, ensuring that the bones beneath do not rub together painfully. Each of your knees have two menisci, which are C-shaped pieces of fibrocartilage, that protect the regular cartilage below. These pieces absorb a significant amount of the weight and shock of our day to day movements and also help to stabilize the knee. All and all, each meniscus within your knee plays an important role in supporting smooth and pain free mobility.
However, if an individual experiences t
orn cartilage in knee
joints, especially in the meniscus, the result can be painful and even immobilizing. If you or someone you love has experienced a cartilage tear in the knee, contact the knee experts at Rothman Orthopaedic Institute for the answers and service you need.
What Are the Symptoms of Torn Cartilage in Knee?
The cartilage of the knee can be injured in a number of different ways. Typically, torn cartilage in knee joints occurs as a result of an injury to the knee. Such an injury may affect both the cartilage and the bone, but if only the cartilage is affected, it may not necessarily appear on an x-ray. However, an MRI or arthroscopy can more effectively identify such an injury. These may be deemed necessary if a patient is experience swelling and pain when bending the knee.
The symptoms of a torn meniscus, the special fibrocartilage in the knee, are sometimes more clear. In an acute case, the patient might hear a "pop" in the knee and feel something like a tear or rip within. Often, swelling follows within the next few hours. Other symptoms of a torn meniscus include the feeling of a knee popping or catching, sometimes preventing a change in position. Pain is typical early on, but may disappear over time as the patient decreases his or her activity in response to the discomfort.
Where Should You Turn For Help?
If you or someone you love has experienced torn cartilage in knee joints, turn to Rothman Orthopaedic Institute. Our team of knee specialists includes physicians, surgeons, and therapists with clinical excellence and in-depth experience that can't be matched. They can help you to determine your best options for treatment. To schedule an appointment, call us today at 1-800-321-9999.